---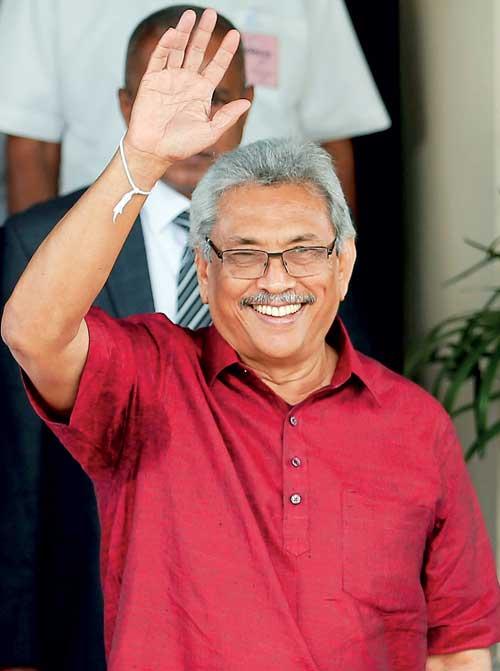 One of the most radical political victories ever scored in this country will, we are certain, receive the widest acceptance. The will of the people as indicated by the ballot box at this election leaves no room for doubt even at this stage that Gotabaya must now be regarded as virtual Executive President, but with clipped wings. Voters have considered and analysed each main candidate's past achievements and elected the comparatively better one. The challenges before him are daunting. Jaffna vote indicates that national reconciliation is a priority.
His contribution to winning the 30-year war against LTTE terrorists, his role in eradication of underworld crimes and the reformation of the city Colombo into first garden city in the island, has been acknowledged by a grateful public. Dynastic rules lead the ruler to become an autocrat. Yahapalanaya voted into power in January 2015, failed miserably in delivering. The UNP/SLFP alliance promised to punish the rogues, catch the 'criminals' but their performance had little to do with good governance. They who came with a promise to clean up state corruption emerged as an institution of worst rogues, crooks and drivers of gigantic robbers of national assets.
"Sajith found himself surrounded by corrupt, and political liabilities."
Reconciliation, a Priority
While the winners are jubilant and the beaten devastated people breathe a sigh of relief that election is over. The political discourse during the one and a half months was disappointing, and was full of criticism sermonize, with little or no rational dialogue regarding the many afflictions facing the nation and what plans would be implemented in addressing them. No creature in the backwoods was spared in calling each other, taking the contest down to a primitive level through social media. Both Gota and Sajith however deserve credit for refraining from such statements. Inability to cope with losses is common to humans. Sajith Premadasa, we hope would find it not difficult to come to terms with the embarrassing defeat he experienced at Saturday's election. It is quite natural that he is smarting because he had high expectations. Never did he expect that his campaign would crumple in this manner. Crowds at political events are rather deceptive, Sajith thought he should have won counting on the large number of people who attended his meetings!
"The victory is also a huge vote of confidence in the policies and promises"
Proved Credentials
We have proved our credentials to the international community as a practising democracy. The government no doubt would be stunned by the verdict of the people. The victory of Opposition candidate
Gotabaya is echoing across the nation. Addressing the nation after Jan 8 'revolution' five years ago, the newly appointed PM Ranil Wickremesinghe said: "The quality of democracy in any country is revealed not only in the magnanimity of the victors of popular franchise, but the graciousness of the defeated." He commended MR for smooth transfer of powers. The then
US Secretary of State John Kerry commended outgoing
President Rajapaksa for accepting the results of presidential election in the great tradition of peaceful and systematic transfers of power.
While promising a change within the government, Sajith found himself surrounded by corrupt, and political liabilities. He erred by closing ranks with some scrupulous, corrupt and disgruntled elements in his campaign, leaving it to his supporters to booed them away. This had an upsetting impact on his popularity in the South, Rajapaksa's stronghold.
A leader is greatly judged by the way he leaves office; for, they typically stick to power like leeches. In the early 1960s, a losing Head of State or Prime Minister would walk out of Temple Trees carrying a bag, into which he had crammed his belongings only. Dr. W. Dahanayake entrained the Galle express. Following the defeat of UNP at the 1970 general election the then Finance Minister UB Wanninayake returned the ordinary official car he was using to ministry secretary and boarded a bus opposite the old parliament complex office. Mahinda Rajapaksa did not wait for the Commissioner's announcement of final result; he left Temple Trees as early as 6.30 am after conceding defeat.
Vote of Confidence in Policies, Promises
The victory is also a huge vote of confidence in the policies and promises. The newly-elected President must speak like a leader; he has to prove his worth. He has made a lot of promises and it is essential that he makes good all that if the people who voted for him are not to be let down. There is another hurdle, a general election is to be held sooner or later and his men contesting have to be a perfect team. He has to make sure that he has engineered a paradigm shift. He has to make certain that the transformation he has promised will definitely be for the betterment of people. It is a pity in this country, governments go and new ones emerge, but the men remain unchanged. Back in power they do more of what their forerunners did. Will Gota be able to make a difference? What are our expectations from the new President? Leave the wild promises that the candidates made during the run up but there are certain basic issues we would like Gota to address. Tackle corruption, yes, priority with the people. There must be transparency in every governmental action, if he is to end corruption.
I commenced writing this piece in advance of the announcement of final result of the Presidential elections to a degree because whatever might be the result I believe that the basic problem to deal with our nation will stay just the same. It is the problem of restoring a functioning democracy, which we cannot be quite certain after that happy outcome. Our politicians have shown a penchant to subject the democracy to atrocious rape. He must ensure a wholly independent judiciary and administration de-politicized, respect the rule of law, media freedom, and human rights. Under Gota's brother from 2009 we have been obviously witnessing a move towards authoritarianism. The anti-democratic Eighteenth Amendment was passed laying the ground work for dictatorship.
"The new President has to make certain that the transformation he has promised will definitely be for the betterment of people"
Engineered a Paradigm Shift
The poll was exceptionally peaceful; now the Presidential election is over. Except for a few negligible incidents of threats, on the whole it was violence free, a fact that has been acknowledged by the district returning officers and foreign observers. It's the silent majority that determined the result of the election, not those crazy flag-waving crowds. The total overall
voter presence was as high as 81% compared to low turnout in the so-called developed nation which average 50-55%.
The credit for conducting a free and fair poll should first of all go to the two main candidates. They appealed to their supporters to refrain from putting up posters, banners and cutouts. Chairman of Elections Commission who as Commissioner in last Presidential election threatened to aim the security guns on the head of a violator, in this election failed to take action to prevent highly partisan electronic media, both State and private. Falsehoods, misinformation and blatant lies have played a pathetic role using Social media, than at any previous election. After patiently watching the scenario for one and a half months, he now comes with graphs and statistics to tell the public that action will be filed against them. "Closing the stable gates after the horse has bolted away?" The Police force played an important role in preventing violation of election regulations.
The people have spoken loud and clear. The entire media, except the State, predicted a close tussle. Foreign media publications and institutions filed information saying the final outcome is going to be favourable to Gota. National intelligence two weeks ago, as disclosed by Minister Harin Fernando, predicted an 11% margin in favour of Gota too. Media specialist and political analysts, whose theories were woven in the cool rooms of Colpetty failed to assess the reality. They were so far-away from the ordinary people they could not comprehend the pulse of the voter. There were quite a few myths and fallacies on which the hypothesis, plans and misinformation were based.
People Spoke Loud and Clear
There is an inclination among many of us to think that 'politics is a dirty game' that one should not get seriously concerned with. Therefore it is not for the 'educated and the respectable' to engage in the affairs of politicians. They communicate their intentions at Board meetings to stick to the points and not to bring politics to bear on them. However, politics should NOT be left to the politicians. It is not a questionable field of activity. It should not earn a reputation of an evil field. Our politicians may be the worst in the world in terms of honesty, integrity and competence [they will compete with world's best-known robbers/law breakers] unfortunately in a democracy we have little choice but to endeavor to change on them, because, as Charles de Gaulle once said, 'Politics is too serious a matter to be left to the politicians'.