---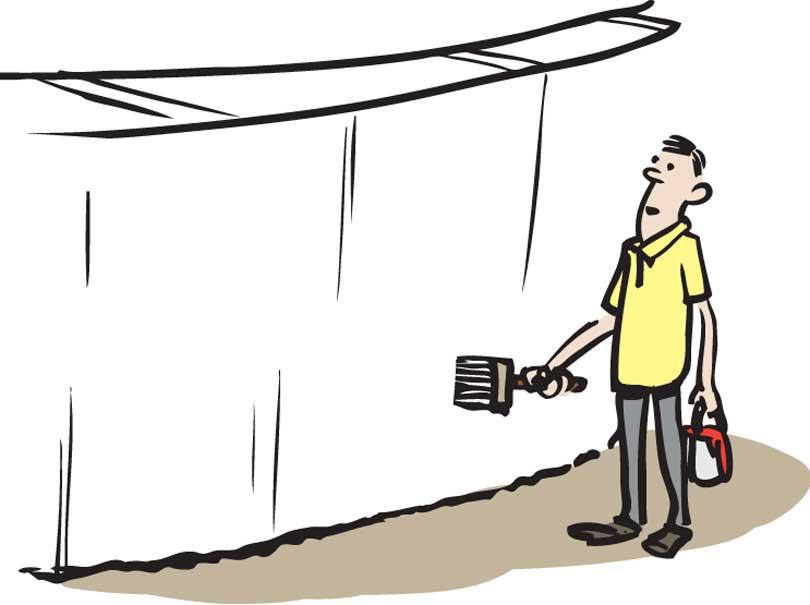 The new trend to beautify Colombo has attracted both bouquets and brickbats. There is new found purpose in these creations which have come up largely in the Colombo and Kandy city limits. These artists seem to have the will, skill and spending power as they go on decorating the walls of cities.

The new culture which is breeding is a little too hot to handle.

Why? There are two reasons for this. One is that this culture to paint life-size figures is addictive and the other is that there are complaints that original work is being reproduced
without consent.

We hear that both freelance and professional artists are at work these days. What matters much is that the artists belonging to the former group are engaged in something fruitful.
There was a time when artists and artistes in Sri Lanka struggled without means to live during the past five years due to lack of opportunities. Now there is an opportunity and only a fool would not grab it with both hands. We are also forced to think whether these artists are paid handsomely for their skills showcased using brushes and paints. The subject called economics teaches us that their is no such thing as a free meal. However the closest we can get to the truth reveals that some philanthropists have pumped in money for this project.
Another concern raised is why this type of paintings were allowed to be put up on walls where paintings already existed? For the record paintings have come up on the walls adjoining the Ayruveda Hospital in Rajagiriya which housed art done by schoolchildren.
both freelance and professional artists are at work these days. What matters much is that the artists belonging to the former group are engaged in something fruitfula

But the Government authorities have strangely stayed clear of taking the credit nor responsibility over these works of art. Hence there are ifs and buts regarding the artwork being done in selected cities.

Going down the annals of time we came across an art form called graffiti; which dates back to the Paleolithic period. History reveals that graffiti was initially seen on caves and rocks. It was a method of communicating. One wonders whether the present group of artists are attempting to communicate an important idea or merely focused on attracting viewers
to absorb sheer beauty.

We live in a era where even art serves as a tool to communicate with. Hence what goes into a picture must serve the purpose, be accurate and make viewers respond. Whether most of this artwork has the potential to do that begs the question; does it serve a purpose?

On the other hand these artworks open up a platform for youngsters to showcase their talents. Suddenly a selection process where everything was very official has become more to do with a participatory family-like affair. We have seen how parents and loved ones of these artists have stood by their side and supplied them with paints, food and encouragement.

Overall the good that comes out of such social projects outweighs the bad. We must as Sri Lankans shed this habit of protesting against anything that's introduced. These paintings will be reserved for a while and certainly won't be an eyesore like posters and artwork that support agendas of politicians.

If the work of these young artists has had the effect of sneezing, it sure has become infectious!