---
The ailing airline management was transferred to Dubai-based Emirates airlines in 1998
Under Emirates, the airline made a nett profit of Rs.3 billion in 2008
Airbus admitted bribing US$ 2 mn to former Srilankan airlines CEO Chandrasena and his wife
Dandu Monara, an 'aircraft' that resembled a peacock was used by Ravana, the mythical multi-headed demon-King of Lanka in Valmiki's Ramayana. In this Sanskrit epic poem of India written in the 5th century BCE, Ravana kidnaps Seetha, the wife of Indian Prince Rama and flew through the skies to Lanka in his imaginary 'flying machine' Dandu Monara. Merriam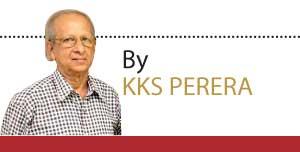 Webster defines, Flight as 'an act or instance of passing through the air by the use of wings'
Our national career, previously branded, Air Lanka, used a diagrammatic Peacock, [Monara], as its logo—, a bird whose flying powers are low down and limited to short distances. The mythological history of our aviation skills was invigorated in 1947 when Air Ceylon was launched as Sri Lankan flag carrier.
In 1947, the Government procured 3 DC- 3s the first was named after Seeta, [the queen of Rama abducted by Ravana], and other two as Sunethra Devi and Viharamaha Devi. Capt. Peter Fernando flew Seeta with 16 passengers on December 10, 1947, taking-off from Ratmalana headed for Palaly, inaugurating Air Ceylon's commercial flights.
Summoned before COPE
Committee on Public Enterprises, COPE will meet on February 19 to discus the Airbus deal matters relating to the controversial procurement and payment of compensation, with officials of the SriLankan Airlines according to its Chairman Sunil Handunnetti MP. He has rejected a request by officials for a postponement of the meeting, citing "the management is new: need extra time to study the context."
Restructuring of the Airline
Management of the airline was transferred to internationally reputed, Dubai-based Emirates in 1998, by President CBK under protest from majority in the cabinet, and leading Opposition members who were not in favour of the idea, fearing an end to privileges that they had been enjoying. The former President had to look for funds to keep the Big Bird flying. Emirates bought 40% of share for US$70 million, later enhanced to 43.6% and sought to modernize its image and fleet. Peter Hill, the CEO appointed by them was an experienced man in the flying industry. The government while retaining the majority stake in the airline gave complete control to Emirates, who re-branded it SriLankan Airlines.
Emirates changed the livery into a much simpler one, with fuselage all-white, covered by blue 'SriLankan' titles, and the tail decorated with an artistically modernized logo, new Monara [peacock]. After ending the Emirates partnership, the airline continued using its re-branded name and logo. However, after the takeover from Emirates, Boards were appointed by successive government ignoring the importance of relevant expertise, but, on the basis of loyalty to political parties, connections with leaders, personal friendships. Merit and competence in corporate supremacy received little attention.

Under Emirates, the airline made a nett profit of Rs.3 billion in 2008. It was transformed into a loss of Rs. 8.1 billion after the takeover by government. But the billion dollar question is; how could it happen, in such a short space of 12 months? During Peter Hills' tenure, the airline survived a major pre-dawn attack on it by Terrorists on July 24, 2001, where 19 people died, two Airbus A330 aircraft, one each of A320 and A340, and a few other planes and a number of military aircraft were destroyed. After the takeover in 1998, Emirates made profits by disposing of the airline's assets like aircraft, spare parts, including engines, and the airline survived financially as a result of the enormous insurance claims it received following the LTTE attack on Katunayake Airport in 2001.
US$ 4 billion bribe?
Airbus admitted illegally disbursing a record US$4 billion bribery settlement on sales agreements and the UK's Serious Fraud Office announced a payment of US$2 million made through Brunei Shell Company to the wife of Kapila Chandrasena, former CEO of Sri Lankan Airlines. The matter is before courts hence we do not intend discussing it any further.
The airline has lost the chances of a foreign collaboration for a 49% stake of the capital. The government was considering proposal to restructure the industry under a privatization process which is saddled with a debts of over one billion US dollars by end of 2018. The restructuring of the carrier which had already pulled out of flying to Hong Kong, France and Germany, involves in acquiring A 350 jets to A 330 neo planes or a mix of both from Airbus, and move away from jumbo jets, with the intention of increasing its current fleet from 25 to 35 by the year 2023.
Chandrasena and his wife Priyanka Wijenayaka, have been refused bail and are in remand custody until February 19. Rakitha Wickramanayake, an expert in the flying industry along with a few other members of high calibre appointed by President JR Jayewardene in 1978 managed the airline fairly successfully; JR refrained from interfering in any manner in its affairs. However, JR had to appoint a Presidential Commission in 1986 to inquire into affairs of Air Lanka, which found many irregularities in financial management. Changes were introduced by him, Bring top mercantile CEOs into the board, and the airline prospered independently, causing little or no burden to the State coffers. In the latter part of 1988, a change of Head of State saw the Board being dissolved for no valid reason.

A board with a senior SLAS member as Chairman was appointed for a short stint until a permanent board, which included President's son-in-Law who owned a successful orchid exporting enterprise. During 1989-1993, appointments of pilots, crew and managers for overseas offices were handled by President's political office.
Interference by Political cronies in the administration and appointing handpicked men in vital areas became order of the day. Breaking a tradition, where the Chairman reported to the President, [a practice adopted since inception] was assigned to the Minister of Tourism. All past Governments since 1988 are answerable for the current grave debt trap that is destroying the national carrier.

The main concern should be to convert the airline to a financially feasible and established entity, before making it a profitably running venture. The government needs to negotiate with a foreign airline and restructure SriLankan on priority basis with a fixed target of a limited specified time limit. A competent team appointed for undertaking an in depth study is a priority for restructuring the national carrier. Disposal of assets including aircraft, and using proceeds to settle part of the debts accumulated would be a wise decision.

Dandu Monara, raped by ex-planters, textile technologists and experts from numerous other fields except flying, and strangled by family members and cronies of political hierarchy is breathing slowly and irregularly, skin turned slightly blue, feel colder with slowing down blood circulation.
Writer can be contacted at – kksperera1@gmail.com