---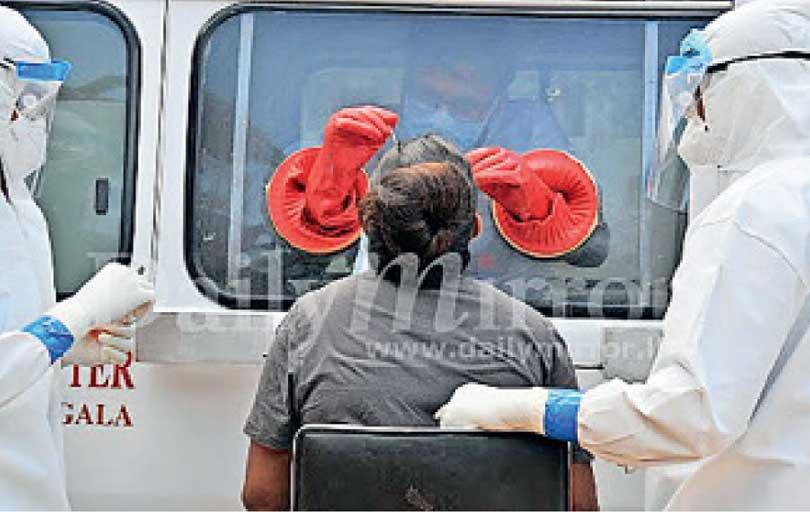 The danger of rushing into ad hoc measures without proper evaluation of associated health impact could exacerbate the virus spread, which in return, will force the government to limit economic activity
Ukraine had 1.06 million COVID-19 cases and 18,472 deaths as of yesterday while 6,113 new cases and 72 new deaths were reported on December 27. As such the government should weigh potential risks against the economic benefit of its decision

Amid the persisting COVID-19 pandemic, the shutting down of cities and unleashing death and economic ruin are having far-reaching consequences than the loss of jobs and income. As it increasingly becomes clear, economic considerations are compelling governments to overlook the threat of the virus. The danger in this approach is that it could end up losing at both ends. This is a fair bit of warning for Sri Lanka as it plans to bring in tourists while the country is losing its grip on the second wave of the COVID-19 spread.

Sri Lanka had commendable success in containing the COVID-19 until October when a new cluster emerged in an apparel factory at Minuwangoda. A highly contagious new virus strain was found in the wave of new cases, and health officials suspected it had been transmitted from the members of a Ukrainian aircrew that was undergoing self-isolation in a local hotel.

Although local officials have refused to concede, Sri Lanka is now in the community transmission phase of COVID-19. During this month, until December 27, the number of recorded cases increased from 24,529 to 41,944. This is an increase of 65% during the period. And the number of daily new cases hovers above 600 and has not declined. This rather peculiar static daily figure is misleading when considering the nature of the spread of the virus, which as seen elsewhere in the world is spreading at an exponential growth. In the case of countries that have succeeded in controlling it, the case numbers declined equally in rapid succession. Why Sri Lanka is stuck at a daily average of 600 odd cases is because of its limited testing. The number of daily PCR tests ranged from 12,222 to 15,000 during the past seven days. With more testing, more cases would come to light.

It is against this backdrop that the government should be extra-cautious before rushing into opening the country to tourists when much of the world is shutting down the borders in the face of a new and fast-spreading COVID strain discovered in the UK. Much of Europe has tightened border restrictions. In Asia, Japan has shut the border to foreigners until the end of January. These countries are not known to jump the gun with a herd mentality. Instead, there should be logical reasoning, which Sri Lanka should take note of.

The government should reconsider the recent plans to bring in tourists on package tours. In the first place, such initiatives appear to be high-risk publicity stunts with limited economic impact. They can go devastatingly wrong. A flight full of tourists from Ukraine was expected to arrive at the Mattala international airport yesterday. They are the first batch of tourists to arrive since the closure of airports in March. They will be subjected to PCR tests, and quarantined, but would travel to selected places of tourist interest. These plans, well intentioned or not, can collapse at its weakest link such as during tourist-local interaction.

Ukraine had 1.06 million COVID-19 cases and 18,472 deaths as of yesterday while 6,113 new cases and 72 new deaths were reported on December 27. As such the government should weigh the potential risks against the economic benefits of its decision, though rational cost-benefit analysis may not be its strong point.
However, what drives the government into this risky gamble is economic depredation and that is not a plight unique to Sri Lanka, though with its already fragile economy, the country was hit worse than many others by the COVID-19 shock.

COVID-19 has infected an estimated 81 million people so far and killed 17.7 million around the world. Millions lost their jobs and according to IMF estimates the economic impact would be around US$28 trillion between 2020 and 2025.

Sri Lanka with extremely thin fiscal reserves to weather the economic impact and provide an economic stimulus was among the worst hit. During the second quarter of the year (April-June), the Sri Lankan economy recorded its worse ever drop in history, contracting by 16.3 per cent. It recorded a positive growth of 1.5 per cent in the third quarter, but with the COVID-19 second wave, which began in October, even that modest success is under strain. The Central Bank projects the Sri Lankan economy to contract by 1.7 per cent in 2020 and to grow by 5.0 per cent in 2021. However, other forecasters are less optimistic. The International Monetary Fund (IMF), for instance, has revised an earlier forecast and expects Sri Lankan economy to contract by 4.6 per cent for this year, up from 0.5 per cent predicted earlier, even while it expects the global economy to fare better.

The danger of rushing into ad hoc measures without proper evaluation of associated health impact could exacerbate the virus spread, which in return, will force the government to limit economic activity. Sri Lanka should first tackle the spread of the virus. It can learn and adopt strategies that were instrumental in the modest success of countries such as Thailand and Vietnam. The country should not expose itself to the highly contagious new strain found in the UK. The health system is stretched out and will be unable to cope with a new caseload. And any miscalculation would have not just for the health sector, but also far-reaching consequences for the economy. It would defeat the very purpose of the high-risk gamble of bringing tourists from countries with high COVID-19 prevalence.
Follow @RangaJayasuriya on Twitter