---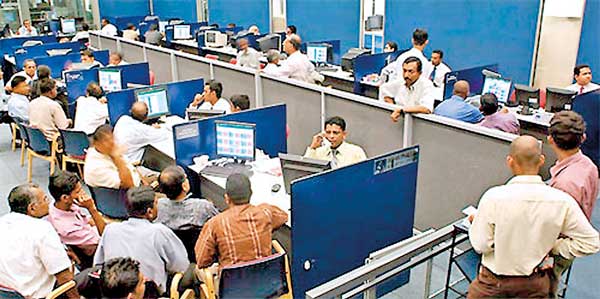 The governments in the past could no doubt meet the challenges in economic, institutional and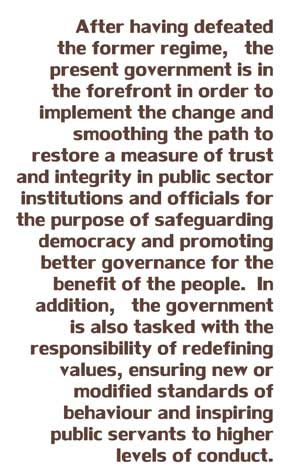 ideological changes in the country. There is a perception that moral and ethical standards in public sector personnel including politicians are in decline.
Modern thinkers have therefore urged that the new public sector organizations must be developed on seven points: serve citizens not customers; seek the public interest; value citizenship over entrepreneurship; think strategically while acting democratically; recognize that accountability is not simple; serve rather than steer; and value people not just productivity.

Prof. Gerard Caiden of the University of Southern California too had pointed out that owing to multiplicity and complexity of changes taking place currently, citizens required high quality public leadership and an effective government, as never before. Having considered the public service professionalism he has specified certain requirements: providing public benefits; enforcing the rule of law; ensuring public responsibility and accountability; setting an example; improving professional performance; and promoting democracy by public sector employees.

This requires a thorough understanding of professionalism and strict adherence to public norms of model behaviour.
After the abolition of the Ceylon Civil Service (CCS) and the creation of Ceylon Administrative Service (CAS) in 1963, which was renamed Sri Lanka Administrative Service (1972), SLAS officers have been badly targeted in several ways.
We are also aware that most of the brightest university graduates were attracted to positions in the CCS in the past. It is unfortunate that with the abolition of the independent Public Service Commission the powers of recruitment, transfer and disciplinary control of public officers had been vested in the Cabinet of Ministers since 1972.
This trend however became even more acute year after year. Subsequently, the 1978 Constitution, made the Cabinet of Ministers responsible for making the appointments of Secretaries. I have no doubt this provision paved the way for legitimization of political interferences. Accordingly, there had been a large number of outsiders who had political affiliations smuggled into top positions during the last regime too causing frustration in eligible SLAS officers. However, the public sector now has been identified as inefficient, buck-passing, insensitive, rigid, wasteful and full of red tape.

The government has now taken steps to depoliticise the system and enacted the 19th Amendment. We must now train the public officers to cope up with challenges in the changing times and they should now become specialists in order to modernize the public service to ensure quality service, performance and professionalism.

The last Parliamentary elections (2015) is the most glaring example to prove how important it is to keep politics out of running State affairs. The Commissioner of Elections and the Inspector General of Police carried out their responsibilities impartially with efficiency and effectiveness. Both public servants and politicians should now learn doing state craft well at a minimum cost.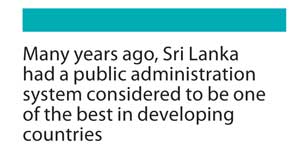 Public service and the resources of the land need to be fully utilized sparingly for the benefit of the people. Due to inefficiency and ineffectiveness, we have expended large amounts of resources wastefully, year after year, and these precious resources could have been utilized for supporting the economic and social development of our Nation and the people.

They need to be cost conscious since the public sector is wasteful, corrupt and extremely poor in service delivery.
The aim of the public service should be to extend far beyond the accepted boundaries. As was in the past, the provision of relatively advanced government welfare services, particularly in food, health and education should be continued.
These had been responsible for the extraordinary pattern of human development in the country. We must never forget the fact that we had achieved a high literacy rate and a satisfactory life expectancy but without a matched level of economic development.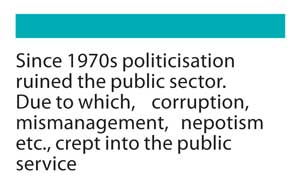 Many years ago, Sri Lanka had a public administration system considered to be one of the best in developing countries. The public service now had failed to attract the best calibre with better qualifications. New initiatives to transparency, improve skills and attitudes of public sector employees from top to bottom needs to be addressed.
The integrity of public servants also has a direct bearing for the purpose of improving the public perception of government credibility. Presently, due to lack of integrity, questions have been raised about the costs of misconduct on the part of elected representatives and public servants, who are responsible for ethical use of resources and safeguarding public interest.

The public servants when dealing with the public should always remember that they are duty bound to accomplish their tasks exceptionally well with sincerity and dedication. They should now do the right thing with professionalism without giving into political pressure. I am personally aware that if an officer is honest, straight forward and capable with a clean track record and most importantly plays straight, and discharges his/her own duties with sincerity, there is no need to carry out wrong or illegal orders, by taking things lying down.

In my view, steps need to be taken urgently to promote ethics in the public service, including fostering public involvement, improving the legal framework and instituting ethics as an integral part of human resource management in the entire public service.
Since 1970s politicisation has ruined the public sector. Due to which, corruption, mismanagement, nepotism etc., crept into the public service. It seems that drastic reforms need to be introduced if we need to achieve the desired goals of the new government.
Furthermore, in a hierarchical system, people tend to rise to "their level of incompetence" because they have been simply promoted on seniority and are more focussed with regard to the process rather than the outcome. Political stooges have been promoted or have been smuggled in to manipulate the public sector for personal gain.
We need to remember a good deputy cannot be a better head. Good performance at a lower level does not guarantee similar or better performance in a higher position. This theory has been named after the Canadian researcher Dr. Laurence J. Peter (1910 – 90) in his book – The Peter Principle. We have simply promoted incapable people. Most of the top officers in the public sector are talkers and not performers because they have skeletons in their cupboards.

A senior British bureaucrat had said: "I am tired of this bureaucracy, all this meaningless paperwork and lying politicians make me want to shoot myself in the face and scream bloody murder in the street." Nevertheless, countries such as UK, New Zealand and Australia had achieved a great deal having initiated numerous reforms. Could you imagine the plight of the Sri Lankan public sector without REFORMS?

It has been the same outcome when it comes to meaningful devolution and progressive reforms in Sri Lanka. Those in authority are holding on to power and do not intend to lose power or transfering it to the periphery. We must therefore even belatedly reform the public sector radically in order to strengthen the cultural, social, economic and political structure from the grassroots level if we need to take the country forward. They say management reforms cannot be easily bought 'off the shelf' and need to be pushed through with dedication and sincerity.
The present government, is therefore, burdened with several issues such as public sector reforms, unemployment, poverty alleviation and most importantly eliminating fraud and corruption. Public officers must therefore learn to appreciate the need to provide high quality service that the citizens demand while establishing managerial autonomy. The biggest problem this country faced was the fact that there were illimitable frauds and corruption, no proper management, lack of commitment and the lack of financial support from the government to develop villages, provide increased employment opportunities for youth, health, education etc.

It must not be forgotten that a major drawback in various reforms in this country is mainly due to excessively piecemeal and their ad hoc nature. In 1997, the government introduced performance and aptitude appraisals for public servants with annual increments and promotions having been linked to the outcome of the assessments.
The then Secretary to the President emphasised that the new system would require a "considerable effort on the part of public servants to put this proposal into operation." The then President stressed "it is imperative that members of the public service get accustomed to the growing needs of the modern world. (Daily News 28.2.2001). After 15 years - was it just another Public Administration circular?
Let me point out that if we need to take the country forward public sector reform must be carried out without delay along the lines of initiatives in Australia, New Zealand, Malaysia, Canada and the United Kingdom. I can comfortably predict that nothing would change unless President and the Prime Minister take the total responsibility for this essential public sector change!