---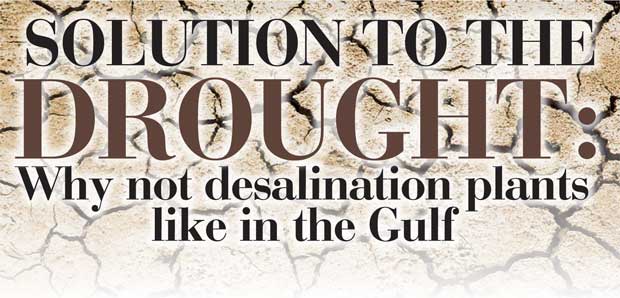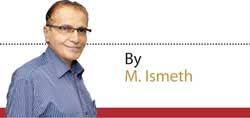 Sri Lanka has been struggling for several decades to get rid of the problem of water shortage during the drought in many provinces and we are still transporting water by bowsers to the areas where there is no water.

Way back in 2001 the writer suggested to a Senior Minister in the then Ranil Wickremesinghe Cabinet to have desalination plants in the North and South in areas close to the sea, only to be told that it's very costly. The minister was told lets start somewhere.

One might wonder how countries like Saudi Arabia, Kuwait, UAE, Qatar, Oman and Bahrain are having no water shortage even during the height of summer. They have desalination plants which provide the people drinking water from purified sea water.

The Gulf countries never run short of water even at the height of summer. How is it that Saudi Arabia has greenhouses which has tomatoes and several other types of vegetables being grown. They have tiny tubes fitted to all plants in the island on all roads with taps fitted at the bottom of the trees to water the plants during summer.

Those plants rarely die, they are watered regularly. All this is because they have enough supply of water from the desalination plants.

Saudi Arabia is the largest producer of desalinated water. Oman has the largest desalination plant.
Many of our politicians and even Heads of State have visited the Gulf but never ever did anyone think of asking their hosts, where they get their supply of water from. How do they maintain the plants in the islands in the roads, how come the people are not complaining about a water shortage at any time.

Here in Sri Lanka surrounded by the sea why cant we have desalination plants in places like Hambantota, Negombo, Mannar, Jaffna which is closer to the sea and give purified water to the people so that they wont have to face another drought another time.

Spending colossal amounts of money on various projects will not do if the people cannot get drinking water every day. Sky scrappers galore in the city and suburbs from where are they getting their water for construction and once they are completed.

These are questions asked by those in the drought stricken areas. Look at the plight of the men, women, children with no water to drink and no water to wash their clothes. Clothes and uniforms washed in muddy and dirty water.

We appeal to the President and Prime Ministers give it a thought, you can do it and please do it fast. Lets have at least one desalination plant before the next drought. Kuwait and the other Gulf states if I am not mistaken provide free drinking water to its people thanks to the desalination plants they have. Sharqiyah Desalination Company SAOC (SDC) owns and operates the Desalination Plant in Sur, Oman, which is a unique world-class solution for the Sharqiyah region with its growing population and economic importance.

SDC helps to fight the depletion of the region's limited groundwater resource by processing more than 200,000 m3/ day of seawater from its unique beach-well catchment – the largest in the World. SDC produces 80,000 m3/ day of drinking water using reverse osmosis (RO) process with very high energy efficiency, recycling over 97% of the mechanical energy and saving up to 40% more energy than a conventional reverse osmosis plant. The plant's unique facility also eliminates the requirement for chemical pre-treatment and ensures minimal impact on the marine and coastal ecology.
---
The Desalination Plant is operated and maintained by ISO-certified Bahwan Veolia Water Company owned by leaders in water technology and engineering – Veolia and Bahwan Engineering Company.
This contract is an achievement for Veolia:
The innovative and pioneering use of the beach wells is very efficient and this is presently the largest beach well facility ever built in the world for desalination process.
The Relationships between Veolia and its partner /client are excellent.
The Sur plant has become a reference point for Veolia in Oman

Max capacity: 80,000 m3 / day – Drinking water
Number of Employees: 40
Starting Date: January 2007
Contract Duration: 2 + 20 Years

Co-management contract: Public Authority for Electricity and Water.

The Sultanate of Oman is one of the countries in the world with the fastest economic growth since 1970. Water resource is key to support Oman's development and people.

The Public Authority for Electricity and Water is responsible for providing drinking water in Oman, a strategic resource to 2.3 million Omanis.
PAEW will face two major challenges in the next two decades:
1. A significant growth of water assets and service coverage – with an objective of supplying piped water to more than 90% of the Omani population
2. The need for service and performance improvement to meet the growing customers' expectations.
In order to get prepared, PAEW decided to launch a co-management contract awarded in 2011 to Veolia.