---
Bertrand Russell
"Many people seem to have been amazed that I should mediate in such matters without having any official status to do so, but I think events show that, even in our highly organized world, there are things that a private individual can do which are much more difficult for a Minister or an organization. In particular, it is much easier to agree with a powerless individual without loss of face than it is to agree with those whose arguments are backed by H-bombs of almost infinite destructive power."
-Bertrand Russell;' Unarmed Victory'- Penguin: 1963
The other day, I dusted off a small 120-page book from a Maradana old bookman's shelf seeing the name Bertrand Russell on it. The leading British philosopher, logician, mathematician, and political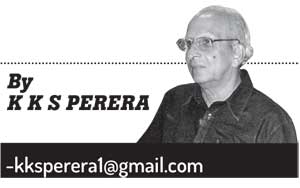 activist(1872-1970), was awarded with the prestigious Nobel Prize in Literature in 1950 in recognition of his rationality, humanity and extensive contributions to world literature as a fearless champion of free speech and free thought in the West. Russell authored 'The Problems of Philosophy', 'The Philosophy of Logical Atomism', 'A History of Western Philosophy', 'The Analysis of Mind', 'Our Knowledge of the External World', and a few more in later years. Most importantly, he wrote on his involvement in solving of two international crises; the Cuban and the Sino-Indian. He named it Unarmed Victory, a copy of which I had picked up on that occasion.

"In this book, I proposed to relate from my personal point of view the history of two crises: the Cuban and the Sino-Indian, in both of which I tried to influence the leaders and public opinion on both sides. I shall be giving partly an account of what I tried to do and partly the relevant public events." (Pp. 8/9)

Bertrand Arthur Russell, 3rd Earl Russell, was a Welsh historian, logician, advocate for social reform, and prominent rationalist. Although he was usually regarded as English, as he lived the major part of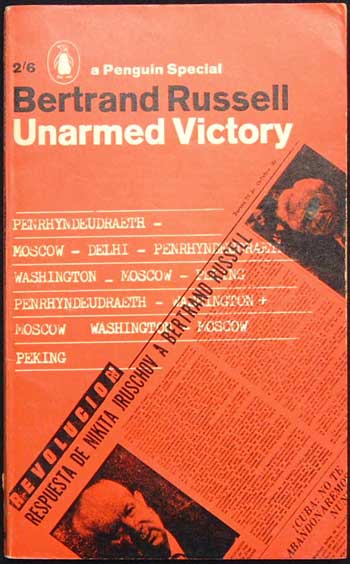 In 'Unarmed Victory', Russell elaborate how he Influenced the Leaders and Public Opinion on Both Sides
his life in England, and he died in Wales.
The book's impartiality, clarity of thought and complete production of original letters by none other than Russell himself deserves commend. This is perhaps a very useful volume from the perspective of understanding the Indo- China War of 1962. It won't make it clearer in terms of history, but will however give a profound viewpoint with respect to the personal enthusiasm and concern of the times. It was banned from being imported to India by Jawahar Lal Nehru for the same reason.
It's interesting to know Russell's view and eventual failed endeavor at the resolution of Indo-China border issue which led to the war of 1962. The letters exchanged between Russel and the Chinese and Indian Heads of State were insightful. It's most disturbing to find sections of the media manipulating public emotions even in those times.
Some people think that they should eliminate others purely on the grounds of race and religion. Racial conflicts have extended in capacity and depth killing hundreds of thousands simply due to the creation of divisions among Homo Sapiens. The world's most grave anxiety during the second half of 20th Century was race and religion. The untiring efforts of great Indian leaders like Gandhi and Nehru to cultivate secular thoughts among Indian population were in vain.
Jawaharlal Nehru
Trouble-shooter of international Politics speaks of Sirimavo and NAM
Russell, once the master of logical analysis, became a neutral trouble-shooter of international politics. He comments on the Sino-Indian conflict in the second part, the role he played, the day to day developments, and the letters he exchanged with the press, with Chinese PM Chou En-lai and Indian PM Jawaharlal Nehru. Lord Russell had a passion for peace and resultant passion for simplicities. As we know, Russell had been and was an anti-Communist, but he argued that after Stalin the war mongers were no longer in the communist world, but in Washington. The Chinese, according to him, are aggressors, but they offered the olive branch by a successive pulling out of troops, while India (according to him) became obviously combative. Yet India has long been the best example of neutralism.
Lord Russell watchfully records that India not only was devoid of a substantial case over the issue of the disposition of the terrain in dispute, but provided steady impediment in the way of compromise which seriously inflated the crisis and the risk to mankind. Russell was serving the interests of Communism in the course of his endeavor to institute the truth and, above all, to be in opposition to the danger of looming destruction.
"A philosopher and peace activist, Bertrand Russell's book, 'Unarmed Victory' was banned along with Sulman Rushdie's 'Satanic Verses' and Stanley Wolpert's 'Nine Hours to Rama' in India because it spoke on the 1962 Sino-India war"

'Unarmed Victory' among banned books in India
A philosopher and peace activist, Bertrand Russell's book, 'Unarmed Victory' was banned along with Sulman Rushdie's 'Satanic Verses' and Stanley Wolpert's 'Nine Hours to Rama' in India because it spoke on the 1962 Sino-India war, which sadly India lost. The book details the discussion he had with Nehru over the war and also makes a decisive judgment of the acts of conflict and the war between China and India, which could have led to a near holocaust. Russell has at all times been a promoter of a peaceful existence among nations.World renowned philosopher Bertrand Russell also intervened in the conflict by addressing letters directly to Chou-En-Lai and Nehru. In Russell's book 'Unarmed Victory', (a Penguin Special, published in 1963), the writer came across an interesting paragraph where he says,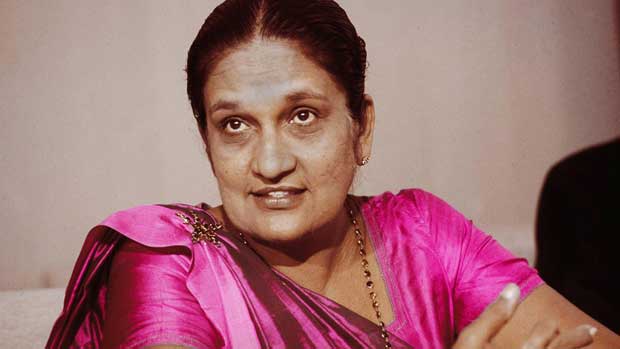 Sirimavo Bandaranaike

"It may be, of course, that the efforts of the conference in Colombo and Mrs Bandaranaike's mission to both the Indian and Chinese Governments may soften the present impasse to the point where mediators acceptable to both India and China may be drawn in and negotiations be made possible…"page 102. World's first Prime Minister Sirimavo Bandaranaike, a leader in the Non-Aligned Movement-NAM, in the 1970s, made a signal contribution to the resolution of a Sino-Indian conflict. Prof Carlo Fonseka, an authority on Philosophical writings, in a contribution to a newspaper says, "To my knowledge, Mrs Sirimavo B is the only leader of our country, if not the only Sinhalese, that Bertrand Russell has referred to by name, in his vast body of writings on all matters under the sun…" –Island-June 27, 2015.

Bertrand Russell was best known in recent years for his campaign against war, nuclear bombs and racial discrimination. He died at his home in Wales February 2, 1970. Born on 18 May 1872, he was 97 years old at the time of death.Advancing years didn't lessen his passion. In December 1969 he appealed to UN Secretary General U Thant to support an international war crimes commission to probe alleged "genocide and torture" by the US in South Vietnam.He named his 52-year-old American wife Edith Finch (His fourth wife) as the driving force behind his amazingly long, challenging and complex life. He married her when he was 80.