---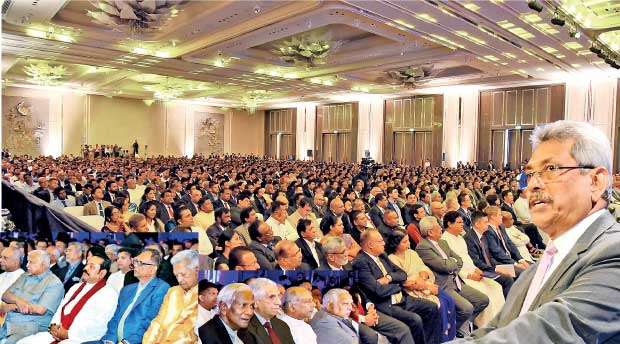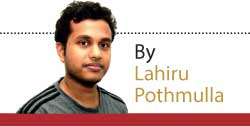 Sri Lanka should seize the window of opportunity to make the country a developed nation when the world economic dominance shifts from the western hemisphere towards the Asian region by the year 2030, former Defence Secretary Gotabhaya Rajapaksa said.
Mr. Rajapaksa expressed these views at the Annual Convention of 'Viyath Maga' Organisation held in Colombo on Sunday under the theme of 'An Intellectually Inspired Sri Lanka'.
Prof. Rohan Gunaratne, Vidya Jyothi Dr. Bandula Wijeratne, Dr. Nalaka Godahewa, Mano Sekaram, Dr. Ismath Ramzy and Eranda Ginige spoke at the convention on various scopes of economic and social development of Sri Lanka.
Gotabhaya Rajapaksa, who is also the Chairman of the Viyath Maga, said Sri Lankan professionals, researchers, innovators and entrepreneurs should brace themselves to face the shift of the world economic dominance towards Asia.
"By the year 2030, China's economy would expand and become twice the size of the economy of the US bytaking over world's economy and leaving the US at second place. India's economy will become the third largest followed by Japan and Indonesia. The nerve centre of world's economy would be the Asian Region. We, the Sri Lankans, cannot seize the opportunity to develop the country, if we are not ready by the year 2030. The economic development is key to a country's overall development. It's the very first solution to everything. In order to achieve sustainable economic growth, effective economic reforms should be made," he said.
Economic development is key to a country's overall development. It's the very first solution to everything. In order to achieve sustainable economic growth, effective economic reforms should be made
Prof. Rohan Gunaratne spoke under the theme "Sri Lanka's Geo-Politics and National Security 2030, said Sri Lanka could have played a neutral role in Geo-politics similar to Geneva in Switzerland without tilting towards one powerhouse. "We could be the Geneva in Asia. Why not Sri Lanka become a neutral state where all powerhouses can work with Sri Lanka?" he quipped.
He said many of the headquarters in the UN are pulling out from the US mainland and relocating themselves in the African Region. A move, he said, makes more sense since most of the UN missions and projects are being implemented in African countries.
"It would be a great move for us to offer a plot of land in Sri Lanka to relocate one of the UN headquarters in here," he said.
Commenting on the Sri Lanka's economic development in the 1950's, 60's and 70's, Prof. Gunaratne said the country was better than even Japan, Korea, Singapore and Taiwan. However, this economic stability could not be maintained owing to Geo-political blunders we made as a country, he said.

Meanwhile, he said though Sri Lanka defeated terrorism, it faces yet another challenge from extremism.
Rohan Gunaratna is a Professor of Security Studies at the S. Rajaratnam School of International Studies at Nanyang Technology University and Head of International Centre for Political Violence and Terrorism Research, Singapore.
Ambassador, Science and Innovation for Sri Lanka, Professor of Clinical Medicine Kotalawela Defence University and CEO of LeoMed LLC and BinLab, Inc. Texas, US, Vidya Jyothi Dr. Bandula Wijeratne addressed the gathering about the 'Ingredients for an Innovative Economy.'
Dr. Wijeratne said teamwork was key to innovation and research but Sri Lankans lack teamwork. "Innovation comes through exchange of ideas and by working together. However, we don't have a support system for teamwork concept and promotes individuality. Current education system discourages teamwork which should be taught from kindergarten," he said.
The mindset of innovation should be taught to students when they are still in the grade school and not after they graduate the university, he said.
"Imagine, what would have happened if Kumar Sangakkara or any other star cricketers practiced cricket once they graduate from the school or university. They have done it through the grade school and that was how they become masters in their fields," he said.
When compared with the education system of the US, he said Sri Lanka's education system, which was introduced by the British, doesn't give room for innovation.
"The education system in the US is very broad. It is the most fundamental reason why the US is world's leader in innovation. Their education is based on problem-based learning and even the students aged 10 or 12 come up with the most practical ideas which can be developed into projects," he said.
Mano Sekaram, CEO of 99x Technologies and Chairman of Lanka Angel Network, delivered a speech under the theme of 'Digital and Knowledge Economy' and said Sri Lanka needs to transform itself into a complete digitalized country.
"We have to upgrade our digital infrastructure. The field of Information and Communication Technology has done a tremendous job over the years. It has to be strengthened. We should look at what UBER and AIRBNB have done. Without owing a single hotel, AIRBNB has become the world's largest hotel service provider. That's the way of thinking for Sri Lanka to go forward," he said.
He said when developing the country, the first aspect we need to build is human capital, which is considered as the greatest asset of the world.
"Human capital is what Israel has utilized. In Sri Lanka, 200,000 students qualify for university entrance after A/L each year. Only 30,000 get into state universities, 10,000 fly abroad and 20,000 enroll at private universities in here. The rest is left behind. Since 70 years of independence, this is the great injustice caused to our young generation," Mano Sekeram said.
He said we need to have people who take up challenges and even if they fail, failure is acceptable. "We need entrepreneurs who will take challenges," he said.
Dr. Mohammad Ismath Ramzy, Senior Lecturer of the Educational Foundations And Humanities Department at Malaya University in Malaysia, said countries in Asia would face challenges at home when the world's economy shifts towards Asia.
However, he said the issued stemmed from the large population sizes in countries like China and India would not be apparent in Sri Lanka. He said India is already struggling with its rural population.
Commenting on the Education system in Sri Lanka, Dr. Ramzy said an analysis of the quality of education system in Sri Lanka is vital .
"Sri Lankan education system faces criticism for lack of entrepreneurship and failure to match the job market. The education system needs to be updated with hard skills including literacy in Information and Communications Technology (ICT) competence and soft skills such as problem solving and creativity.
He said since science and technology system is not promising, adopting to innovative culture is possible only through exercising effective research and development in the public sector.
Former Chairman of the Securities and Exchange Commission, Dr. Nalaka Godahewa expressed his opinions over the 'Aspirations for a People-Centric Economy, said Samsung Corporation, the South Korean Multinational Conglomerate Company made a revenue of US$ 174 billion in 2017, a turnover which is more than double the GDP of Sri Lanka during the same year.
He said Facebook Corporation's Head Mark Zuckerberg's current assets are valued at about US$ 74 billion where as Sri Lanka's GDP is about US$ 84 billion.
"The economy of Sri Lanka is growing at about 3%-4% rate where as Facebook Corporation's growth rate is about 25%. So we can reasonably assume that its owner's wealth may exceed the size of Sri Lanka's economy by next year. Mark Zuckerberg is 33 years old, whereas Sri Lanka gained independence 70 years ago! he said.
He said the economic management policies of Sri Lanka had never been consistent and they have shifted from one direction to another with change of governments.
He said it was important for Sri Lanka to think independently. "No economic crisis is permanent. Sri Lanka can always find ways to come out of this crisis with right strategy. What is important is to find the way for sustainable development. The aspiration is for a people-centric economy based on the three pillars; stability, progress and dignity," he said.
Delivering a speech under the theme Social Innovation, Future of Business and the Rise of the Millennial, Founder of Social Enterprise Lanka and Co-creater of Ath Pavura Eranda Ginige said the traditional method of development was not scientific.
"The traditional method of development is to exponentially grow the industries. If all developing countries developed in this manner at once, we will be needing resources of more than four planets to sustain the development. Therefore, if developed countries are to maintain their development, other countries should always remain in the category of 'developing'," he said.
He said the development of Sri Lanka should be suitable to us, our resources, climate, people's requirements.
"Other countries rich with resources still invest in wind and solar power, which are sustainable, so they can save their resources to the future generations. If we can transform Sri Lanka into a country with sustainability in renewable energy before 2035. To develop architecture suitable to the future climate and reduce wastage of electricity, we can achieve social innovation," he said.
Mr. Ginige said most of the policy makers and business people still follow the old traditional economic system in the country.
"It is true that some have succeeded through this method. However, we should decide whether to go along with the old, destructive and unproductive development method or start our own development. We should also give the opportunity to the new generation, to the millennial," he said.
Former President and MP Mahinda Rajapaksa, Members of Parliament, political leaders, academics, professionals, artiste and many others attended the annual convention.