---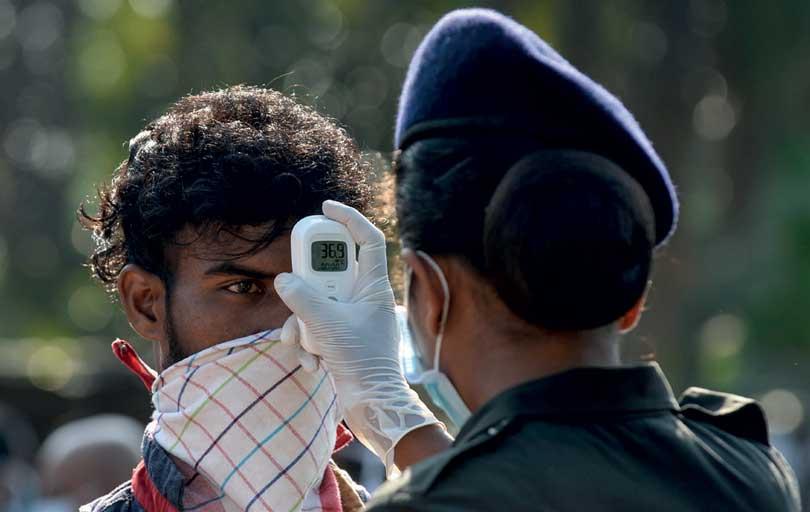 A security personnel (R) checks the temperature of a worker before he boards a bus during a government-imposed nationwide lockdown as a preventive measure against the COVID-19 on the outskirts of Colombo. (Photo AFP)

We have seen people behave in various ways amidst the COVID-19 situation. On one extreme are those who think this is an over-reaction, generally considering the prevailing movement restrictions a nuisance to be subverted. On the other are those in high levels of distress getting ready for impending doom.

This is a situation that is constantly evolving. Undoubtedly, this creates a sense of uncertainty and confusion about what to do and not. Therefore, we need a suitable compass to guide our behaviours. For this we must turn to accurate information to guide us.

We are extremely fortunate to have a plethora of information sources at our finger tips, which enable us to be updated about what is going on across the globe in a matter of seconds. However, the downside of this sea of information is that some of it is uncontrolled we can be misguided. The WHO has commented that the COVID-19 pandemic has led to a "massive infodemic", where there has been an over-abundance of false information, and has even set up a 24/7 myth-busting hotline to monitor and respond to such misinformation.
https://www.who.int/emergencies/diseases/novel-coronavirus-2019/advice-for-public/myth-busters

We might sometimes fall prey to such false information traps because we want to make sense of this situation which is creating a sense of uncertainty and uncontrollability. We might want an explanation for what is going on, or to feel reassured that all will be okay and that we can do something to save ourselves,or simply want quick answers.
Some of us maybe more receptive to certain false information that feed into and confirm our already existing beliefs, leading to what is called a confirmation bias. e.g., someone who already believes in the benefits of a certain herb in treating the flu is more likely to believe claims about its efficacy in treating COVID-19.
We might also be repetitively exposed to such false information or actively seek sources which provide it which ends up convincing us that this information is true! This is called an Illusory Truth Effect.

Such false information could either make us even more panicked and distressed or falsely reassure us and make us more calm. Even if the latter might seem beneficial, both these reactions can misguide us and lead to dysfunctional and unhelpful behaviours or trigger us to spread false information which ends up propagating a dysfunctional community response.
Here are a few questions you may ask yourself to ensure the accuracy of the information you use and pass onto others.

Do I need to spread this information now to 'fight a fire'?

When we hear disturbing news we want to share it with our loved ones. This is a prosocial tendency stemming from our need to protect others from harm by transmitting information regarding impending dangers.

Therefore, when confronted with some news you need to make a judegment on whether or not you give into this tendency immediately, or wait to verify the information before passing it on. For example, if a boy comes running down the road shouting "fire", you might not have time to verify this message and it might be prudent to pass it on to those in the vicinity. However, if there is no immediate threat and no need for others to respond immediately, however 'burning' and emotionally distressing the content of the news might be, you need to stop in your tracks and first verify whether this news is accurate or not.

Have I checked the expertise of my source?

When judging the reliability of information you need to judge the reliability of its source. This would be dependent on what information you are trying to seek. For example, let us say your information sources are your mother/wife vs your boss vs a University Professor vs an Epidemiologist. Whilst if your question is about the rations available in the house your mother/wife may be the best source of information, if it is about how you can work from home during this time, your boss might know best about your office policies. However, when it comes to the current predictions regarding the trajectory of the corona virus, although both your mother and boss may have your best interest at heart, they are not good sources of information and you need to rely on the information provided by a qualified Epidemiologist. If you are searching the web you must check if the website is reliable and maintained by an established health authority.

Am I sure the 'expert' is wearing a fitting hat?

You may hear of statements and advice from several experts and renowned persons about what to do in a particular situation, but you must ensure that these experts are wearing their own hat and not that of another and are only providing advice within their area of expertise. Let us say in the previous example, the University Professor is a Professor in Psychology. This person might be able to comment on the psychological responses of people during a situation such as this, but will not have the expertise to comment on the epidemiology of COVID-19.

Am I sure this is not false 'expert news'?

We are also sometimes confronted with misleading information provided under the guise of being from renowned experts. Despite being under the name of a so-called expert you need to always check on the reliability of the source providing this information. If it is provided by a reliable person what was their source?

Am I with the times?

Apart from checking the reliability of your source, you need to check the timeline of your information. We often have news of several years ago still circulating because we do not bother to check if the news is old. So a Situation Report on COVID-19 is relevant on a particular day, but not a few days later. So check the date before passing it on.

Have I cherry-picked the information?

When provided with information we have a tendency to focus on the distressing parts or that which feeds our preconceptions and biases. Therefore, when providing information to others we must avoid the trap of cherry-picking such information, because often when considered within the context of the larger picture, these same facts can take on a different meaning.

Have I separated speculation from fact?

There are many questions about COVID-19 that we still lack answers to. Scientists are working very hard to find its origin, how it spreads and how it could be treated. There are several academic debates and discussions about these issues and for some of these questions we still only have mere speculation or hypotheses. So let us say experts hypothesise that a certain drug might be effective in the treatment of COVID-19. This is still at the speculation stage and is not a fact. So we need to act responsibly in passing on this information and not make claims such as "a cure has been found for COVID-19" given the experts never told us so!

Do I need to become the broken information link?

Whenever you click the forward button on any piece of information, this action turns you into a source of information. This places a massive responsibility on you since, if you feed others with information which is not authentic, reliable and verified, you are then guilty of misguiding them. So if you have not verified the information you received, become the broken link in the chain of information transmission!

(The writer is a Clinical Psychologist and Senior Lecturer, Department of Medical Humanities Faculty of Medicine,

University of Colombo)