---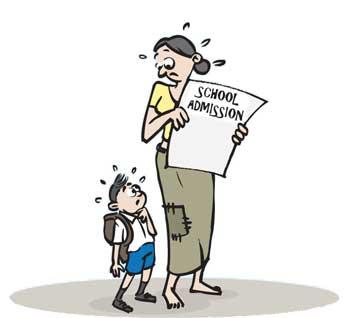 Recently the government has taken three important decisions on matters that seriously affect the ordinary people's lives. First, President Gotabaya Rajapaksa announced that the building plans must be approved within a week, if the applicant has fulfilled requirements. And then he said that the medical test for driving licence should be confined only to eye tests. Explaining the third decision Cabinet spokesman Keheliya Rambukwella recently said that Cabinet has discussed relieving the parents from submitting title deeds of their houses when applying for admission of their children to grade one in State schools.

Admission of children to government schools, especially to the so-called popular schools has become a gigantic task for many parents due to their inability to show proof their residence near the school they prefer. Providing false addresses to the schools with their applications is a well-known fraud. It is also a well-known fact that they even teach their children to tell lies about their residence at the so-called interviews for admission to schools.
Demanding the deeds of houses by the education authorities for school admission is a great injustice to the hundreds of thousands of people who do not own a house. They live mainly in rented houses where they are not allowed to stay for more than one year or two years in many cases. This deprives them of being registered as voters as well, which is another requirement for the admission of their children to government schools. A majority of them live in rented houses due to their poor financial capacity to own a house. Hence, depriving their children of their education, for this reason, is tantamount to punishing them for their poverty

In a recent televised discussion, certain education officials argued that authorities had been compelled to call for so many documents from parents for the admission of their children due to frauds and hesitation by the parents to admit their children to the nearest schools. Despite this contention being overtly true, it is not clear whether those officials had walked the talk when they admitted their children to schools. People are not insane to send their children to far away schools ignoring the nearest schools if they have the necessary facilities and social recognition.

The vast disparity in facilities and the recognition among government schools has to be blamed for this situation. At a meeting in May the then Education Minister Dallas Alahapperuma said that 582 out of around 10,000 schools in the country have no water supplies at all, despite students in some schools being lucky to enjoy the luxuries such as swimming pools. Pointing out the lack of toilet facilities in many schools the former Education Minister Akila Viraj Kariyawasam said in Parliament in 2017 that the government was planning to construct 26,000 toilets in schools. Many schools in the country lack sufficient buildings, teachers and even access roads. Therefore, the argument that the parents must be encouraged to send their children to the nearest schools seems to be absurd.
However, that is what it should be. Yet, it would be impossible to achieve this unless the disparity in facilities among schools is done away with. Education is not a right of a section of society. As we have pointed out in another editorial in May, the disparity in facilities within the school system and the resultant injustice that had been meted out to the poor people in the country was one of the main issues that had been raised by the Janatha Vimukthi Peramuna (JVP) in 1960 – before its first insurrection in 1971- and thus students constituted a sizable number of their rank and file then.

Education is not a luxury or a right of a section of society. The Universal Declaration of Human Rights states that education is a fundamental human right for everyone. While explaining this human right the UNESCO asserts that "there must be equality of opportunity, universal access, and enforceable and monitored quality standards."
Many students in Sri Lanka have been deprived of the "equal opportunity, universal access, and enforceable and monitored quality standards" in education due to the vast disparity in facilities. And proof of residence has been a major tool in achieving it on the part of the student (and also to deprive of it, on the part of officials.) Authorities must be honest in their effort to minimise this disparity without paying occasional lip service in order to score brownie points from those craving for quality education for their children. UNESCO states that right to education is established by two means one of which is the political commitments by the governments.