---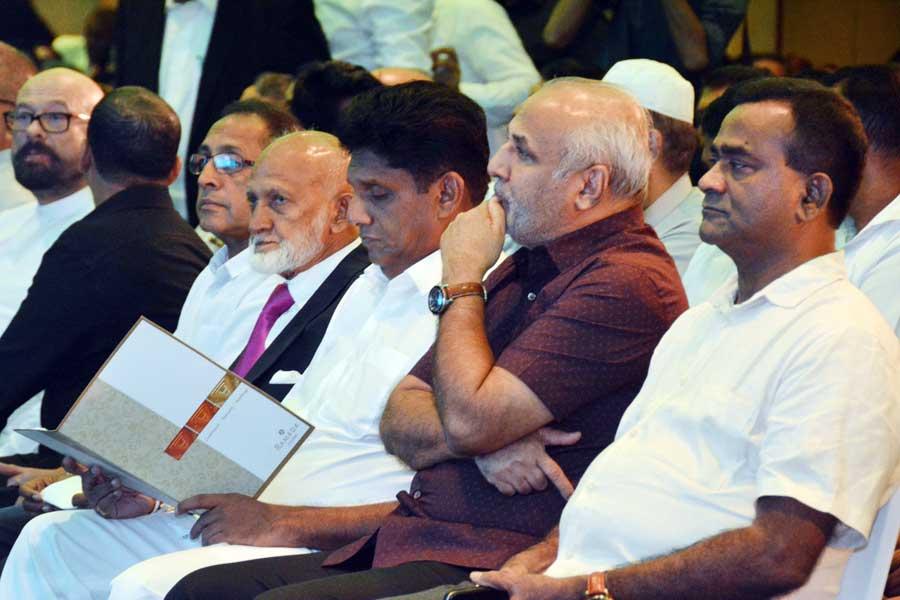 Ministers Kabir Hashim, A.H.M. Fowzie, Sajith Premadasa, Rauff Hakeem and Tissa Attanayake.
PIX BY NISAL bAduge
Says he will use true Buddhist principles to govern the country without bolstering hatred among communities
Pledges to advance export-centred economy, encourage innovation, cultivate technological skills among people
Says will not lead country from Temple Trees, but use private residence
Shortly after addressing the United National Party's convention held on October 3 at the Sugathadasa Stadium, the party's presidential candidate Sajith Premadasa took part in an open forum organised by the National Muslim Collective at Hotel Ramada in Colombo. A large crowd -- mainly representing the Muslim population – thronged the venue, led by Ministers Rauff Hakeem, Kabir Hashim, M.H.A. Haleem, A.H.M. Fowzie and Rishad Bathiudeen. In addition, showing support to the candidate were Ravi Karunanayake, Mangala Samaraweera and Tissa Attanayake.

In his welcoming remarks, Minister M.H.A. Haleem said the only expectation of the Muslim population from Minister Premadasa was that he would create an atmosphere in which everyone could live with dignity without being discriminated against. Remembering the late President Ranasinghe Premadasa, he expressed his assurance that Sajith would follow his father's footsteps in standing up against racism and creating religious freedom.

Finance Minister Mangala Samaraweera directed the crowd's attention to the origins of the Muslim community in Sri Lanka. While doing so, he said that in the early years, Muslims served as functionaries at Dalada Maligawa and even took part in the Dalada Perahera. Emphasising on significant Muslim leaders, he said the political leadership of T.B. Jayah and the like was crucial in attaining independence and constitutional reforms.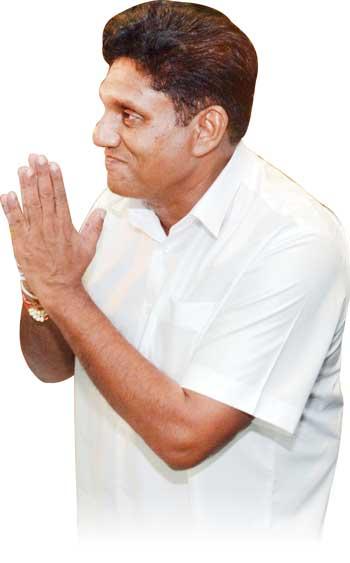 "Given such a history of interdependence and coexistence, it is a great tragedy that certain political leaders fan flames of extremism to satisfy their narrow political aims," he said.
Showing alliance to the presidential candidate, the minister declared that he was extremely confident that Sajith Premadasa would be a leader for all and would not confine himself to serving any particular community, religion, class or caste.

Echoing the sentiments expressed so far in the House, Minister Premadasa harped on a united Sri Lanka that he planned to create, devoid of differences and divisions.

Minister Premadasa said if he was elected President, he would advance an export-centred economy, encourage innovation, cultivate technological skills among people and bring about modern prosperity to the nation. To do this, he reasoned, there must be political and economic stability.

"The leader of the State must not only represent one sector, but the whole population. He must protect everyone. The friendly faces put up by my opponents are a sham. They may seemingly be in favour of reconciliation, but in reality their aims are destructive. On the contrary, my heart is pure. I am an honest and upstanding Sinhala Buddhist who will use true Buddhist principles to govern the country without bolstering hatred among communities," he said.

Furthermore, Minister Premadasa expressed his unyielding objective of eliminating terrorism and extremism from the country and urged the Muslim community to support this cause. He pledged to bring new laws in this regard and assured they would not be implemented in a discriminatory manner.

Speaking of the office of President, he said there was a misguided view that the President must enjoy the utmost privileges.

"A President is not elected so that he could live like a God. A President must shed sweat and tears to serve the people. The prevailing desire is to live in Temple Trees and enjoy its lavish facilities. I will not lead the country from Temple Trees, I will use my private residence. My wish is to go down in the history of Sri Lanka as the President who least depended on people's tax money," he said.

Responding to the questions of the gathering, Minister Premadasa touched on a few key aspects that require attention and reform in the country.

ECONOMIC DEVELOPMENT
Minister Premadasa said he was an ardent supporter of a mixed-economic system wherein free-market ideologies were followed in the first phase of wealth concentration, and then social democratic principles were adhered to in order to redistribute wealth equitably.

"In the process of economic growth, the government must ensure privileges are enjoyed by everyone. It must adopt a system of proactive intervention to provide more and more incentives to investors and attract foreign direct investment to the country." He also emphasised on the need to make governance more professional so that decision-makers would be better informed and skilled, and policies could be formed with careful thought and consideration.

PROLIFERATION OF MINISTRIES
The minister admitted to the fact that there were instances where ministerial functions were duplicated and that there was certainly room for consolidation when it came to conducting events. It was assured that policy expertise would be sought to adopt a method that would be efficacious to the government.

Minister Mangala Samaraweera addressing the gathering

RED TAPE IN MINING INDUSTRY AND RELATED TAXES
Minister Premadasa said he would pay attention to improving the Mining Industry and that he certainly did not want government's inaction to stifle private enterprise. The minister hesitated to give an off-the-cuff answer as he did not want such responses to lead to any ad hoc decisions. However, he assured that all steps would be taken to facilitate the Mining Industry and revise related taxes the way they would best suit the country.

FRAUD AND RECOVERY OF STOLEN ASSETS
It was expressed by the minister that he had no experience in stealing and therefore had not had the opportunity to recover. However, he is hopeful to embark on a strict regime to prevent corruption and address this matter in a novel way, without being subject to any influence if he were sworn in
as President.

MEDIA ETHICS
The minister was confident that the present government had done a lot to uphold media freedom in keeping with principles of democracy. In order to address the challenging behavioural attitudes of the media, he suggested a self-regulatory system through which media institutions could take steps of their own. Furthermore, he urged the media to report based on facts and substance and not on fiction and speculation.