---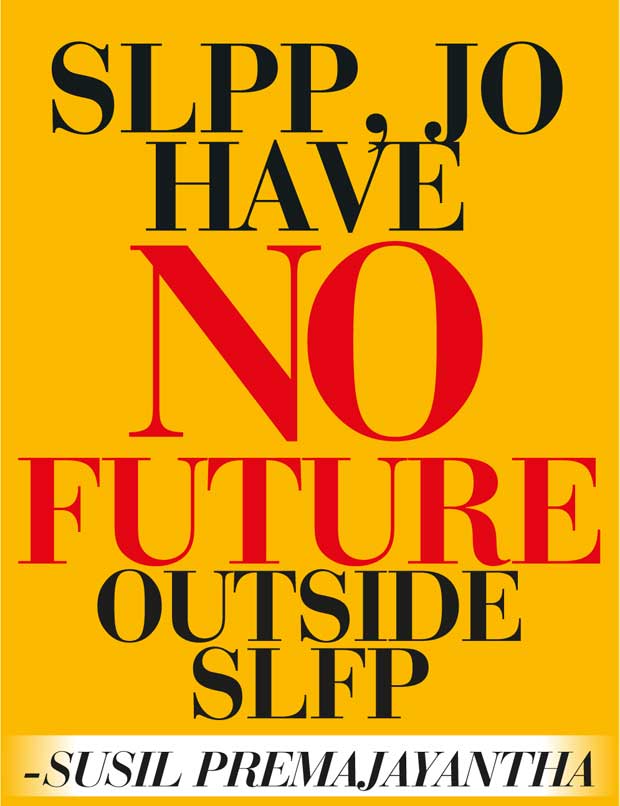 Science, Technology and Research Minister Susil Premajayantha shared his views with Daily Mirror on the current threats faced by the SLFP from the JO and the SLPP as well as his portfolio of Science Technology and Research. The following are the excerpts of the interview:-
I really feel that our media has failed the scientists and researchers and in turn our society by not taking the messages to the masses

We have many eminent scientists who have achieved excellence now working abroad having graduated from our universities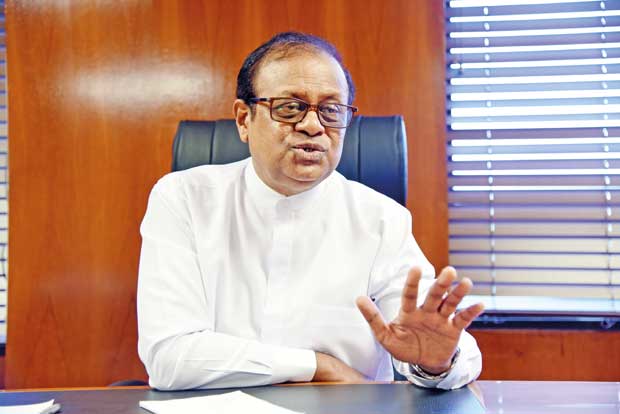 Q Other than the challenges faced collectively by the unity government, the UNP as a political party does not have any significant confrontation in the local political front. But the SLFP is entangled with a slew of threats by the joint opposition and the newly-formed SLPP. How would the SLFP tackle this?
The joint opposition or the SLPP are not a threat to the SLFP at all. Besides, almost all the JO parliamentarians are members of the SLFP-led UPFA in the first place. I hope when the election time gets nearer, the SLFP members supporting the JO will be back with the SLFP as they have no future outside the SLFP. Besides, the SLFP has been challenged by many former party stalwarts such as Maithripala Senanayaka, C.P. de Silva, T.B.Illangaratne, Anura Bandaranaike, Vijaya Kumaratunga, Chandrika Kumaratunga etc., and it is a long list. But the SLFP has come out unscathed at all these setbacks and is today as strong as ever. Therefore, have no doubt that anyone could destroy the SLFP. We could talk about this problem until the cows come home.



Q

How are the preparations of the party for the forthcoming local government polls?
We have come to the last stage of interviewing candidates for the entire 336 local government bodies at the party head office at Darley Road. I hope we would be able to conclude interviews by next week. The Interview Boards have recommended old and new members of the party as candidates for the local government polls. A large number former local government members who have pledged their support to the joint opposition have come for the interview and been recommended for SLFP nomination.



Q

What is the SLFP position on the Constitutional making process?
Our position is that drafting of a new Constitution or introducing Amendments to the current Constitution must be done after an extensive dialogue with all stake holders like the minority parties, the ethnic divide, religious and social leaders. It must not be done in haste and the Constitution must fulfil the aspirations of all Sri Lankans. The 1972 Constitution took two years to conclude the

process.
The six subcommittees appointed by the Parliamentary Steering Committee to look into the all aspects of Constitution making have submitted their reports to Parliament by now and they will be taken for debate in January, 2017 after party leaders decide on dates for the debate. The Amendments if any to the recommendations of the six reports would be incorporated during this debate. However, I think the new Constitution will not be able to pass in 2017.



Q

In Science, Technology and Research, Sri Lanka is lagging behind and much backward in comparison to other countries in the region. Do you agree?
When India carries out a mission to Mars successfully with much less cost than the USA, when Pakistan successfully launched a medical devices industry and sports equipment manufacturing based on nanotechnology, and mind you, these are countries with much lower literacy rates than Sri Lanka. We have to admit that Sri Lanka is lagging behind in science, technology and research. However, there is something important to highlight. People observe implementations and actions and when they themselves benefit differently and when they can relate those changes to science and technology. Perhaps Sri Lanka's problem comes from this angle rather than actual science, technology and research. We have consistently failed to take research and development efforts to the masses. However, we should not forget the benefits agriculture research has given to Sri Lanka. Efforts of researchers in that sector enabled agriculture production to grow and support the needs of a fast growing population. There may be different issues people may raise but there the research resulted in outputs of benefits to society. In the manufacturing and industry sector there is much less visibility of evidence and we largely depend on imported equipment and processes. This is not due to the fault of one government. Systematically, we have failed to understand the role for science and technology, research and development in the economic development. We have been happy selling basic items and living rather than looking at value addition. We still rely on tea for some decent export income, a practice introduced during the colonial era. Now we also depend on textiles and apparels though we provide mainly the human resources – that sector provides the highest number of employment opportunities in the manufacturing segment of our economy.
"Sri Lanka is giving less than 1% of GDP to research and development. In fact our value is 0.17% (2014) which is less than what even a less developed country is investing today"
However, we see today innovation being seriously embedded by the major exporters in Sri Lanka which is a welcome sign. We do teach science and we get excellent students. We do allocate money for research not as much as we wish to. It has been identified that we are quite efficient in managing what we get as Sri Lanka has been in the top 10 for Global Innovation Index assessments when the efficiency factor had been evaluated. We have also seen that what Sri Lankan researchers published is high in quality when compared to global impact factors. Yes, research output quantity is not sufficient but in couple of sectors quality is outstanding. We failed badly when considering the issue of patents and this area is important in commercialization and especially with global markets. We need to address taking what we are doing to our masses and then when people feel that science and technology are benefiting them this situation will change and if we work in a focused manner changing this perception on Sri Lanka is not difficult.



Q

The Public perception is that the contribution from our scientists and researchers to the economic progress and development of science and technology of the country is not satisfactory. Your views on this...
As the Minister in charge of Science Technology and Research, I have been privileged to witness, interact with many scientists, engineers and researchers in Sri Lanka. I also am aware of what 12 institutions under my ministry are doing and contributing. Note what I mentioned earlier, they do quite a lot for what they receive and in some cases there is visual impact. However, public perception is shaped by media and through communications. There I really feel that our media has failed the scientists and researchers and in turn our society by not taking the messages to the masses. It is really difficult to get media to attend research sessions and symposium where the research carried out is presented and discussed. This is the globally accepted way for researchers to disseminate their findings the other way being publications. Recently one research on a better way to cook rice which was carried out at one of our institutes was picked up by the Sri Lankan press only when it was reported in the international media (USA). We just do not pay attention to what 5,000 of our researchers are doing. Research is not a one-day game. I have seen Sri Lankans making breakthrough developments after sweating consistently for 8 years over an issue. Once the problem is cracked, their pictures are framed and kept in museums in their honour! Our media has highlighted a few such as Dr. A.N.S. Kulasinghe and Dr. Ray Wijewardene. Other countries have noticed the usefulness of this development. The same happened with Nano fertilizer developed at SLINTEC, where a couple of patents were acquired by India. Public perception can change if they get to know these developments. It has to happen as so much is done by our scientists, engineers and researchers that the public is not aware of.



Q

Our university system has failed to produce a single scientist or researcher in the calibre of Prof. Senerath Paranawithana, Prof. Chandra Wickramasinghe or Prof. Cyril Ponnamperuma for the last four or five decades. Why?
You are completely wrong! Pity that you did not come and listen to our scientists who were present at the Science and Technology for Society Forum Sri Lanka 2016 which was held in September. Hope you listened to some of the programmes which were aired on Rupavahini and ITN at that time. You still could listen to all the presentations if you so wish and read the material. You are referring to three scientists in the area of archaeology, physics and chemistry. All of them studied here and were products of our universities and then went abroad and realized their postgraduate dreams. Out of the three, Prof. Chandra Wickramasinghe is still in the UK. Our public gets to know when they do interact with political establishments and get engaged to serve in various capacities. We have many eminent scientists who have achieved excellence now working abroad having graduated from our universities.
" A large number former local government members who have pledged their support to the joint opposition have come for the interview and been recommended for SLFP nomination"
I can give you a big list but hope you would look around. Dr. Sarath Gunapala who has achieved fame for his contributions at NASA over Mars missions, Dr. Bandula Wijey who has achieved fame over his innovations in Biomedical Engineering. Prof. Malik Peiris who identified the SARS virus and now is a well known microbiologist was from the University of Peradeniya. Prof. A. P. de Silva of the University of Belfast who perhaps is one of our hopes for top honours for his work on molecular computing is from the University of Colombo. Prof. AP always acknowledges his success to his chemistry-teaching at school in Colombo. They all were graduates from local universities and are now spending time abroad. Yes, they have not come back to Sri Lanka and have not actively been doing anything here so that their names do not get registered as our media never research and publish on this subject of Sri Lankan Diaspora. We do have the highest per capita expatriate community abroad than any other country in this region and that is sad too in some way. However, if you look at closely you would see them performing exceptionally well. I do have plans to get the services of these scientists and researchers to Sri Lanka and the Ministry is working on a mechanism for engagement. If you take some time to inquire many graduates from our universities in science and engineering find overseas placements almost immediately. Go and check the situation at the Universities of Moratuwa, Peradeniya and Colombo.



Q

University lecturers never forget to draw research allowances in addition to their huge salaries annually, but we don't see any research, study or academic work that would benefit the nation. Why?
Again wrong perception and understanding. Today the salaries of the university staff is not bad but if you think that is sufficient and warrants no further consideration there you are wrong – please check a pay sheet and compare that with the place where any one of them get their PhDs. Again do not think research allowances are huge and top of these salaries that they contribute to an excellent pay package for a qualified university academic. The introduction of research allowance was a way to address salary anomalies and not really perhaps addressing research. Anyway this part of the answer was to set the record straight about salaries and allowances. I do agree that we do not constantly see a steady stream of information about research carried out and results that could benefit the nation. However, when you dig deep as we are doing now you get to hear that there may be around 10,000 projects at any time at undergraduate level taking place within universities. On top of that today each of the universities has more than two to three International and National research symposium per year in addition to research journals. When we take some of the papers and examine we see that there are definite benefits to be derived from these research findings. At that point we find that the researcher and the student are at a loss to pursue further action from their findings. The student would graduate and leave. The academic would take on another project. The mechanism to continue, seek and implement is almost non-existent.



Q

University academics whine so often than not, saying that the State patronage was lacking for research. Is this true?
There is certainly truth in that. Sri Lanka is giving less than 1% of GDP to research and development. In fact our value is 0.17% (2014) which is less than what even a less developed country is investing today. If the State is investing less then there would be fewer recipients and the amounts would be hardly sufficient to do anything worthwhile. The quality research infrastructure is missing. At one time the University of Peradeniya was excellent for natural products chemistry but as time moves on with no significant investments on infrastructure ability to produce research results that can meet global standards deteriorated and today we are not there any more. Research means money being invested to produce knowledge. Innovation means knowledge being utilized to earn money. Without the former the latter process cannot happen. As the global standards rise a small amount of investment cannot yield significant results. It is said that a new academic to a university in Singapore will receive a Million Singapore dollars to his/her name to carry out research! It is a start up grant to an academic to start with.
In a developed economy researchers are able to get what they want perhaps within a period of 48 hours delivered to their doorstep. Now scientists in my ministry have complained that at times it takes up to six months to receive after placing an order. We have suggested remedying this situation. It is impossible to do quality work when you are troubled by such procedural delays.



Q

Nevertheless, we have to admit that the assistance and support for scientific research from the private sector in Sri Lanka is extremely unsatisfactory as opposed to the contribution made in this field by the private sector in developed countries. Your comments?
When your business is based on trade and exchanges and simple value addition there is not much need for research and development, interaction with universities or research institutes etc. You only need sales and marketing teams and banks to support. When the industry was having the service orientation the type of innovations they would be searching for are different. Hence yes the assistance and support for scientific research from the private sector in Sri Lanka had been unsatisfactory. However with such business models they need not contribute as they do not see a need. If you are running an agency, however big you are there is no need to engage in research. You are a simple cog in the wheel of business elsewhere. However, today our businesses are realizing that this way forward is not possible any longer. To be competitive and to command market share you need innovations and your organization had to be viewed as innovative. In such a scenario, reaching out to external institutes and universities must take place while internally setting up your own research and development units.
"The JO or the SLPP are not a threat to the SLFP at all. Besides, almost all the JO parliamentarians are the members of the SLFP-led UPFA in the first place. I hope when the election time gets nearer, the SLFP members supporting the JO will be back with the SLFP"