---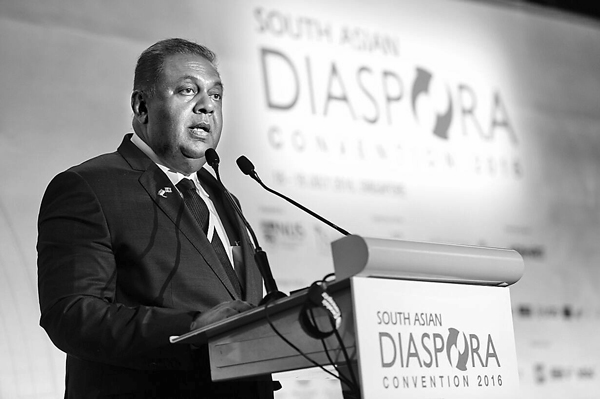 Following is a speech made by Minister of Foreign Affairs Mangala Samaraweera at the South Asia Diaspora Conference Panel on the Geo-Politics of South Asia.
(18 July 2015)

Following Minister Balakrishnan's incisive speech amidst such a distinguished panel, there is little insight I can shed on the geopolitics of South Asia.
However, one specific lens I can offer is that of South Asia's only island state, which is also the South Asian state with the largest per capita diaspora population.

From Sri Lanka's perspective, South Asian geopolitics are closely tied to Indian Ocean geopolitics and are under-girded by an environment of rising inter-connectivity and interdependence.
These two overlapping regions are inextricably linked. K.M. Panikkar, the late Indian diplomat and historian, correctly identified the Indian sub-continent as a quintessential Rimland; that is a region whose fundamental interests and future are tied to their coastlines and the seas beyond.

By using this appellation, Panikkar emphasized that the Indian Sub-continent, divided from the Asian hinterland by the Himalayas, is geographically destined to look outward onto the Indian Ocean rather than inward into Tibet or Central Asia. Of course, over centuries and even millennia, this fact of nature has resulted in the sub-continent becoming the central mode of trading links, cultural connections and diasporic communities that constitute the web of the Indian Ocean World. As a result, there is little doubt that the Indian Ocean is of central, if not preeminent significance to South Asia today.

In turn, at this time of global transition, as the unipolar world order is on the wane with the rise of China and India, the Indian Ocean is quickly becoming a theatre of global geopolitical interest and potential rivalry.
As such, it would be a tragedy if Asia's hard-won independence, economic development and rising living standards lead to conflict and violence rather than peace and stability. Therefore, it is our collective responsibility to identify and implement ways and means of ensuring that Asia's rise creates the conditions for regional and global stability as opposed to chaos.

Such thoughts and actions are of principal importance during this period of flux, when the old order is being cast aside and the new order is yet to emerge. This period of strategic opportunity brings with it the prospect of putting in place a framework of values, principles, norms, conventions and institutions necessary for peace well before the mortar has dried on a faulty foundation.

This responsibility is made all the more acute as it is the first time we Asians will be key players in determining the architecture of our regional maritime order which has been controlled by external powers more or less since Alfonso of Alberquerque made the Indian Ocean a Portuguese lake in the early 16th Century.
We in Sri Lanka have learned our lesson the hard way. After years of violent conflict which has given rise to a diverse and vibrant Sri Lankan diasporic community across the globe, we know that creating rules developed by legitimate, representative and inclusive institutions imbued with universal values is essential for peace and stability.

I don't think it would be naïve to say that like in Sri Lanka, in a very fundamental sense, parties with an interest in the Indian Ocean have a greater convergence of interests than divergence. Interdependence between economies and peoples is at historically unprecedented highs, there is growing understanding that trade is imperative for development and there is little appetite for risking an optimistic future to conflict and instability.
In addition, there are also very specific instances where interests converge, for example both India and China have a shared concern with keeping the Hormuz and Red Sea choke-points, open to free maritime passage.
In this context of macro-convergence and limited micro-convergence, a framework for regulating power in the Indian Ocean and beyond is required. Of course, such a framework must be flexible enough to respond to strategic changes; for example if unexpectedly fast Indian growth shifts the regional balance of power, it must also effectively constrain, channel and process the exercise of power.

Firstly, such a framework will need to maintain and uphold the rules-based international order and the principles that support them. It is this very order that has so successfully prevented a global conflict since the Second World War, provided a sense of security to millions of people living in small states such as mine and perhaps most importantly, provided the bedrock for our collective economic prosperity.

Preserving the sovereignty of states, including their right to pool sovereignty and share it, must naturally be a cornerstone of this framework for peaceful development. In the context of the Indian Ocean peaceful development requires ensuring a stable maritime environment, including the freedom of navigation and unimpeded commerce in accordance with international law. Naturally, the UN Convention of the Law of the Sea which was significantly shaped by Sri Lankans such as Shirley Amerasinghe, is an integral component of this framework. There are many other global commons and areas of connectivity, such as the environment, where rules-based systems at the global and regional level will become ever more necessary.

Great care must be taken to ensure that rules are legitimate and institutions that create and enforce them are inclusive and representative. They must be accepted by all the major stakeholders, by the haves and the have-nots and must have the consent of both the strong and the weak. Whether we like it or not, global and regional bodies need to take into consideration balances of power, whether economic or otherwise. Failure to do so will lead to parallel, competing bodies or norms and ultimately lead to institutional instability and stress on the norms and rules that have served us so well.

Such a framework is unlikely to amount to much without a set of common values. One useful starting point for the development of common values for the Indian Ocean region and beyond are the Five Principles of Peaceful Coexistence outlined at the Colombo Powers Conference over half a century ago. The values underlying these principles provide a starting point for updating and expanding the Five Principles to reflect the realities of an increasingly inter-connected, interdependent and complex world, where the concept of Westphalian sovereignty is increasingly outdated and irrelevant.

This brings me to my second point, interdependence. Perhaps more than any conscious design, the effects of technological innovation and globalization have helped avert conflict. We need to continue to build interdependence into our regional and global frameworks. Increasing economic interdependence between East Asia and South Asia- both through bilateral and 'mega' trade deals like the Regional Comprehensive Economic Partnership- can play an important role in strategically stabilizing the region. Improved sea, air and land connectivity through smarter regulation and greater investment in connectivity could also be an important catalyst. In this context, the Maritime Silk Road, Indo-Pacific Economic Corridor and other initiatives are very welcome, especially if they provide a transparent, rules-based, inclusive, institutionalized and principled means of facilitating cooperative development.
Allow me to conclude by noting that building understanding and confidence is a tremendous task that will require great courage, political will and perseverance. We have a useful example in the region in the form of ASEAN. Both South Asian and East Asian countries have a great deal to learn from this example as we navigate the transitions in the short, medium and long terms. Just as Singapore has helped stakeholders come together and work towards their common interests in South-East Asia, Sri Lanka- the Gateway to South Asia, which is also fast becoming the hub of the Indian Ocean and who maintains excellent relations with all relevant stakeholders- too will play a constructive role in promoting dialogue and cooperation for peaceful development in the region.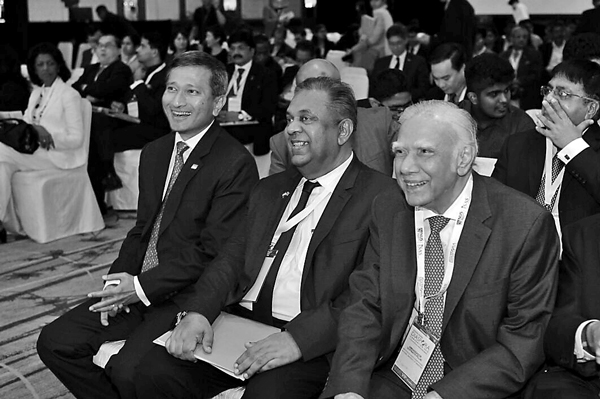 Foreign Minister Mangala Samaraweera with Singapore's Foreign Minister, Dr. Vivian Balakrishnan, and Ambassador-at-Large and Chairman of the Institute for South Asian Studies, Gopinath Pillai.