---
Reimagining a job-oriented education for youth – our urgent need

Addressing newspaper editors and managers of electronic media recently, President Gotabaya Rajapaksa emphasised on the provision of job-oriented training to improve job opportunities for our youth.
"1t is up to us to identify the needs in the international markets and provide training accordingly, "he added.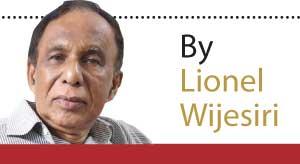 Many young people in our country face difficulties in finding suitable jobs because of the mismatch between their education and training and labour market requirements. Innovation, technology and market developments have turned the world of work into a fast-changing environment.
With Sri Lanka gradually moving towards becoming a knowledge economy, skill development needs to be a major focus for the new government. Thus, educating the thousands of youth in modern skills has become a matter of the highest priority. Failure to do so would have serious economic and social implications.
History
Youth is a very crucial constituent of any country. According to Central Bank report, approximately 27 percent of the Sri Lankan population comprise of youth, aged 15 – 29 years old. Each year, about 300,000 youth leave the school system, after sitting either the O/Level or A/Level examination. Statistics reveal, however, that provisions taken to cater to this huge segment of the population through initiatives such as vocational training, had been grossly inadequate.
The Government's involvement in youth affairs has a long history. The National Youth Services Council came into being in 1969 and was strengthened through the National Youth Services Act 69 in 1979. And then Sri Lanka's Ministry of Youth Affairs was established in 1979 and nearly quarter-century later, the National Youth Corps was established. Later, the ministry was renamed as Ministry of Youth Affairs and Skills Development and a few weeks back converted into Ministry of Skills Development, Employment and Labour Relations.
Unemployment of youth has also provoked much interest which led to the formulation of a National Youth Employment policy in 2007. The preamble of the policy says: "The policy recognizes and celebrates the potential of youth – not merely in symbolic terms but through concrete measures to enable, ensure and empower the youth of this country."
Today, thirteen years later, we have to ask ourselves how far the government has managed to "build up a young generation capable of actively participating in national development endowed with employability skills and personality." Can we, as citizens, be happy with the success?
Issues
In this writer's opinion, what went wrong was that the Vocational Education and Training (VET) had been the blind spot of the successive governments for the past five decades. It was imbued with a number of issues and problems which prevented it from developing into a successful framework.
Issue No 1 - The Vocational Training Authority is the provider of the relevant training. It has a large network consisting of 202 Training Centres, 22 District Training Centres and 7 National Vocational Training Institutes. Approximately, 35,000 youth are trained annually in 83 different trade-segments. This enrolement rate is far from satisfactory. The proportion of youth receiving formal vocational training in Sri Lanka is only about 12 percent of the youth who do not proceed with formal higher education beyond GCE level. In developed countries, the percentage is between 60 to 80 percent.
Issue No 2 - In a Tracer Study on "Sri Lanka: Public Training institutions" released in December 2018 it was noted that the job placement rate of VET graduates was only 54.5% in 2016. That means about 45% of VET graduates remain unemployed after completing their course and even those who find employment mostly do not get to work in the trade for which they were trained. Job scarcity was perceived as the main reason for unemployment.
Issue No 3 – There is a mismatch between vocational education programs and the changing industry demands. In brief, our programs are not demand-driven and are unable to target a specific sector or a contemporary skill. The problem is further complicated by the lack of industry-faculty interaction on course curricula and other factors.
German experience
If you take Germany as an example, it is one of the first countries in the world to make VET a part of its system. Germany has a single and dual-track VET system in place for decades. The dual-track VET spans two to four years (certificate and degree levels), which involves classroom study as well as real work experience in companies or public sector institutions, covering theoretical and practical knowledge in the ratio of 40:60 respectively. The qualification is recognized worldwide due to its combination of theory and training embedded in a real-life work environment.
"Unemployment of youth has also provoked much interest which led to the formulation of a NYE Policy in 2007."
According to a report of the Federal Institute for Vocational Education and Training, more than one-third of the pupils graduating from secondary school in Germany enter a vocational training program. Over two-third of the latter system's graduates enter the workforce in the company where they are trained immediately after entering.
The host companies pay the apprentices a decent monthly salary during training, with a yearly increase during the apprenticeship. Around 51 percent of Germany's workers are skilled workers trained in the VET.
Another 11 percent of workers are master craftsmen who are vocational and technical university graduates. They are also part of the VET but of the single-track system. To enter the advanced training, one must have advanced certification and several years of additional work experience. The VET in Germany boasts about 330 officially recognised vocational training programs (against 83 in Sri Lanka).
It is obvious Sri Lanka needs more high quality vocational and technical degrees along with more vocational universities. A centralised system where courses are consolidated would help ensure efficient tracking, grading and teaching processes. The curriculum and structure of the vocational teaching system need to be updated to meet the demands of the changing industries. The learning courses need a high emphasis on practical applicability.
ILO assistance
If we are to get a firm grasp of what actions are needed to develop our VET programs, first of all, we need to have a clear definition of what is meant by employability skills. The ILO. The definition says: … the skills, knowledge and competencies that enhance a worker's ability to secure and retain a job, progress at work and cope with change, secure another job if he/she so wishes or has been laid off and enter more easily into the labour market at different periods of the life cycle."
Individuals are most employable when they have broad-based education and training, basic and portable high-level skills, including teamwork, problem-solving, information and communications technology (ICT) and communication and language skills. This combination of skills enables them to adapt to changes in the world of work.
These are the skills our authorities must concentrate on passing over to the trainees. Then only we can ensure that all our young women and men get opportunities to enhance their employability and improve the productivity of enterprises
In fact, ILO has prepared a guide to assist key stakeholders to better understand core work skills, their importance and ways in which these skills can be delivered, attained and recognized. This guide illustrates various ways of integrating employability skills into core academic content and vocational training, rather than through a "core skills curriculum". It is worth taking a detailed look at the guide.
At the same time. we must also recognise and pay particular attention to our "disadvantaged" youth group, who are coming from non-urban areas. They face added hurdles in entering the labour market. To them, we must introduce innovative use of ICT, improving informal apprenticeships systems and targeted interventions directed at the specific hurdles. Such steps will provide greater opportunities to bring core work skills into technical training of disadvantaged young women and men.
Quick action
To deal successfully with the aforementioned problems, the government needs to take quick and effective steps. Few possible measures are mentioned below:
Shifting towards competency-based training: Competency-Based Training is more skill-oriented and focuses on competencies identified as essential to learn a particular trade. It addresses the key problem of lack of relevance of training to industry-demand since the competencies are based on standards defined by the industry.
Increasing private participation in the current vocational training framework: The government should involve a lot more private sector organizations, both indirectly providing training and in the management of public training institutions. To lower the skill gap caused by outdated courses, that are not in synchronization with the demand, it is essential to involve the private players and the potential employers themselves in the training efforts.
The attitudinal shift towards VET: This can be done by building awareness through advocacy campaigns talking about viable career pathways in the vocational field and also by connecting student aspiration to the economic realities of their communities in a manner that nurtures their aspirations.
The objective of a challenging VET programme is to produce multi-skilled workforce matching world standards. We have to make a start on a professional footing, taking experiences of other successful countries on guidelines to be adapted. However, Sri Lankan VET programme has far to go before it establishes itself as a successful framework.