---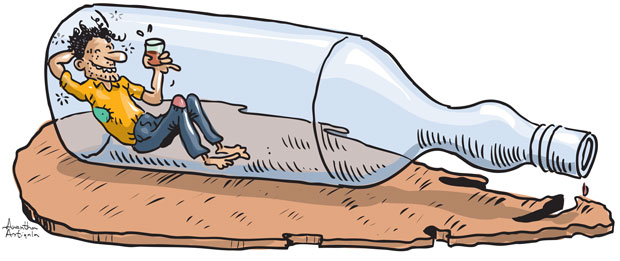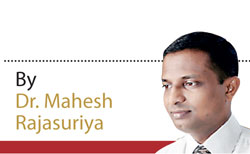 "It is a good thing what your country is trying to do. Please don't criticise that." This was the advice of a friend of mine who was not very familiar with the Sri Lankan setting. "They are trying to convert hard spirit users to BEER!," the friend said.

"It is good, if you can do that!" I snapped back. I realised at that moment I have to return to the basics. So, I explained to her that it is the total alcohol consumption that matters most. It isn't the type of alcohol used. I went on, "do you know where our Finance Minister got the data from?"
"I don't know. Anyway, hang on!" She snapped this time. "You meant Health Minister, right? What has the Finance Minister got to do with the type of alcohol that is consumed! Certainly, you made a mistake, right?"
"I did not!" I replied.

She said she wasn't surprised. She had little knowledge of our political and administrative system.
"So, you don't know where our Finance Minister got his data from. Let me....." I went on, but she almost barked back, ""Wait! Wait!!"

"It is the Health Minister, or Minister of Morality or Religion or Social Change, in case your country has got such a Minister, that would propose to present proposals in Parliament to make changes in issues directly related to the health of people, such as their alcohol use. But what you are telling me is that the Minister of Finance has presented a proposal at his Annual Budget speech to reduce beer tax in order to convert people who use spirits to BEER!"

I said, "Yes".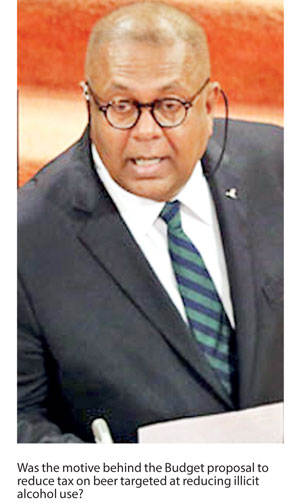 I was now beginning to feel that she had become a bit slow in her thinking!

Or, was it a bad telephone connection?

But, then a new insight was dawning......She has got a point!

"That is fishy! That IS fishy!!" she said.

Now she was in a sharp mood for sure.

"Why would a Minister of Finance want to change the type of alcohol people use? Oh my Goodness – maybe the Health Minister asked him to?" she went on.

"No!" she could hear me laugh. "Minister of Health has publicly denounced this suggestion as it would increase alcohol use among young people."

Silence.

"Are you there?"I checked.

"Yes… Mahesh, you have just found another supporter for your criticism!" she said.

I don't want to bore you with the rest of the conversation, but I do want to share the new insight I got, thanks to my friend.

That conversation with her has cleared my mind. Let me explain to you in chronological order:
7 November 2017:

A newspaper article titled "Illicit Alcohol Market in Sri Lanka" by one Dr. Priyanga Dunusinghe published on a newspaper under Opinions and Issues. This newspaper article/opinion reports a finding based on secondary data (that means using data that is already available without doing original research) that the illicit alcohol use is 49% of total alcohol use in this country.
8 November 2017:

A Sinhala newspaper publishes an article with the same finding, 49% illicit alcohol use.
9 November 2017:

Hon. Minister of Finance (I hadn't made a mistake – it was NOT Minister of Health!) presents Budget proposals in Parliament. Article 214 reads "Out of the total liquor consumption, almost 49% is from illicit sources." And a proposal to reduce tax on beer and wine, and to altogether remove tax on canned beer is presented. Another proposal to 'relax' licensing procedure for alcohol sales. Plus another to allow import of cheap cigarettes.

13 November 2017:
I try to search many scientific databases to find the research that found 49% of Sri Lankans use illicit alcohol, without any success. Then I try to contact Dr. Priyanga Dunusinghe, a Senior Lecturer at Department of Economics, at University of Colombo. No success.

14 November 2017:
Dr. Dunusinghe replies to my email and says that the relevant study is in progress. I thank him and ask how the media published his data before they were published on a scientific journal, and even before the study was completed? No response.

15 November 2017:
I make another attempt to search for the source of the data Minister of Finance has quoted in his budget speech. I still find the newspaper article only!

So, I wonder, when did the Minister draft the relevant part of his budget speech and later finalised it?

The data was published on a newspaper on 7 November. It may be couple of days later that somebody brings it to the notice of the Minister.

First draft proposal done in next few days and – hold on tight! The finalised Budget speech was presented to Parliament within 48 hours after the publication of the data in media! I do not understand the sequence of events!!

Now, all sorts of conspiracy theories surface in my mind.

Let's think straight, could there have been another possibility? Such as somebody alerting the Minister or the officials? Those involved in drafting Budget proposals well before this data was published as a newspaper report? Some person or persons or force might have facilitated that. So, I stop my thinking on that line until I obtain more information on this issue. Perhaps, Dr. Dunusinghe may be able to tell us what happened.

Back to my friend – thanks to the conversation I had with her, I start to wonder why Minister of Finance tried to convert people from "Hard Liquor" to "Soft Liquor". This was done despite his Ministry losing significant tax revenue and without any invitation or request from Ministry of Health. Also I can't forget the fact that cheap alcohol, especially BEER, is a gateway to more severe alcohol use later in life in young people.

Young people are more likely to initiate alcohol thanks to lower BEER prices. Many of them will proceed to use stronger alcohol in future.

So, it isn't only the BEER industry that is going to benefit.

My thinking stands - the challenge for me is to unravel the thinking and motives behind the Budget proposal to reduce beer tax.

Is it to somehow reduce illicit alcohol use?

Or to convert hard liquor users to soft liquor?

Or, can there be other motives and drives?

I also need to find out the way the relevant data reached Ministry of Finance.

How?
Why?
When?
Who?

I am sure you have the same questions. Let us all think. One of us will hopefully unravel the truth, sooner or later.