---
A meaningless exercise to convey a message to the people that they are doing something!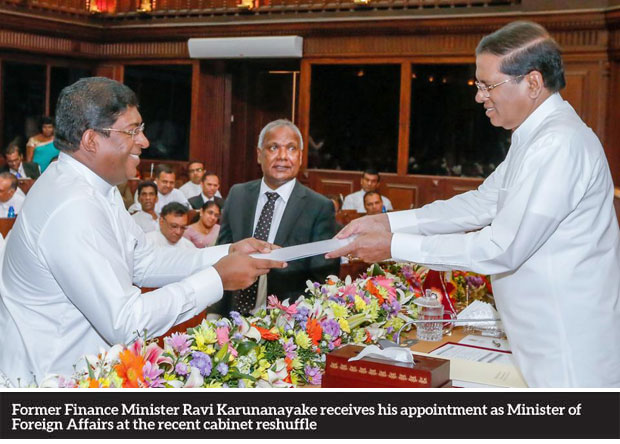 Surviving on the coming Local Government and Provincial Council polls; holding on to leadership in the party seem to be foremost in the agenda of the two leaders of Maithri-Ranil unity government especially after Galle Face May Day blues. So much is being manipulated by just a few for their own benefit. There doesn't seem to be a direction or control. The Sirisena-Wickremasinghe regime is now over two years - the infancy has passed, they are into maturity - are they being 'directed and controlled' by the dethroned king who is without power or authority?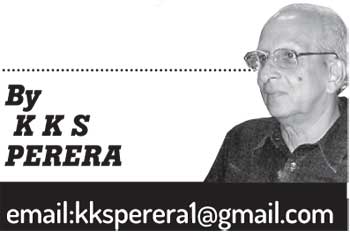 Some UNP stalwarts thought of pulling out rather than betray their ministers in case the President wanted to replace key ministries held by them with SLFPers. The trouble seems to be they identify themselves as UNP and SLFP ministers, thereby creating factionalism within a cabinet. A cabinet is the sole authority in decision making in governance. There cannot be factions within it. May be that they contested elections as individual members of the two parties, but once they occupy seats in the cabinet it is one body, a unit made up of individual members. Every citizen of the country should enjoy the privilege of having his own Finance Minister or an Education minster for that matter.

Ministers facing charges still in office - who will lose?
People expected a few UNP ministers such as Ravi Karunanayake, Sagala Ratnayake, Lakshman Kiriella and Malik Samarawickrama; while political rejects from the SLFP like S. B. Dissanayake, Lakshman Yapa Abeywardene, Zoysa who entered through the back-door to lose their portfolios in the cabinet reshuffle. Nothing of the sorts happen. Apart from personal political agendas, there are many more other things that require priority. The government is a coalition, and therefore, conflicts of opinion are inevitable. But the way things are happening, one feels that everyone's ultimate objective is to achieve his/her own political programmes. President Sirisena, a few weeks ago stated that he was contemplating making a few changes in the portfolios of his ministers. 'a new look Government' by reshuffling the cabinet with a change in the top public service line up as well. The promised 'before Vesak' was delayed by the visit of Indian PM Narendra Modi and due to other political constraints. The top two met with CBK who acted as peace-maker. Ravi Karunanayake, adjudged by esteemed Banker magazine as the best Finance Minister of Asia-Pacific, obviously was an unhappy man.

Disorder, the order-of-the-day
The only reliable thing about the government is its unreliability. We have 'order and counter order followed by disorder! Firm action and decision making is the need of the hour, this is the last chance for good governance - Prior to introduction of the 19th amendment, the old constitution conferred all powers with regard to allotment of ministries and engagement and removal of ministers on the executive President. Even without the political party to which the President belonged not having the majority in parliament, the President enjoyed full powers to appoint, dismiss or reshuffle. The President had extensive powers in handling the cabinet. The President's powers have been curtailed to some extent after the introduction of the nineteenth amendment which gave more weight to the parliament. The adjustment also makes unique provision enabling the first two political parties in terms of the number of seats to join to form an administration of national unity as found currently.
The much talked-about Cabinet reshuffle took place on Monday after the return of PM from China, as agreed between the two just ahead of Ranil's departure to Beijing.
The idea of a Cabinet reshuffle turned out to be a sore point in the Unity Government from the inception. Some SLFP ministers who met the President a week before went to the extent of suggesting they would take up seats as an 'independent group' The two-year Memorandum of Understanding between the two major political entities is due to expire or to be reviewed in a couple of months, President Sirisena assured he would take drastic action as the idea of a reshuffle was pledged to the nation after discussing with the PM. He had suspended weekly Cabinet meetings until the reshuffle was carried out.
Ministers facing charges still in office

Only reliable thing about the government is its unreliability

Essential subjects such as restructuring, economy allocated to UNP

The basis upon which a call for a reshuffle has been due to the tension developed among ministers of the two parties with accusations of corruption being made against some senior ministers from both sides. This required some changes to be effected in the cabinet, President himself on quite a few occasions has implied that there would be some changes in key ministries. Obviously some of the ministers who have been comfortable with their area of authority would want to hold on to their portfolio making a reshuffle a difficult task or unworkable. Rather than a reshuffle with same team, it is mandatory upon the President and the PM to rise above these petty differences and come to some conciliation in order to carry on with what they promised to the people under the rule of good governance.
Speculations arose - is a cabinet reshuffle required at this moment? Is it going to be a change of hands? Will anybody go out leaving room for new entrants? The 'Yahapaalana' government approaches its third year, after toppling the corrupt Mahinda Rajapaksa regime. The good governance concept spearheaded by the late Ven. Maduluwave Sobitha Thera was able to bring down MR who re-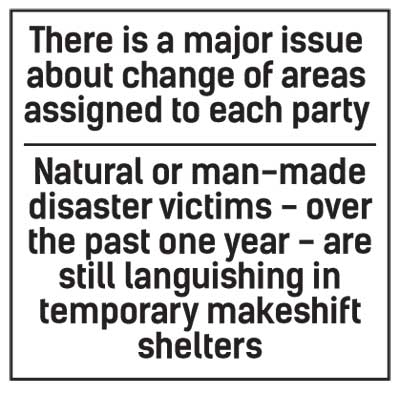 wrote a new chapter in the country's history. What remains to question is whether that concept has become a reality. The current politics is decided by the disparity between talk and practice. Therefore, the President seems to be in a dilemma as to what should be done.
After making a hero out of MR, even at January 8 elections, some SLFP stalwarts speaks like saviours of 'yahapalanaya'. United People's Freedom Alliance (UPFA) General Secretary Minister Mahinda Amaraweera, a senior minister, lamented [16/05] that he did not have a wink of sleep on days he raised his hand for the 18th Amendment; impeachment of Shirani Bandaranaike and harassing Sarath Fonseka. But the poor fellow supported tooth and nail to make MR president for the third time. Maithri and Ranil came out victorious according to a decision by the voter, who wanted Rajapakses out. The 'Yahapaalanaya' campaign made their story plain and unambiguous to the people before January 8. The opponents were making intrusion aggressively. Rajapakses are raising their heads slowly. The President should think seriously about the January 8 promises. The people do not want another Rajapaksa rule. President Sirisena should leave behind SLFP, he is the President for all countrymen; as long as he attempts to defend his position as head of his own party, MR will make him dance to his tune.

Allocation of ministries; Economy under PM
There is a major issue about change of areas assigned to each party. A major restructure will also involve adjusting of subjects and there will be differences when it comes to changing the responsibilities given to each party. Taking a look at the way these subjects were shared initially, it is obvious that subjects that are essential to restructuring the economy have been allocated to the UNP thus giving PM Wickremesinghe full powers to handle planning and economic development. Cabinet reshuffles are not an uncommon feature in healthy democracies, they usually happen in the mid-term or when there is a need arising out of circumstances.

Attempts to avert a reshuffle
Some ministers whose portfolios were at risk, have done everything possible to avert a reshuffle. There will be some board level changes in several key state institutions, such changes could not be effected without a reshuffle because it is the ministers' authority and responsibility to appoint or remove the director boards of the institutions coming under their ministries. We propose - for setting up genuine good governance - leave out the following and form a new cabinet. Members of parliament who entered through the back door-rejected by the people and those who are facing various accusations and corrupt charges including those who helped, defended and motivated directly or indirectly the 'Great Bank Robbers'.
Japan, UK, France and India whom we depend on for economic aid have less than 30 ministers, compared to our 47 now with the 're-shuffle' addition of Marapana as Special Development Assignments. What does it mean? Aren't the other 46 are involved in development work? And new subjects of 'Regional Development and Heritage Matters' - are they going to creep into areas assigned to the White elephants of PCs in their newly acquired limousines, each worth over 30 to 40 million? Who's money are being spent and/or wasted on such 'extravaganzas' while hospitals are without drugs, schools with no proper toilets or drinking water? Poor village folk have to walk 13-14 km during droughts to fetch a bucket of water.
Natural or man-made disaster victims - over the past one year - are still languishing in temporary makeshift shelters. All this gross abuse of tax payers funds is to please an insatiable set that includes defeated candidates. They expect people to believe everything would be okay after the removal of Ravi K from the Finance portfolio. Overall performance of 'yahapalanaya' remains appallingly low.
"People expected a few UNP ministers such as Ravi Karunanayake, Sagala Ratnayake, Lakshman Kiriella and Malik Samarawickrama; while political rejects from the SLFP like S. B. Dissanayake, Mahinda Yapa Abeywardene, Zoysa who entered through the back-door to lose their portfolios in the cabinet reshuffle"