---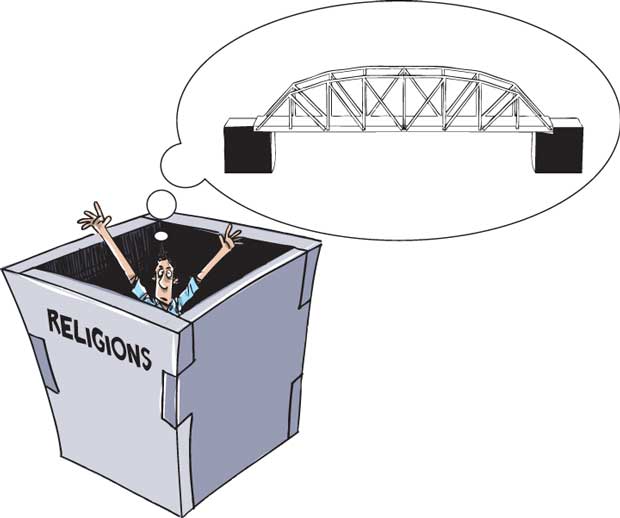 Worldwide, people this week are celebrating World Religions Day. It is the 67th annual event dedicated to spiritual unity and interfaith dialogue which are vital to find a lasting solution to major crises we are faced with including world poverty alleviation, the battle against climate change and a commitment to non-violence or a peaceful resolution of conflicts without resorting to war.

This important event was started by the Baha'i community, a monotheistic religion originating in 19th-century Persia from followers of Bahá'u'lláh, a spiritual leader born Mirza Hussein Ali Nuri. He taught that humanity needs to "find a unifying vision of the future of society and of the nature and purpose of life" and regarded major figures of other religions such as Jesus, Muhammad and Buddha as messengers or "manifestations" of God. Bahá'u'lláh proclaimed himself the latest of these prophets and sought to link all major religions into one faith.

The key message behind such interfaith celebration is to show that all the major and minor religions and beliefs around the world have something in common, particularly when it comes to each faith's core foundations. These commonalities eventually create that opportunity for everyone regardless of country, race or religion to unite as one and live in harmony.

According to latest figures, the world population now is 7.47 billion. The World Economics Forum which is meeting this week at Davos in Switzerland says reports of the decline of organized religion have been exaggerated and according to recent research, the growth of religious populations worldwide is projected to be 23 times larger than the growth of the unreligious between
2010 and 2050.

The report titled changing religion, changing economies, which draws on a 2015 global study published in Demographic Research and its connected Pew Research Centre report, has profound implications for the global economy. Today, seven of the G8 nations have Christian-majority populations. But by 2050 only one of the leading economies is projected to have a majority Christian population – the United States. The other mega economies in 2050 are projected to include India a country with a Hindu majority.

According to the WEF, following are the main takeaways of global religious and economic change, ordered by the projected size of religious groups in 2050: The growth of the global Christian population is projected to be about the same rate as overall global population growth between 2010-2050. The number of Muslims in the world is expected to nearly double between 2010 and 2050 and Muslims are expected to lead the world in population growth compared with other
religious groups.

The number of Hindus is expected to grow by 400 million people between 2010 and 2050, but is projected to remain about the same share of the world's population in the decades ahead. The number of Buddhists is expected to remain at nearly 500 million between 2010 and 2050, but is projected to decrease as a share of the world's population, the WEF says. The number of people belonging to other religions is expected to grow by about 30 million between 2010 and 2050.

Whatever the figures, what matters is how many are sincerely, selflessly and sacrificially practising the teachings of the religious leaders. Which way the world goes will depend on them and not so much on those merely carrying a religious label. In Sri Lanka also the national government has launched an intensified mission for interreligious dialogue and unity in diversity to effectively tackle major issues including sustainable, all inclusive economic development, poverty alleviation and lasting reconciliation by building bridges instead of the walls that the United States President-elect Donald Trump is threatening to do.

In this week of religious unity may we all commit ourselves to the sacred task of building bridges of love and understanding, caring and sharing.