---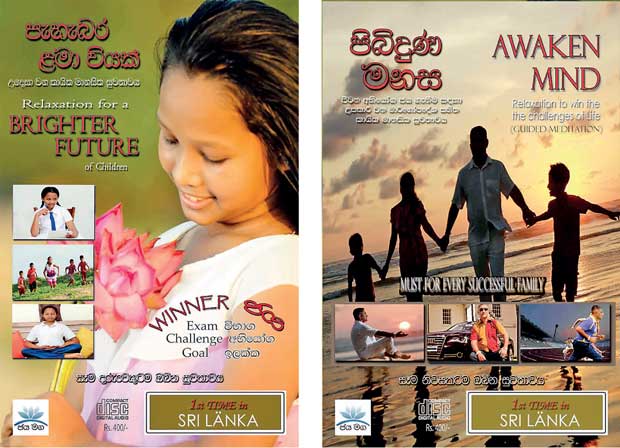 Have you ever come home tired and stressed? An urgent draft unfinished and left at the office desk? An ailment? A huge amount of homework awaits you? Stress of exams? Pressure of a match? How many of us wish for a 'less-stress day? Simply being at peace at the end of a long day?
Sanjaya Samarasekera, who holds a Diploma in Counseling & Psychotherapy, offers us a solution for the stress and pressure we face each day. An awareness programme on Relaxation for Adults & Children. "This is a guided Relaxation in Sinhalese & English specially designed for individuals to be Rich, Healthy & Content. This will also help them to cure their physical & psychological ailments from simple Stress to any other disorder even Cancer." To create this technique, he used "The Law of Attraction" & "NLP" (Neuro Linguistic Programming).
He related several incidents where his method had been tried and tested. The first incident was his main inspiration to help others through this programme. It occurred when he was still a student of Psychology at the Institute of Psychological Studies. The patients in the incidents mentioned above, were all cured within a few days of having this 'Loving Kindness Meditation' method applied to them. What was amazing about this method was that in some cases medical professionals had expressed doubt about the patients ever being cured. When asked how this was even possible, Sanjaya Samarasekera replied "I encouraged them to practise a Relaxation including "loving kindness meditation" at least once a day and pass on merit to any evil forces around them and request the evil force to leave them."
"In every illness there is a psychological factor and a physical factor."
The curing process for the physical factor of the illness he claims, takes only a short duration. But the psychological factor on the other hand takes time and dedication. "Whatever the illness, especially for illnesses such as cancer and leukemia, you have to treat the psychological factor as well as the physical factor."Therefore, the treatment requires patience as well as discipline.
In Sri Lanka it is quite rare that people get psychological treatment for illnesses. This is mainly because by nature, people are embarrassed to show any mental weakness even to their closest of kin. Most certainly, a taboo subject for social discussion. However, by taking psychological treatment and applying the relaxation methods parallel to medication for the physical ailment, Mr. Samarasekera stated he was certain that "20% to 50% of people who had previously died from illnesses such as cancer could have been cured." According to him, this would only be possible if there had been focus on the psychological aspect of the patients, as much as the physical side.
Mr. Samarasekera particularly expressed concern that people were putting too much pressure and stress on themselves which may endanger their physical health. "A healthy nation is essential for the stability and progress of our country."He declared.
Besides a web site (relaxationsforall.lk) and a Facebook page (relaxations-for-all) Mr. Samarasekera has launched two types of Relaxation audio CDs, one for Adults & one for Children,after a careful study over four years. There are two types of "Relaxation" on this CD;
n Relaxation for Buddhists (including Loving Kindness Meditation & Determination).
n Relaxation for individuals practising any religion
When asked how this method worked, he said "The objective of this exercise is not to listen to Music, but to merely use it as a guide to focus on good thoughts, act according to the instructions and passing on merit to others."
"Children are mostly exposed to stress these days due to educational problems at schools or maybe parental problems at home." said Mr. Samarsekera as he explained the contents of the 'Relaxation CD for a Brighter Future of Children'. There are three methods of Relaxation on this CD; "General Relaxation, Relaxation for Exams, Relaxation for Sports or any other Event."
"The relaxation method requires the child to listen once for ten to twelve minutes per day, preferably at dawn or dusk." This CD is "a guided Relaxation specially designed for children." Where he claimed "Children would be able to achieve their goals and relieve stress and even overcome any phobias that they might have."
For exams, a separate segment is added to the CD where the child could listen to the music while imagining that they are doing an exam. The goal is to make the child feel comfortable which will assist the answers to come easily into their minds. By practising this method of relaxation, children will be able to reduce their exam stress and be more confident of facing an exam.
For sports, he has designed a separate but similar method. Mr. Samarsekera claims that he had practised this method with a certain junior rugby team and, according to him, last year that team had apparently come first in the division!
"If you are mentally strong, you will be physically strong."were Mr. Samarasekara's parting words.