---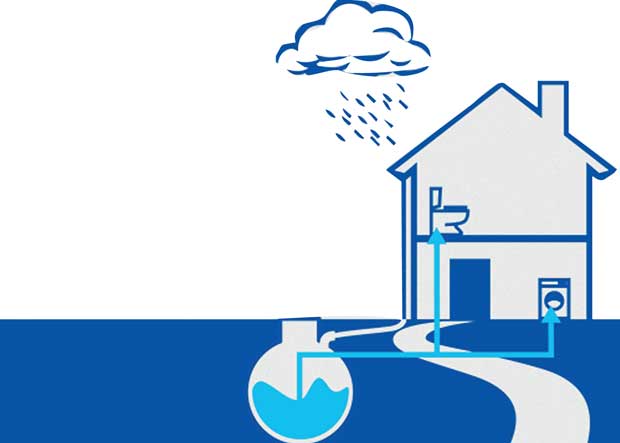 Heavy rainfall and severe droughts are of common occurrence. We had heavy rains a few months ago and now we are faced with a drought causing immense problems to people in many parts of the country. Prof. Hettige in his piece on Rainwater Harvesting published in Daily Mirror on October 10, 2016 highlights a very important aspect in water sector.

Rain is the primary source of water. Sri Lanka receives mainly monsoonal and convectional types of rain. The mean annual rainfall in the south-west of the island varies from 2,500 - 5,000 mm, and in the north-west and south-east, it is around 1,250 mm. A part of the rainwater infiltrates (enters) into the soil. Depending on the nature of the soil surface and its depth, a portion of the in-filtered water in the soil is retained, and the remaining percolates down into the ground water. The portion of water that does not in-filter runs off and enters water bodies such as lakes, rivers, reservoirs etc. When the soil is not exposed water cannot enter into the soil and hence simply runs over the ground, and enters into drains. Thus, most of the rainfall in urban areas does not enter the soil and hence runs off and finally end up in the sea.

The total amount of rain water received by the island is around 100 billion cubic meters, and around 40% of it runs-off. Around 35% of the run-off is used for irrigation and generation of hydro-power and the balance i.e about 65% of the run-off escapes to the sea. Thus, nearly 26 billion cubic meters of water is wasted.

The economy and the society of Sri Lanka had been dependent on rain water since time immemorial. In spite of a bimodal pattern of rainfall, efficient use of water has made it possible for our forefathers to cultivate large extents of lands and achieve food security using rainwater. The dry zone is studded with thousands of ancient tanks of varying capacities to collect water. King Mahasena (274-301) was involved in the construction of the first giant reservoir,, the Minneriya tank which covers nearly 1,900 ha. Other large tanks such as Parakrama Samudraya, Mahakandarawa Tank, Kalawewa etc. were constructed to collect rainwater for crop and animal production and various domestic uses. The storage reservoirs, swimming pools etc in the 5th century rock fortress of Sigiriya were dependent on rainwater.

Advantages of rainwater harvesting
Water that falls on a roof of 1,000 sq m in Colombo (average rainfall is 2,000 mm) during a period of one year would be around 2,000 cubic meters (i.e 2 million litres or app. 400,000 gallons). The actual cost of this amount of water would be around Rs. 90,000. The rainwater that falls on the roofs of extensive buildings such as hospitals, schools, housing complexes etc. could be collected in tanks in the premises itself. Water thus collected could be used for numerous domestic purposes. Currently we use chlorinated water suitable for drinking to wash cars, water plants, clean toilets etc. Using rainwater for these activities would reduce water bills, save purified water, which could be used for drinking purposes. Once the collection system is installed there is no additional cost involved except on pumping of collected water to the main water supply system.

Rainwater is one of the purest sources of water available as it does not come into contact with many of the pollutants that are often discharged into local surface waters. It comes free and can be used to supply potable (drinkable) water and non-potable water. If collected properly, it can be used for all domestic purposes including drinking.

Some factors such as pollution by extraneous matter (eg. bird faecal matter etc.) on roof surface may affect the quality of rainwater collected but this could be avoided by not collecting the rainwater in the first 5-10 minutes. Rainwater is mild. It could significantly lower the quantity of detergents and soaps needed for cleaning. Soap scum and hardness deposits do not occur. There is no need for a water softener as there often is with well water. Water heaters and pipes are free of the deposits caused by heavy water and should last longer.

For centuries, the world has relied upon rainwater harvesting to supply water for household, landscape, and agricultural uses. Before city water systems were developed rainwater was collected (mostly from roofs) and stored in cisterns or storage tanks. Today, many parts of the world, including Hawaii and the entire continent of Australia, promote rainwater as the principal means of supplying household water. On many Caribbean islands where rainwater is the most viable water supply option, public buildings, homes, and resorts all collect rainwater to supply their needs. In Hong Kong, rainwater is collected from skyscrapers to supply water needs. Elsewhere, countries like Germany, Japan, United States, and Singapore are also adopting rainwater harvesting.

Rainwater harvesting saves water which otherwise ends up in sea. It is also a cost saving measure, as water in urban areas has to be paid for. It would also reduce flooding and saves purified water. Rainwater harvesting promotes self-sufficiency and fosters an appreciation for water as a resource. It also promotes water conservation.

In many parts of the Dry Zone, high fluoride and other elements/compounds in ground water is considered to cause Chronic Kidney Disease (CKD). High nitrate content in ground water is another factor which causes health problems. Rainwater harvesting in these areas would be extremely beneficial. .

Rainwater harvesting also conserves energy as the energy input needed to operate a centralized water system is bypassed. Many systems require only a small pump to create water pressure in household pipes. Local erosion and flooding in urban areas during heavy rains is lessened as a portion of local rainfall is diverted into collection tanks.

The Lanka Rainwater Harvesting Forum, which had been functioning since 1996, has been involved in promoting this practice in many parts of the country. Through the involvement of this Forum, around 10,000 rainwater-harvesting systems in several parts of the country have been installed and are functioning bringing tremendous benefits mainly to the rural poor.

Former Cabinet Minister Dinesh Gunawardena, in the year 2005, as the then Minister of Urban Development and Water Supply presented the World's first National Rain Water Harvesting Policy and promulgated the regulations with unanimous consent of the Parliament of Sri Lanka . This policy has been approved by the then Cabinet Ministers of Sri Lanka. The main objective of this policy is to formalize the practice of rain water harvesting in Sri Lanka and recognize its importance in solving the problems related to water supply in the country.

The writer can be reached on csweera@sltnet.lk