---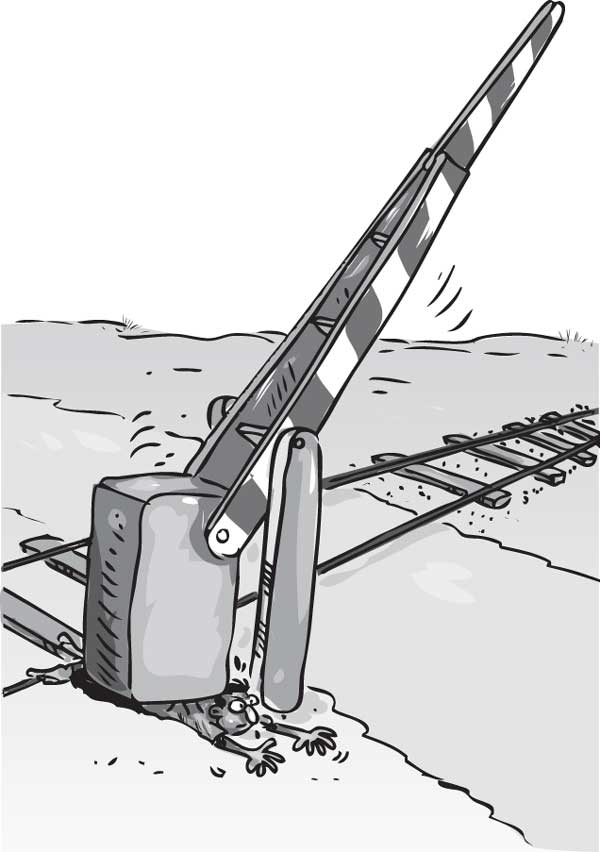 While most of our politicians are arguing over the import of duty-free vehicles worth hundreds of millions of rupees and other privileges, the day to day problems of the ordinary people are often side tracked. On Wednesday we saw a bloody tragedy where an army soldier's young wife and their two little daughters were killed on an unprotected railway crossing at Wellawa in the Kurunegala district.
Such a heavy price had to be paid to fast-track the transport ministry to take some action to settle the strike by more than 2,000 casual gatekeepers at unprotected railway crossings. The gatekeepers had launched their latest strike on Wednesday morning demanding that they be given permanent status and that their salaries be doubled. Some level of irresponsibility by the gatekeepers and a virtual derailment of the Transport Ministry in this issue were clearly the main causes for these horrible deaths where the 32-year-old mother who was riding a motorcycle with her daughters aged 6 and 2, were run down by an oncoming train.

According to the Transport Ministry, Sri Lanka's railway lines cover about 1,500 kms. Investigators say about 1,050 crossing points are protected by some form of barriers. More than 130 crossings are protected by electrical barriers and 140 barriers are mechanized. A staggering number of more than 750 crossings have wing type gates and about 15 have farm type gates. Figures show there are about 165 bell and flashing light systems on such gates. But the bloody horror is that there are as many as 620 unprotected railway crossings which means more than 35 per cent are unprotected and it seems we have been
trained to be negligent.

Since March this year there have been a number of strikes by about 2,000 gatekeepers at these unprotected railway crossings and their latest was on Wednesday when three innocent human beings paid the price for it at Wellawa while at Medawachchiya the striking gatekeepers blocked the train services, causing serious inconvenience to
thousands of commuters.

According to media reports, the United Nations Economic and Social Commission for Asia and the Pacific (UNESCAP) has made some recommendations to improve level crossing safety, such as re-evaluating the country's approach to monitoring crossing safety and prioritizing the implementation of safety enhancement measures. We are in the era of digital technology and the national government has pledged it would make maximum use of these marvels of modern technology for the common good of the people. Such technology, with advice from world experts could be used at railway crossings to prevent tragedies such as the one which left the country shocked on Wednesday. For instance Japan has recorded a decline in the number of accidents at railway crossings. Sri Lanka has close ties with Japan and we could get Japanese experts to advise on the ways that country has handled this issue. Reports say Japan, among other steps is to install high-tech optical crossing obstruction detectors that will allow train drivers to apply emergency braking and stop trains short of the crossing if there
is an obstruction.

Public transport is one of the essential needs of the people but we have seen a deplorable decline in the quality and standards of public transport. The Transport Ministry needs to be put on the digital fast track and ensuring safety at railway crossings must be one of the tasks.