---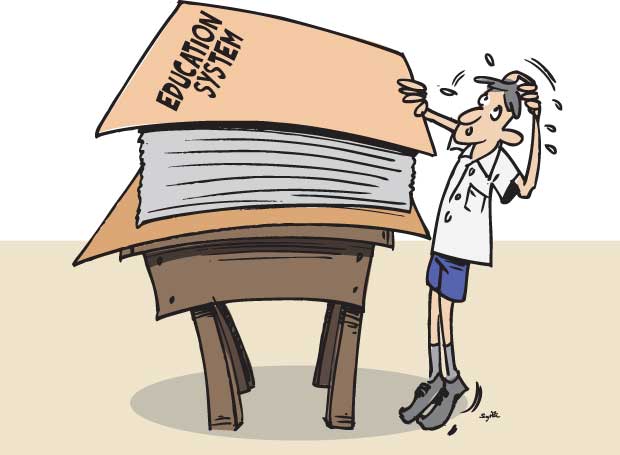 With a huge allocation of more than Rs.100 billion being made for education in the Appropriation Bill presented in Parliament on Monday, the Government needs to go beyond money or certificates of qualifications and focus more on the values of character-building and attitudinal changes so that our schools will produce responsible and eco-friendly citizens.
A paradigm shift is required here and essentially it is to teach the children the difference between becoming successful and being fruitful. In the highly-competitive globalised capitalist market economic framework, being successful is rooted in the vice of selfishness and self-centredness in addition to the negative factors arising from greed, envy, jealousy and other vices.
In contrast, being fruitful essentially means living and working for the common good of all, to build inter-religious, inter-racial dialogue and co-operation in vital spheres such as climate change, poverty alleviation and the peaceful resolution of conflicts instead of resorting to war or violence. The Nobel Peace Prize this year was won by a worldwide movement working not just for nuclear non-proliferation but for total nuclear disarmament. This issue is vital with the United States President Donald Trump still insisting there is no option but a military solution to the nuclear conflict with North Korea.
Earlier this month, the National Unity Government provided life and health insurance to some 4.5 million children in about 11,000 public and private schools all over the country. Government leaders also say they are finalising plans to ensure that students get at least 13 years of education even if they fail the GCE (ordinary level) examination or fail to get sufficient marks at the GCE (advanced level) examination to enter a university.
A multitude of vocational training centres, mainly in the sphere of high technology, will be set up for them to get good and productive jobs so that they could play an important role in economic development and also have a voice in decision making. This needs to get priority because the future belongs to the younger generation and their voice needs to be heard clearly in decision-making processes.
The National Government has pledged that in its Vision 2025 programme, the main aim is to create a just, peaceful and all-inclusive society. To achieve this, the education paradigm shift is vital. All major religions insist that a vital need here is an inner liberation from selfishness, self-centredness, greed and related vices which promote or provoke a desire to be personally successful.
That system teaches that if personal success cannot be achieved by fair means, the students could resort to foul means or cut-throatism. Experience shows that such selfishness or self-centredness often leads to self-destruction. The lack of sincerity also damages relationships with other people, causing conflicts and quarrels, bitterness, jealousy and unforgiveness which pollute society.
Our religions teach us that inner liberation from selfishness and self-centredness are vital for students to become sincere and responsible citizens. That is why it is necessary even to hold a weekly class to train students on how to be sincere, other-centred and responsible citizens instead of wallowing in the pigsties of selfishness or greed. High qualifications are good. But high qualities necessary to take the moral high road will give students a priceless certificate in social justice from society itself.