---
It appears that protests have become a pa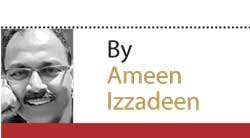 rt of our lives. Not a day passes without a protest being held in Colombo or elsewhere. Indeed it is a good sign of a vibrant democracy, so long as the state is not turned into a protestocracy or government by protesters for protesters. Sadly, this appears to be the case in Sri Lanka.

To get the maximum visibility for their protests, one of the techniques the protesters resort to is blocking key roads. They have scant regard for the fact that their protests inconvenience tens of thousands of people. Commuters and motorists are struck for hours in traffic jams. Children come home late after school or tuition classes. Young women returning from work get late to go home, while anxious parents keep calling them via mobile phones to ensure that they are safe as they walk through dimly lit streets well after dusk. Those who want to be on time for doctor appointments or job interviews do not make it. Even tourists are inconvenienced. The country simply cannot afford the work hours lost almost every day in protest-related traffic jams. The motive, it appears, is to cause as much public inconvenience to make the people hate the Government.

One can bear with a protest if it is held as a last resort after exhausting all other avenues of finding a solution to a grievance. But the protests we see on a daily basis range from the sublime to the ridiculous, so much so that we wonder whether soon we will see a booming protest industry in Sri Lanka just as it exists in Indonesia, where professional protesters have even business cards. Sri Lanka is not unfamiliar with hired protesters with the going rate being around Rs. 500 in addition to food and liquor.

It is also interesting to note that many an issue over which protesters are shouting themselves hoarse has not arisen due to the fault of the present Government. Most of the issues such as the Malabe private medical college have been part of the baggage this Government inherited. None dared to protest over many of these issues during the Mahinda Rajapaksa government, probably for fear of being white-vanned or due to the then opposition's aversion to protests.

In striking contrast, the so-called Joint Opposition, in recent weeks and months, has been using regular protest rallies in key cities and towns as a technique to whip up public discontent against the Government over the increase in Value Added Tax and other issues. Yesterday, it launched a pada yatra or a protest march from the outskirts of Kandy to Colombo.

It is universally recognised that people have the right to protest when they feel the government they have elected betrays the trust they have placed in it. Article 14 of Sri Lanka's Constitution says every citizen is entitled to the freedom of peaceful assembly. The key word is peaceful assembly – not demonstrations that threaten the peace of society or that cause inconvenience to non-protesting people. If the actions of a handful of people could bring hardships to millions of others, then the State and the law enforcement authorities have to step in to stop it.

This is because protests can be good and bad. If they are people-powered and peaceful, they are good. If they are powered by politicians with ulterior motives and aggressive in nature, then such protests have little space in a democracy. Good or public-spirited protests are made of greatness of purpose and are devoid of political manipulations. Mahatma's Gandhi's salt campaign that heralded the great independence movement in 1930 still shines as a good example of a peaceful protest that achieved glorious results. Martin Luther King's march and his historic "I have a dream" speech in 1963 still inspire oppressed people around the world to have faith in peaceful protests. The American people's flowers-for-guns campaign in the 1970s to end their country's atrocious war in Vietnam is another example where peaceful protests can bring policy change. But all peaceful protests do not change policy. Weeks before the then United States President George W. Bush and the then British Prime Minister Tony Blair launched the war on Iraq in March 2003, millions of people in world capitals marched protesting against the impending war. But the two warmongers showed no respect for the voice of the people.

Recent examples of people-powered protests were the Arab Spring protests in Tunisia that ousted dictator Zine El Abidine Ben Ali and Egypt's Tahrir Square protests that ended the 30-year dictatorship of Hosni Mubarak. Though the protesters were largely peaceful, the law enforcement authorities who have little regard for noble concepts such as the people's fundamental right to peaceful assembly used violence in their efforts to uphold tyranny.

As opposed to protests powered by people for a just cause, there are protests scripted or manipulated by cunning politicians who want to hide their nudity or their sins. We need to be wary of such politicians.

It is no secret that US and Middle East policy makers played a big role in the Libyan protests that led to the death of strongman Muammar Gaddafi. These same policy makers engineered the protests against the Bashar al-Assad regime in Syria in 2011 but ended up only creating a civil war and the biggest humanitarian crisis since the end of World War II.

Protest manipulation is not just confined to international politics.

In local politics, protest manipulators are equally deceitful. They know how to manipulate populism or the power of the people to advance their political agendas, especially when economic grievances build up.

Protest manipulation is a deceitful art or even a science. It involves the study of crowd psychology, mob behaviour and media handling. Often crowd manipulators benefit from deaths. This is because protest deaths dominate news bulletins for days and weeks giving undue publicity to bankrupt politicians, while the funerals themselves could be turned into much bigger anti-government protests.
The Government should be aware of the ulterior motives and exercise restraint; but it should also remember that it has a duty by non-protesters, the silent majority, to ensure that they are not inconvenienced.

The people elected this government with the aim of restoring democracy, not to establish a protestocracy. Good governance is too precious a principle to be squandered in anarchy or protests scripted by power-hungry politicians.

Just as the freedom to join peaceful protests is a fundamental right of a citizen, the freedom of mobility is also a fundamental right. Getting stuck for hours in a traffic jam, therefore, could be construed as a violation of a fundamental right of the people. The government should find a middle path solution to the protest mania. On Wednesday, Police, citing public inconvenience, obtained a court order to prevent the pada yatra's launch from Kandy town. Similar court orders should be obtained to prevent politically motivated protests in the Fort, Town Hall and other key areas in Colombo City, not least during peak hours.