---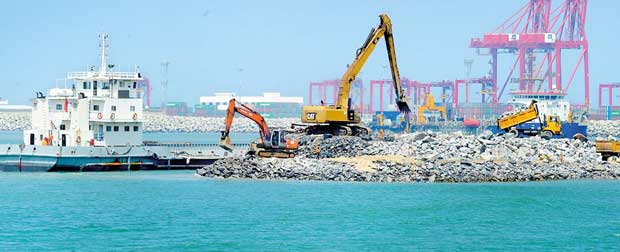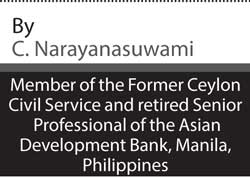 The proposal to establish a National Economic Council (NEC) is a welcome move. It should rightfully be the apex body to assist in the formulation of forward-looking and innovative Government policies taking into consideration the emerging development priorities. Lessons of the past as well as an understanding of the positive experience gained by countries in the region would provide useful insights. Countries such as Malaysia, Thailand and the Philippines have a proven record of success in operationalising such institutional arrangements. In the last decade, India, Vietnam, Indonesia and Bangladesh have also joined this formidable group.

Direction and leadership provided by such institutions in the formulation, implementation and management of development initiatives in the agriculture, infrastructure, information technology, and industrial sectors have contributed to visible economic transformation in these countries. The overarching feature of such institutional arrangements has been the high level of political and professional support provided to plan, execute and manage huge national enterprises. Independence and integrity of professionals, including key senior staff engaged in management operations, were always safeguarded to ensure that timeliness, efficiency, and effectiveness in the delivery of expected outcomes were never compromised.

In the past, the planning and implementation entities in Sri Lanka initiated excellent proposals for implementation with focus on sustainable outcomes. But implementation faltered and limited success was achieved largely because of problems associated with political interventions in purely development and management oriented activities, and inadequate capacity of public sector staff to execute programs. More often than not adverse comments noted in reports prepared by donors for the benefit of their Boards of Directors lamented on poor implementation efficiency and cost overruns! It is important to heed lessons learned and provide for systematic adherence to implementation standards that aim at delivering results.
The progress achieved in development during the last two and a half years betrays a lack of coherence, direction and continuity


The organisational framework of NEC should be broad-based to capture the manifold development activities it needs to oversee


A core group of staff working with NEC should be supported by Panels consisting of highly competent professionals


A review of the progress achieved in the development field in Sri Lanka during the last two and a half years betrays a lack of coherence, direction and continuity in planning and implementation. This has been largely due to multiplicity of development initiatives sponsored by ministries and departments without clear consultations and interactions with all stakeholders. Given the duplicity of ministries and the nature of functions allocated to pacify disparate interests in a coalition Government, NEC has perforce to work within this framework to conceptualise dynamic action-oriented programs that would deliver both short term benefits and sustainable long-term results. A new approach to economic management has therefore become critical to ensure that people's expectations under the 'Yahapalana' Government are fulfilled.

Role and functions of NEC
Comprehensive and structured macro-economic planning aimed at sustainable outcomes requires mature and thought-provoking initiatives. Similarly, development interventions should cut across sectoral, thematic and distributional areas and should be results-oriented. Ideally, NEC should be able to provide leadership to review, assess, redefine and monitor all aspects of development, especially in the following areas; (i) analysis of objectives and scope of investments, including determination of investment priorities, (ii) adequacy of implementation mechanisms and strategies, including coordination structures available to reduce functional overlap, (iii) appointment of competent staff to monitor progress of projects/programs against targets and goals set at project conception, (iv) conducting reviews on a quarterly basis to identify constraints to achievement of development objectives, (v) subject completed programs to candid and objective evaluation to learn from lessons of experience and take steps to improve ongoing programs, (vi) elicit high level political intervention to remedy any impediments to achieving anticipated goals and objectives of development initiatives and (vii) achieve coordination of donor initiatives in a manner that contributes to pooling of resources for a more streamlined partnership in the delivery of development results.

Organisational Framework.
If success in achieving the above mentioned tasks is to be ensured, it is important to give careful consideration to the organisational framework and implementation structure of NEC. The organisational framework of NEC should be broad-based to capture the manifold development activities it needs to oversee. Administratively, small cells/units should be established to oversee and monitor separately initiatives focused on food security, including sustainable and inclusive agricultural development, infrastructure development, macroeconomic stability, export promotion and industrial development focused on manufacturing enterprises, human development, including skills upgrade, and strategic health investments backed by enhanced IT support. It is not expected that this body will become another monolithic structure with a vast array of staff but a self-contained entity drawing competent staff on secondment from development-tasked ministries and departments. The primary criteria for selection should be professional integrity, experience and expertise in the chosen field of activity.

A core group of staff working with NEC should be supported by Panels consisting of highly competent professionals known for their expertise in their chosen fields. Panels should be based on different fields of expertise-one can think of development planners, agriculturists, economists, financial specialists, monitoring and evaluation specialists, administrative managers, accountants, health and educational experts, and technical specialists comprising energy and transport engineers, IT specialists, and port and aviation experts. There is no lack of experienced professionals in Sri Lanka-they should be identified and invited to serve in the Panels. It may even be prudent to invite Sri Lankans living overseas and known for their achievements to participate in these Panels provided they are willing to offer their services at minimum cost. These Panels should meet as and when required to provide advisory services and should be able to obtain the support of the regular staff of NEC. The Panel members could be remunerated on the basis of sittings attended to ensure judicious use of limited financial resources.
Setting New Directions
A major bottleneck to improved performance in the public sector has been the impediments to decisive decision-making and inadequate commitment to translate planning objectives into expected results, a problem which has several dimensions such as inadequate capability to execute programs on a timely basis, lack of enthusiasm and dedication to achieve outputs in the absence of an incentive system and a systematised monitoring mechanism that could identify opportunities and constraints, and inadequacies in the existing structural framework to coordinate, supervise and evaluate outputs and outcomes at regular intervals. It is in these areas that NEC could set new directions and chart out implementable procedures and processes. Each sector/theme should have identifiable indicators to monitor outputs and outcomes to pursue remedial action when shortfalls occur.

Conclusion
The scope and functions identified above are no mean task for a nascent NEC. Efforts may therefore need to be made to (i) assess carefully staff and funding requirements, (ii) prioritize and adopt proposed investments and existing projects and identify and enlist experts who could participate and contribute to the success of these endeavours, (iii) prepare an implementation structure that would be results-oriented, (iv) identify monitoring processes, including development of monitoring indicators and (v) formulate structured reporting processes for Cabinet/Government information/action.

If there is commitment and vision to achieve success, NEC could turn out to be a pathfinder in the achievement of development objectives and this in turn could make Sri Lanka an enviable nation in South Asia. We have had several initiatives in the past, the five year and ten year development plans, the 'Regaining Sri Lanka Program', the 'Mahinda Chintanaya' and now the 'Yahapalanaya' programs (though in their early stages), which have so far had only limited impact on the life of the ordinary people. Can the NEC deliver? Sustained performance and measurable results will eventually determine its success.