---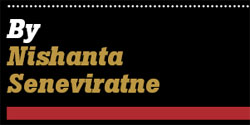 We were never the best of mates in College as Primal was two years my senior and though we were well acquainted by virtue of being hostellers, the fact that Primal was more of a serious individual tasked with the duties of a monitor or prefect and myself being the total contrast, our paths during my time at that 'great school by the river' were always pointed in opposite directions.
However, we were never destined to let our lives pass on as mere acquaintances and after more than a decade since leaving St. Anthony's College – Katugastota, our paths crossed again when Primal was attached to 'Kalamazoo' and I happened to visit them on some printing work. That special bond between 'Antonians' surfaced at that juncture and I began to channel more printing jobs to Primal and roped him in to joining me on the OBA executive committee of the Colombo Branch. The first major project we did together for the OBA was the production of a directory of all old boys, titled 'Antonian Connection'.
Primal moved on to join Lake House Printers & Publishers as their Printing Manager and I continued to channel most of my company's printing as well as that of the OBA to him, not only because of our growing relationship, but mainly because I could trust him to give of his best in achieving the end results we envisaged. The biggest job by far that we worked on, was the 300 page production of the 'Sesquicentennial Publication' to celebrate the 150th anniversary of St. Anthony's College Katugastota. Primal was a major force of strength, contributing immensely to this project not only with his professional guidance as a printer but also assisting in researching history, editing and proofing articles and helping the team to meet the deadline set for the release of the publication. He would drive to Ratmalana after work or from Kelaniya on a weekend and spend long hours, sometimes till late at night, to work with the team at its base. The OBA continued to turn to Primal for its printing needs even after he retired from Lake House and joined 'Softwave'.

Our friendship blossomed over the years with mutual trust and respect and although it was not all without a bit of turbulence from time to time, I could now categorically state that in every instance it was my weakness to be calm in adversity that caused such anxiety. But, as anyone who knew Primal will vouch, it was impossible to get in to a heated debate with him or to stay angry with him for long. He was so cool and calm at all times, never losing his temper and always projecting his point of view with a smile. I can still picture him sitting in front of me at a time when I had lost control, and calmly telling me it is bad for my high blood pressure to get in to a rage. That was one reason why I called him "Mister Prim & Proper". The other was because of his attention to detail, be it in the assignments he undertook or even in his personal attire.

Our families too became to know each other well and I admired his qualities as a faithful husband to his ever loving wife, Loretta, and a devoted father to his children Shemal, Shevanka and Devanshi. His commitment to the family always came first, even at times when we were enjoying fellowship with college mates and he would have to reluctantly break away because he had to pick up his daughter Devanshi or attend to some other domestic chore. His recent ascent to 'Grand-fatherhood' brought him a lot of pleasure and after every visit to his son and family in Perth, he would with excitement in his voice relate stories of his granddaughter Audrey.

You were a great friend and gentleman Primal, and I am sure the good Lord has a special place for you in His Kingdom.

Rest in Peace.