---
In Colombo and other cities, peak-time traffic snarls have led to the calamity of eight road deaths a day in addition to costing hundreds of millions of dollars on wasted fuel, more air pollution and a waste of precious time for hundreds of thousands of people including schoolchildren. Super highways and other road projects have to some extent eased the congestion. But in recent months especially peak time demonstrations by university students and others are flashing red lights that the crisis could worsen.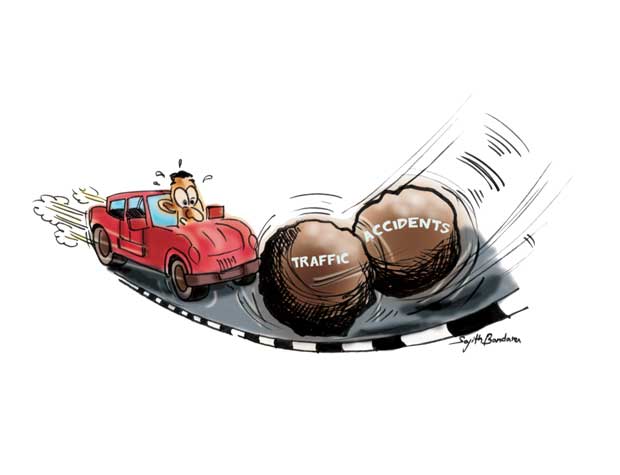 The Megapolis and Western Development Ministry and the Highways Ministry have launched major projects including elevated highways to link Colombo city with key suburban towns. But these will take at least two more years and effective short-term measures also need to be taken to reduce motor accidents and ease the congestion.

Police traffic expert, former Deputy Inspector General T. Perinpanayagam—in an article published in the Daily Mirror on Wednesday—has proposed some practical steps to reduce motor accidents. With eight Sri Lankans dying everyday due to motor vehicle crashes, the traffic expert says improving road safety should be considered as a social imperative and the Government should be held accountable for its actions and failures. He says road accidents are a huge and complex problem. Therefore the active participation of many organisations and sectors is required to overcome this situation.

According to the former Police traffic chief, regular maintenance of roads is important to achieve road safety. He points out that in terms of the national master plan for 2007-2017 of the Road Development Authority, at Independence in 1948, Sri Lanka had about 11,000 km of trunk roads or Highways, of which 7,000 km were paved. Accordingly, only a small mileage of 'B' class roads running up to 726 Km has been added to the road network in Sri Lanka in 64 years after Independence.

Nevertheless, the total number of vehicles has increased by about 300 per cent in the past 16 years. The number in 2000 was 1,706,382 and it has increased to 6,795,469 last year.

Even though Sri Lanka has an extensive road network, most roads were built about 50 years ago and do not have the capacity to cope with increasing traffic volumes. Therefore there's an urgent need to improve the capacity and efficiency of the road network to meet the growing transport requirements and avoid the road network becoming an impediment to national development, he says.
The former traffic chief recommends that before fines are increased there are several steps the government should take. Among them are the immediate improvement in the road capacity to meet the growing transport requirement; restrictions on light vehicles; speed-limit boards now installed in an ad hoc manner need to be re installed at the demarcated kilometre spot within the built-up area and non-built-up area; provide the public with efficient and safe transport system both by road and rail; driver improvement point system regulation published in a 2011 Government Gazette should be amended and implemented; the endorsement form system needs to be implemented without delay; no parking, parking and standing boards should be erected on main roads; Authorities have failed to erect approved sign boards with panels affixed to the boards prior to police prosecution; National Thoroughfare Act No.40 of 2008: There are serious errors and omissions in the Act and in the Expressway Regulation No. 2/2011 published in the Govt. Gazette No. 1717/4 of 03/08/2011. The entire Act and the Regulation should be repealed and a fresh Act and a Regulation should be enacted; traffic officers need to be trained and given refresher courses prior to being detailed for
traffic duties.

Life is precious and losing it on a road is a calamity and a crime. Therefore the government needs to give priority to road safety and easing traffic congestion.