---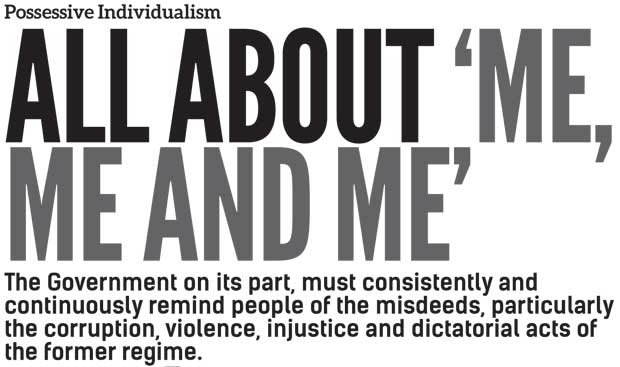 visiting preacher in church the other day in his sermon, mentioned the above as a sign of our times. In the Oxford dictionary, 'Possessive' means a desire to retain or own what one already owns or possessing jealous or domineering tendencies.
Individualism has several meanings, but the one which seems to go hand in hand with possessive, is self centred feeling or conduct and egoism. We have had several instances of this in the recent past before the change of Government. We saw it in our previous rulers, who displayed these tendencies in no uncertain terms time and time again, by both word and deed, when public affairs were conducted for private advantage.
But what is even more worrying , is that this now seems to be embodied in the general attitude of the people as well.
Everything is centred round 'me, me and me! In the infinitely more genteel era that I was brought up in, values and principles were vastly different. It was instilled in us that we must lead our lives with courage, integrity, be unafraid to speak up for whatever we believed in. Gambling of any sort was strictly out of bounds, my father was also insistent that our leisure time was spent in reaching out to those who needed us or in reading.
"They must also speed up the process of punishment for those, who did wrong and robbed the country, milking it dry in one way or another. This is what the people are waiting for; or else we may find that the gentle breezes of discontent may begin again."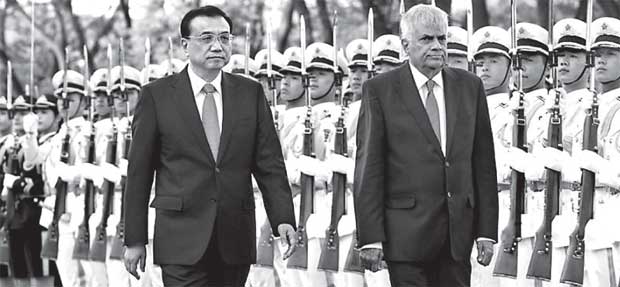 Fortunately he had a vast library ranging from history, biography, literature and fiction. We were never forbidden to read anything but were encouraged to read more and more of everything we could lay our hands on. He disapproved of our indulging in self indulgent time consuming leisure activities; and this advice has held me in good stead on my life's journey.
Today, one finds that people support and work for a political party, not because one believes that only they can run the country best, with experience in good governance, steadfast belief in freedom, democracy and the rule of law, but for what they can gain personally by favours, perks and privileges.
I have always supported and worked untiringly for Leaders with integrity, vision, intellect, a sense of history, who have had the experience to learn from the consequences of past mistakes in our political history. It is important that people begin to see, that it is the best for the nation that matters, not for self. Narrow thinking in terms of self, race, caste and religion must stop and we must begin to think that we are one nation, one people. In some countries, there is a law which prevents anyone from making racist remarks, this should be strictly enforced here with severe punishment for those who fuel flames of racial and religious discord with the intention to incite.

We have today, thanks to the untiring efforts of The President, The Prime Minister, Foreign Minister and other Ministers, regained our international image. We have regained at long last, once again the image of Paradise and are no longer referred to as a lost Paradise.
Our hotels are full once again with tourists; the bans imposed internationally on travel to our country,

have been removed. Before the elections, the main cry after the war victory of those on the other side, was that China would not help us if the previous regime lost.
Today, the Chinese President during our Prime Minister's recent visit, has loudly and strongly proclaimed that he would continue to help Sri Lanka.
The Government has also got our vast neighbour India on our side, because they went about winning goodwill, by not playing one country against another. This was the name game of the previous rulers.
A small country like ours needs everyone, one cannot play one against the other, one can play games but must play by the rules. The Prime Minister has emerged triumphant showing an unbreakable spirit displaying unstoppable energy for work, through the battering that life and fate once threw at him.

The Government on its part, must consistently and continuously remind people of the misdeeds, particularly the corruption, violence, injustice, and dictatorial acts of the former regime.
They must also speed up the process of punishment for those, who did wrong and robbed the country, milking it dry in one way or another. This is what the people are waiting for; or else we may find that the gentle breezes of discontent may begin again.
They must also spread the word about the achievements and all this government has done. For instance, recently the Army organised an Avurudhu Pola, outside the Art Gallery, which was a great boon to consumers. Everything was sold at well below the market prices, including rice, coconuts, sugar rice, dhall, green gram and other necessities for the New Year. It was patronised by those from all walks of life and everything was sold out fast. But there was hardly any pre or post publicity for this gesture by the Army.
'But most shall he sing of Lanka in the brave new days to come, when the races all have blended and voice of strife is dumb. When we march to a single bugle, leap to a single drum." - W.S. Seniour