---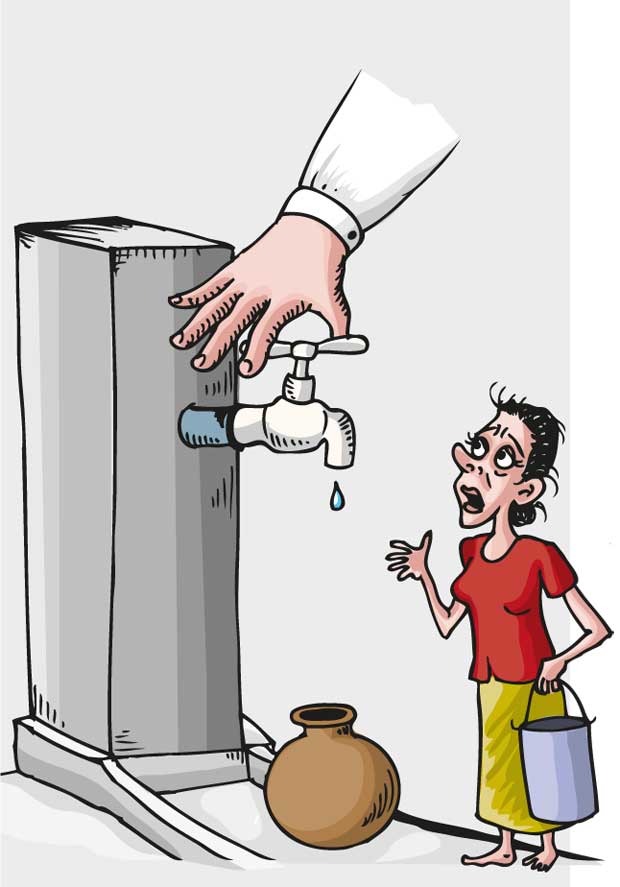 rom December 1, we will have to pay at least 30 per cent more for fresh water supplied on tap by the National Water Supply and Drainage Board. Most people are complaining that while the price of sugar is being reduced by Rs.2 a kilo as part of the 2017 budget proposals, much more will have to be paid for tap water. But government ministers say the increase in the tap water rates is not connected to the budget but part of the process where the NWSDB increases rates every three years.
Whatever it is we would like to join most people in asking why we have to pay more for water when the amounts spent from public money to maintain every minister is estimated at a staggering Rs.6 million a month. That means a colossal Rs.600 million a month to maintain 100 ministers. Annually it is an unbelievable Rs.7,200 million or Rs.7.2 billion.
The national government headed by President Maithripala Sirisena and Prime Minister Ranil Wickremesinghe has repeatedly promised to stop wasteful expenditure, luxuries or extravagance. The President and the Premier have to some extent cut down on the expenditure for the maintenance of their offices.

But we would like to see the daily expenditure on all ministers being slashed to about Rs.3 million a month so that the country could save Rs.90 million a month and Rs.1,800 million a year.
If and when that is done it will certainly encourage the people to become eco-friendly citizens and use fresh water sparingly. There are small ways and big ways to do this. As we have said often before, the small ways could include opening taps only half way for washing, cutting down on shower time and not using fresh water to wash vehicles or for the plants.
On a larger scale eco-friendly citizens need to install equipment for the recycling of bathroom water to the cistern and also go into the much needed mission of rainwater harvesting at a time when the north-east monsoon is beginning in the afterglow of yesterday's
super moon.
In September last year, the Lanka Rain Water Harvesting Forum (LRWHF) received the prestigious 2015 National Energy Globe Award to celebrate its work on energy efficiency, renewable energy and resource conservation initiatives.

US Ambassador Atul Keshap says the US wants to help lead the search for innovative ways to meet the world's water challenges. "Rainwater harvesting is a reasonably simple and low cost method for communities to find sustainable solutions," he says though what will happen from next year is uncertain because US President-elect Donald Trump in his campaign blitz has described climate change and its related dimensions as a hoax concocted by China.
The forum won the award for its initiative in conflict-affected and water-scarce parts of Sri Lanka. It built more than 750 rainwater harvesting systems in resettled communities, provided supplies and training for plant nurseries, and raised awareness on the benefits of rainwater harvesting. Those interested could contact the forum at 41/12, New Parliament Road, Pelawatta, Battaramulla, telephone 011 5524612 or email lrwhfcmb@gmail.com.