---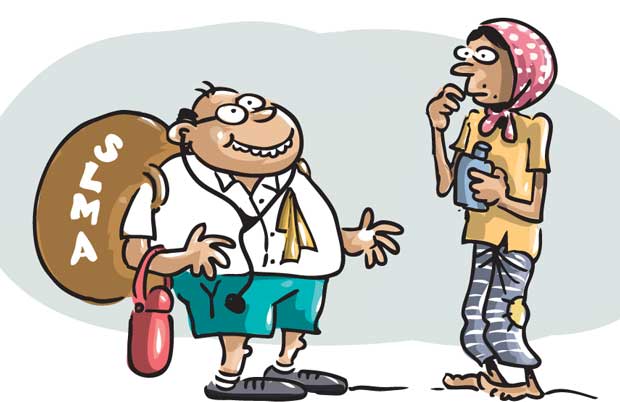 With much more diagnosis and treatment required for the restoration of a health service where the well-being of the patients is given top priority, the Sri Lanka Medical Association's three senior general practitioners have made an enlightened and challenging appeal to their colleagues.

The three general practitioners are Dr. Duncan Bujawansa, Dr. Percy Motha and Dr. Eugene Corea. They were assisted by activist Ashraff Jainudeen, who is a leading member of the Peoples Movement for the Rights of Patients (PMRP). Their appeal is titled, Patients are our teachers.

At a time when drug companies are sending hundreds of medical representatives in an apparent bid to influence doctors as to what drugs they should prescribe, the three doctors say in a letter to their colleague that there is a widespread perception that many doctors are not delivering care to the patients in a humane manner.

"We do not see the medical profession or those in authority showing much concern about this state of affairs. Sometimes it even appears as though we are in denial. This lack of concern may be due to poor motivation and commitment to behave in a patient centred manner," the doctors say. However, the letter adds that in recent times there seems to be a desire on the part of medical teachers and seniors to come to grips with this problem. This is to be appreciated particularly because medical education depends heavily on the participation of patients in the teaching or learning process.

Edmund Pellegrino, a legendary ethicisit, in a passionate appeal to doctors to be altruistic, argues that the physician's knowledge is not individually owned and should not be used primarily for personal benefits. According to Pellegrino, society sanctions the invasion of privacy as in dissecting bodies of individuals, participating in the care of the sick, or experimenting with human subjects so that doctors may learn.

According to the three doctors, Sri Lankan medical students and doctors learn almost exclusively from patients in the public sector institutions. Many of them are "floor patients". In the process patients often lose their privacy, human dignity, confidentiality and, most important of all, suffer physical and mental distress.

From history taking, to examination and to the carrying out of procedures, this activity sanctioned by society is practiced in our institutions with little realization or appreciation of this fact. The first palpation, auscultation, phlebotomy, suturing, rectal and vaginal examinations even ophthalmoscopy represent a voyage of discovery to the novice, the doctors say. A voyage sponsored by patients, the latter are just instructional material in the hands of the fumbling student. Little children, infants and even the unborn are also affected. As the career advances, the first appendectomy, caesarian section, laparotomy, stenting, bypass, craniotomy are learnt by trial and error. Mistakes do happen when you learn. Unintentionally patients become the guinea pigs of doctors when they learn so that society may be made whole. The fact that this process is played out almost exclusively in the public sector means that it is the most disenfranchised and helpless group of sick human beings in our society and make the greatest sacrifice in the learning that is freely obtained by students and doctors. Our faltering first steps are among sick people who are poor.

The doctors say that furthermore, throughout their professional lives they continue to learn. The sponsoring agencies of these continuing professional development (CPD) programmes in turn are able to donate money because they too earn good profits from patients. Though doctors and medical students frequently and publicly bemoan the hardships they face and the great sacrifices they make, the patients who are their guinea pigs suffer in silence. Neither do we see a commensurate concern for them among doctors.

Students worship their school teachers and look after their needs. Medical students and doctors venerate and commemorate their medical gurus. Professional drivers pay obeisance to their vehicles beside the steering wheels at the beginning of each working day.

The doctors ask what they should do for the patients who nurture the doctors' learning and sometimes lose their lives in the process.