---


Amidst a volatile political atmosphere, United Peoples Freedom Alliance Parliamentarian, former State Minister of Provincial Council and Local Government Priyankara Jayarathna recently tendered his resignation from his ministerial portfolio. In an interview with our sister newspaper Lankadeepa, the Minister responded to questions about the cause of his resignation.

Why did you accept the state minister portfolio?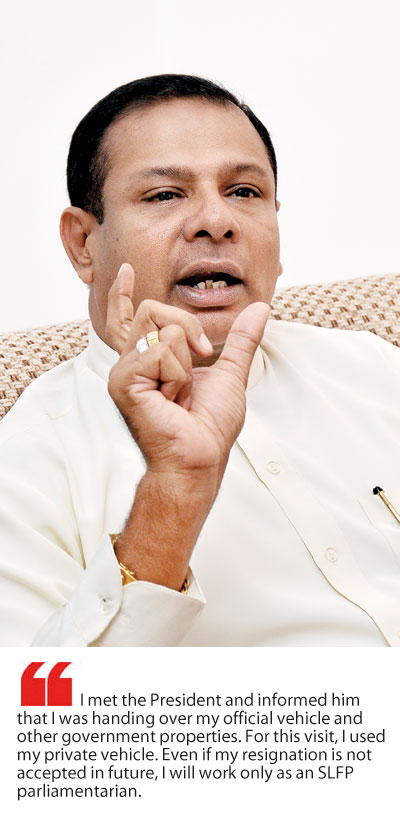 As you know, I represent Anamaduwa, a seat where voters are known for their leftist political ideologies. During the time the national government was being formed, the central organisation of the electorate wanted me to join the government.

Why was such a request made?
Anamaduwa was an area which was ravaged by violence. Those who believed that a repetition of such violence was impending demanded that I joined the government and take up a portfolio.

Then, why did you resign?
Considering the prevailing political situation, I convened central organisations on several occasions in December. During these meetings, Buddhist prelates in the area, political activists and ardent supporters of the party insisted on my resignation from the government.

Why did they demand your resignation?
The so-called national government is a jumble of affairs. The people are convinced that the government's way is vague and that they are incapable of serving the people. They insisted on my resignation and even warned that they would take severe action if I failed to do so.

Were you intimidated?
I am an elected member. Don't forget that I am not a National List parliamentarian. We have to be responsive towards the difficulties people endure. Therefore I decided to resign.

Were there any other reasons that led you to resign?
I am a politician with a conscience and therefore I must listen to the needs of the people. The country is presently following a policy of selling national resources. I don't want to be part of such sinister activities. As for your question about other reasons, there are several other reasons. The immature UNP parliamentarians say we are clinging to the UNP government. They have forgotten their origins and are not aware of the nature of a national government.

However some have alleged that your resignation was caused by the government's unresponsiveness to your problems.
That is wrong. If I wanted the government to help solve my problems, I would have stayed in government. I don't have such severe problems.

Why did you wait for two years to take this decision?
This national government was formed only for two years. The government's behaviour was quite different from what we expected. The political environment in my electorate is not similar to that of Colombo or any other part of the country. Most people here have leftist political ideologies and do not like a government of this nature.

Anyway, your resignation has not been accepted by the President
I met the President and informed him that I was handing over my official vehicle and other government properties. For this visit, I used my private vehicle. Even if my resignation is not accepted in future, I will work only as an SLFP parliamentarian.

What was the President's reaction to your resignation letter?
He asked me not to make hasty decision as I have a good future and to take collective decision with the party.

What was your response?
I told him everything that I have told you already. If I added anything more it would be that I could not change my stance over the matter.

Did you inform the President of your resignation before you handed over your letter?
I didn't inform him prior to my decision but I informed my political friends that I would take a decision by the end of the month. The President gave me a call on the 10th and asked whether I had any problem.

And what was your answer?
I told him I had no problems but also informed him of my wish to meet and speak with him. Later on, I met the President with my resignation letter.

You worked with Minister Faiszer Musthapha. Did you have any difficulty in collaborating with him?
I had no problem with the minister and there were no restrictions enforced on my work.

Did you speak to the former President Mahinda Rajapaksa before your resignation from the government?
There were no special conversations as such. The news of my intended resignation had reached several people by December 31. Mahinda Rajapaksa was among those who called me that morning. He called me at about 11.30 a.m. and inquired If I was attempting to resign from my portfolio.

What was your response to the question?
I said that I was on my way to hand over the resignation letter. Then he told me to make the right decision without any fear.

Are you now part of the Joint Opposition?
There was no special invitation from the JO but most of them are my friends. They all spoke to me following my decision.

In Parliament will you be seated as a member of the SLFP Parliamentarian or as a Joint Opposition MP?
We are all SLFPers and contested the general election under the UPFA with the symbol of the betel leaf. I still don't know where to sit in Parliament.

Whom do you acknowledge as your leader, President Maithripala Sirisena or former President Mahinda Rajapaksa?
I am a SLFPer. President Maithripala Sirisena is my leader. The former President Mahinda Rajapaksa is also my leader. I have been working under four party leaders during my political career. I joined the SLFP when Sirimavo Bandaranaike was leader of the party. When I was elected as a Provincial Council member, my leader was Chandrika Bandaranayaka. Since 2005 I was under the leadership of Mahinda Rajapaksa and now the present leader is Maithripala Sirisena.

What if you receive an invitation from the Joint Opposition?
It's too early to respond to such queries. Everything will be decided after discussions.

What are your views on the progress of the country?
I honestly regret the state of the country and the aggravation of the problems it is confronted with. On the one hand we have made a decision to give 15,000 acres of land to China. Meanwhile there are attempts to create a super minister post. These have become detrimental issues, therefore I think 2017 will be a decisive year in many aspects.

Are you indirectly saying that President Maithripala Sirisena and Prime Minister Ranil Wickremesinghe are incapable of developing the country?
No, what I am saying is that we must take separate paths in governance. A single party government whether SLFP or UNP. There are obvious clashes between these two parties. Now each member is blaming the other. Clashes arising due to these differences of opinion are now obvious to the entire country.

Is your resignation a precursor of some greater plan?
I did not negotiate my terms with anyone. I had discussions only with the people of my electorate. There are no other agreements.

However you have predicted that more minsters from Gampaha, Kalutara and Galle will leave the government.
Yes I did. They told me that discussions in this regard are in progress. I told them I that took this decision as I wanted to continue in politics.


Do you expect more parliamentarians to leave the government?
We have had long discussions. They will take the right decision at the right time.

Already the security provided to you has been removed.
Yes, my Ministerial security detail has been replaced with security measures which a parliamentarian is entitled to.

Will there be further repercussions?
Whatever the repercussions, I am confident my people will protect me.

Former President Mahinda Rajapaksa had made a statement that the government will be toppled in 2017.
The next General Election is due in 2020. But it is possible to gain power in Parliament if Parliamentarians begin to shift.

Are there any plans for this purpose?
I am still not aware of such a thing. My stance is to have an SLFP government.

What if the President asks you to accept the ministerial post again?
I will not accept.

Are you confident that you will not accept the portfolio?
I will accept a portfolio under an SLFP government but not under an Unity Government with the UNP.