---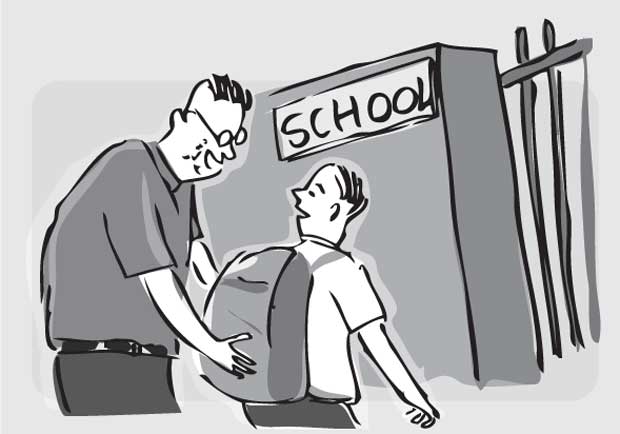 ith political and other leaders reiterating their May Day pledges to restore the dignity of labour and the living standards of millions of workers, we hope that practical and effective steps would be taken from this week to fulfil those pledges by going beyond the bottle of liquor and the packet of lunch.
To start at the beginning is a good place to start and that should be in the vital area of education where it is an issue of make or break for millions of young people who will guide and give noble and exemplary leadership to the next and future generations. Our sister paper the Sunday Times reported yesterday that regulations under the Education Ordinance would be gazetted within two months to make it compulsory for children between the ages of 5 and 16 to go to schools where they would have a pleasant and wholesome learning environment.
Significantly parents will be given the main responsibility to ensure that their children get such a job oriented and life building education. Parents who fail to fulfil this responsibility will be guilty of an offence. Earlier under 1997 regulations, the school attendance compulsory age was between 5 and 14.

The United Nations International Children Education Fund (UNICEF) in a report issued last year gave relatively good marks to the education process in Sri Lanka but its surveys were based on 2010 figures and did not cover the five war affected districts in the North and East.
It is widely known that education suffered the most in those districts. For instance the Jaffna district which topped the A/Level list till the 1970s dropped to the last place in 2015. Shockingly the Sunday Times also reported yesterday that the Northern Provincial Council had received 9,460 applications for 40 vacancies for the post of Office Assistants or peons in the Council.
Among the applicants were 250 graduates and of them one with an Economics Special degree had been selected as a peon. Political groups or clicks which are still playing the racist card and grimly warning of terrorism rising again, need to look beyond party politics or politicians and see the plight of the people, specially the youth.

According to last year's UNICEF report, with the tragic North East situation not included the 2006 Demographic and Health Survey has shown that Sri Lanka had a relatively small proportion of out of school children -1.5 percent of the primary school age children and 2.0percent of the lower secondary school age. There was gender parity in access to primary and secondary education. Urban and rural differences were not wide.
The UNICEF blackboard showed Poverty, child labour and the migration of mothers as the main reasons for children not going to school or dropping out early. Poverty could be largely tackled through the national policy of free education at primary, secondary and tertiary levels as well as scholarships, free textbooks, free school uniforms and subsidized transport. It said child labour was a strategy of poor families to encourage children to engage in economic activities to augment household income to meet basic needs. The 2008/2009 Child Activity Survey showed that 2.5 percent or 107,259 of the total child population were engaged in 'child labour'- 1.0 percent in non-hazardous work and 1.5 percent in hazardous forms of child labour. Although special assistance is given for some children of female migrant domestic workers, other children are vulnerable to dropping out.

From this month, to monitor school attendance and ensure that children attend school, the regulations provide for each Education Division to have a compulsory School Attendance Monitoring Committee which will work with the Zonal and Provincial Directors of Education. The committees will have the responsibility of collecting details relating to children within the age of compulsory education and those who do not regularly attend school. They will find ways for the children to be admitted to school. The committees will also be required to monitor those whose attendance is irregular and facilitate their regular attendance. The committees will also identify school drop-outs and take steps to make them attend school again. The committees will have the power to summon the parents who fail to send their children to school or visit such parents and advise them on the essential need to send their children to school.
The plan could be given the highest marks, but as usual the problem may be in the implementation and it might fail if there is no sincere commitment to this mission.