---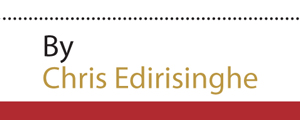 Every month on Poya day, Buddhists in Sri Lanka celebrate some event either in the life of Lord Buddha or an important event connected to Buddhism. Their most important and solemn day is the Wesak (full moon) Poya day. On this day we commemorate the three main events in the life of Lord Buddha. These comprise his birth, attainment of enlightenment and his passing away. Apart from these, certain events celebrated every year have great meaning in the lives of all Buddhists. Apart from other Poya days, Unduwap Poya and Poson Poya are two noteworthy days that Buddhists in Sri Lanka are keen to celebrate. It was on a Poson Poya Day that Buddhism came to be fully established here. On Unduwap Poya day, which falls in December, we remember the arrival of the Sacred Bo Sapling to our Island. Both these events are very valuable to us but are very much connected to India, our neighbour.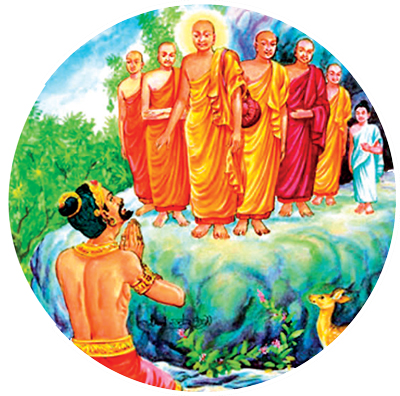 We know from history that the Buddha personally came here on three occasions. First he came to Mahiyangana, then to Nagadeepa and finally to Kelaniya. But the spread of his teaching throughout the island took place very much later. The great King Ashoka of India ruled the country and invaded many other adjoining nations to widen his kingdom. He was very successful in this endeavour. He fought many a battle and in the process lost many men who fought for him. His bloodiest battle was in the year 260 BC at Kalinga State.

He was successful in this battle but lost many of his men, some very good fighters who were very close to him. Apart from thousands of soldiers many innocent people perished in this final battle. Dead bodies all round him brought home the message that though he had won additional land, he had lost many lives which were valuable. Seeing the dead bodies and destruction made him sad and miserable. While he was pondering, crying and blaming himself for all the destruction, a Samanera passed him by, peacefully and fully engrossed in his spiritual thoughts. This was Nigroda Samanera, who later preached to the king and made him embrace the doctrine of Lord Buddha.

After that the Emperor Ashoka was a changed man. From Chandashoka he turned to become Dharmashoka of India. His one aim was to take care of all his people, maintain peace and spread the great Dhamma of Lord Buddha all round the world. He did this with the greatest dedication. His missionary zeal spread far and wide. He must have almost come to the decision which the Lord Buddha himself made long before, which is to forsake all earthly happiness and embrace a life dedicated solely to religious living. But it was not to be. He continued to be the king and the most respected religious king of Mahabharata.

The change that came upon the king Ashoka influenced to a very great extent the lives of his son, daughter, and even his grandson, Sumana, the son of Sangamitta. His son Mahendra (Mahinda) gave up all his royal status and the right to be king after his father, since as per the lineage he was entitled to be king, and embraced the Buddhist way of life, and ultimately reaching the status of an Arahath. It was this Arahath Mahendra or Mahinda who was sent by his father king Ashoka to propagate Buddhism in Sri Lanka. I always think that this was a very interesting phase in the history of Sri Lanka. Our local king Devanampiyatissa who was mainly influenced by a religion preached by Brahmins and venerated trees and rocks as of old, frequently went hunting, especially deer as a pastime.

He was a close friend of Ashoka the king of Mahabhartha. King Ashoka was a warrior and was also a shrewd tactician. He wanted his friend Tissa to embrace Buddhism and have it propagated in Thambapanni. Ashoka did not hesitate. He sent his son Arahath Mahinda here to preach to Tissa. As Tissa was chasing behind a deer, he called to him "Tissa', 'Tissa'. Tissa was surprised. Who was calling me by my name? I am the king. No one should address me in this manner. He must have been angry and of course perturbed. To his surprise he saw a gentle person in saffron robes descending from the hills of Mihintale. History does not record of Ashoka coming to Thambapanni or Tissa going to Mahabharata. So all connections between the two kings were done by visits of emissaries. Transport by sea of course was highly developed by this time. Ashoka may not have had the time to pre warn Tissa about sending his son to meet him. Or Mahinda on his own must have thought and decided that it was the ideal time to come here and preach to the king Tissa. It of course became the ideal time and Mahinda took the initiative and in the process took Tissa unawares. With the arrival of Arahath Mahinda, Buddhism came to be established here. On Poson Poya Day we commemorate this event, and especially in the areas of Mihintale, Anuradhapura this event is commemorated with great earnestness. More than Wesak, Poson becomes the principal event here.

King Ashoka's only daughter, Sangamitta had a different role to play. History tells us that there was a need to ordain women as Bhikkunis. Since the Bhikkuni Order was not established here, there was no possibility to have this done. When the king Devanampiyatissa was posed this question, and when even queen Anula expressed her desire to embrace the dedicated life of a Bhikkuni, it was left to Arahath Mahinda to decide as to what was to be done. This was a couple of months after his arrival here. Some time earlier Sangamitta had left the lay life as a wife and mother and had become a Bhikkuni. It was easier for both Tissa and Mahinda to take a decision. Both were unanimous in deciding that they should request king Ashoka to send Sangamitta here to take over this task. Though king Ashoka was sad about this request, since he was very fond of his daughter, in a way he was also happy that another of his children would undertake the missionary work which was very dear to him. He gave all his blessings to Sangamitta to proceed to Thambapanni to undertake the work and help her brother here.

With Sangamitta came her entire group of Bhikkunis. But more than anything she brought with her a sapling of the Great Bo tree, respected by every one, and second only Lord Buddha himself. Sangamitta came here by sea on a Unduwap Poya Day, and the history records that king Devanampiyatissa immersed up to his neck in the sea and accepted from her hands the sacred sapling. The king was accompanied on this journey by Sangamitta's brother Arahath Mahinda and Sumana Samanera, the son of Sangamitta Theri. A multitude of royal people accompanied them.

The arrival of Theri Sangamitta with the Sacred Bo Sapling is of tremendous importance to Thanthirimale, today. The sapling was brought to Thanthirimale and kept over night on its way to Anuradhapura. This village earlier known as Upatissagama and then as Thivakka Bamunugama had the privilege of providing overnight accommodation to the king and others. Brahmin Thivakka who was overall in charge of the proceedings that day provided all facilities to the royal guests.

This event began to be commemorated by the people of Thanthirimale, in greater earnestness after the village was properly developed with the arrival of a young and energetic Thera of around 20 years of age, by the name of Kudakongaskada Wimalagnana in 1960. He searched for villagers in distant areas and got their help to clear the area and develop it. Government officials, including officials of the Archaeological department rallied around him and were instrumental in bringing this place back to its pristine glory. Though it took place long ago on a Unduwap Poya day, since Poson is celebrated in the whole of Anuradhapura, at Thanthirimale the historical event of arrival of the Sacred Bo Sapling to our country is remembered and celebrated in addition, with piety and devotion. All religious activities are directed towards this historical event.

When we visit Anuradhapura, Mihintale and Thanthirimale this Poson, we must remember with gratitude the contribution made to Buddhism by Kings Ashoka and Devanampiyatissa together with the sacrifices and efforts made by the two devout siblings from India, Arahath Mahinda and Theri Sangamitta, and of course by Thivakka Brahmin, who became a very devout Buddhist later. Both Mihinthale and Thanthirimale are very important as far as establishment of Buddhism in Sri Lanka is concerned.

It is noteworthy that one person, the present Chairman of Wijeya Newspapers Ltd, and former Chairman of ANCL was instrumental in giving these two religious places their deserved places in Buddhist history in Sri Lanka in inaugurating the Aloka Pooja at both these hallowed Buddhist places of worship.