---
Writing an article about the happenings in this country is becoming next to impossible!!! Those who lack the courage to do what is right; and there are SO MANY OF THEM, will always find a philosophy to justify it!!! We simply cannot count the number of wrongdoers who are continually being brought to Court and sent away!!!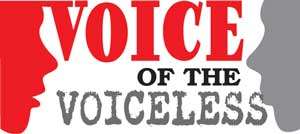 Recording of evidence never ends; we have lost count of the number!!! We continually read Mahanama and Dissanayake re-remanded, Rangajeewa and Lamahewa re-remanded, on an almost daily basis people are being produced in Court but NOTHING FINALISED???

Produced and re-produced, remanded and re-remanded!!! WHEN AND WHERE IS THIS TOMFOOLERY GOING TO END??? PERHAPS IT WOULD NOT BE POLITICALLY EXPEDIENT WHEN TRUTH BECOMES A VICTIM TO POLITICS!!! The count on the Perpetual Treasuries List is increasing by the day!!! THE ALL IMPORTANT NAMES ARE NOT FORTHCOMING THOUGH!!! WE WONDER WHY???
ILLS OF THE GOP
The Educated One says "the UNP will never defend thieves," who made Ravi K the first Minister of Finance in this regime??? The one who claims "MY TASK IS TO GIVE NEW HOPE TO ALL UNP MEMBERS AND MILLIONS OF OUR VOTERS" Where we ask is the hope he has given to the millions of parents who still find it impossible to get their children into schools??? Does that not matter, or is that not one of his priorities??? As the new General Secretary of the Grand Old Party, he is going to solve ALL THE ILLS OF THE PARTY IN ONE FELL SWOOP!!! The UNP should consider itself privileged to have such a capable General Secretary!!! He is going to make the Impossible Possible!!! We will still be around to watch his stellar performance!!!
Not so healthy Situ
The Healthy One who returned recently after capturing a post at the UN is such a humanitarian that he refused point blank to go into the overcrowded ward at the Hector Kobbekaduwa Hospital in Dambulla!!! Those poor women have no room TO EVEN SIT ON THE FLOOR, IT IS SO HORRIBLY OVERCROWDED, BUT DID ANYONE CARE???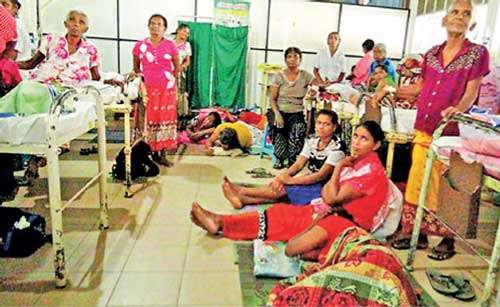 Igp Step In Please
The Traffic jams and Traffic Cops – yes, we have been taught to give merit where merit is due but the Traffic Cops of our country deserve NO MERIT for the inhuman delays and punishment they put us through, simply because they have absolutely NO IDEA HOW TO DIRECT TRAFFIC!!!
THEY MAKE THE CRUCIAL MISTAKE OF FIRST PUTTING OUT THE TRAFFIC LIGHTS AND THEN TRYING TO DIRECT TRAFFIC!!! THEIR SENSE OF DIRECTION SADLY POINTS ONLY IN ONE DIRECTION!!! SO GOD HELP US ALL!!!
If these idiots just leave the Traffic Lights on, THERE IS A SENSE OF DIRECTION AND A SMOOTH FLOW OF TRAFFIC!!! Perhaps it is time the IGP stepped in and brought a sense of direction to the lives of these misguided Policemen so that they will not continue to display their ignorance and inconvenience the public, like they do!!!
Who cares
As I have said before, we live in a world of declining moral values!!! They are tinkered and tampered with to the detriment of society.
Sadly, our Sri Lankans, in general, seem to have lost their sense of values!!! The saddest and most detrimental part is that they have no politicians, no one at the top to guide them in what is right!!! Road repairs are being carried out in the daytime, when it is time for people to go home!!! The end result is the general public is inconvenienced but no one cares!!!

Huge empty water tanks are left at random on the roads; near the parks, no one knows the purpose they serve, more importantly, no one cares!!! When it rains these tanks fill with water and breed mosquitoes, the mosquitoes, in turn, bring in the dreaded dengue and other fevers!!! Yet, no one cares; the empty tanks are just left standing!!! The other menace is garbage; our streets, highways and byways are polluted with garbage!!! Does anyone care??? Is there any punishment meted out to those who irresponsibly dump garbage???

The reason for all this decadence is total lack of discipline!!! No one to impose discipline, no one to take action where action is required, so the people have also fallen into this attitude of 'WHO CARES???'

There is no value attached to anything, whether it is in homes, schools, offices, public places; values are declining rapidly and falling to dangerously low levels!!! It is indeed a shame that the majority of Sri Lankans have lost their sense of self-worth!!! Sri Lankans, in general, used to be proud of what they wore, how they dressed, what they ate, how they went around, what they talked about. Now no one seems to care, it is really sad!!! More importantly, when a new product is introduced, irrespective of what the product is, the first lot you get is super but, as soon as they know the product has caught on, BANG goes the quality and no one cares about that!!!

Why are our people so lackadaisical; why is it that maintaining QUALITY IS NOT IMPORTANT ANY MORE??? ONE RECENT INCIDENT IN THE WAKE OF DENGUE WAS THE 'CITRONELLA' 'PANGIRI THEL' JOSS STICKS GUARANTEED TO DRIVE AWAY THE MOSQUITOES!!! IN ALL FAIRNESS IT WAS SUPER, YOU LIT ONE AND THE AROMA PERVADED THE WHOLE HOUSE!!! IT WAS SO EFFECTIVE, NOW YOU LIGHT EVEN TWO AND NOTHING HAPPENS!!! HOW QUICKLY DID THAT DETERIORATE??? Why do our Sri Lankans find it so easy to compromise on QUALITY??? Shouldn't we be proud of the product we sell, shouldn't we be proud that we are giving our fellow human beings a product of VALUE??? Why stoop to devalue the product we sell??? Why do we find it so easy to deceive our own countrymen???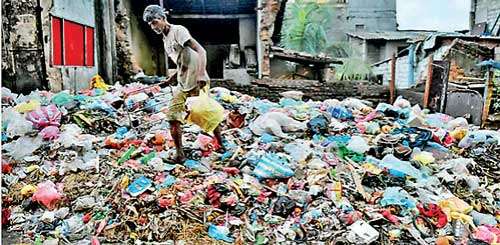 Oh that one hundred days
People are naturally taking their cue from the politicians, from what is happening around them!!! All we read about are the Udayangas, the Jaliyas, the Mahendrans and so many others who have all been allowed to get away!!!

WHY, WE ASK IS IT TAKING SO LONG, SO VERY LONG FOR JUSTICE TO BE SERVED!!! THERE DEFINITELY SEEMS TO BE SOME SECRET HIDDEN AGENDAS!!! IT IS ABOUT TIME THE GOVERNMENT IF YOU CAN CALL IT THAT; REALIZES THAT YOU CAN FOOL SOME OF THE PEOPLE SOME OF THE TIME, BUT NOT ALL THE PEOPLE ALL THE TIME!!! It won't be long before they have to come to the people again and then they would be in for the shock of their lives!!! Perhaps then they will realize THEY WERE THE FOOLS!!! Now they are trying to talk us into believing that there is this highly publicized 100-Day Programme, apparently drafted by Eminent Persons!!!

One of our eminent Buddhist Priests said the 100-Day Programme has been copied from a USA Programme!!!

Be that as it may, we are constrained to ask why it took over three years for them to even talk about a 100-Day Programme!!!

More importantly, what did they hope to achieve in these 100 days??? It would be interesting to find out!!!