---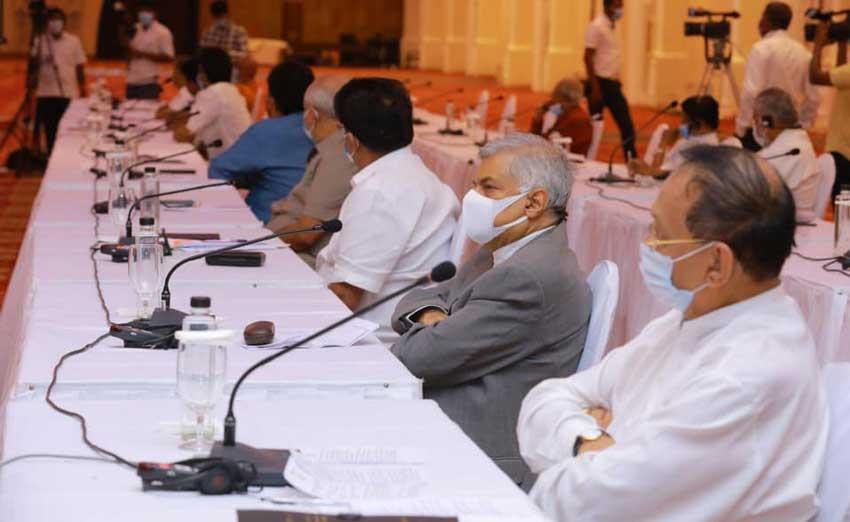 Ranil Wickremesinghe and Speaker Karu Jayasuriya at the party leader's meeting
He has been appointed to this task possibly due to his experience in dealing with the massive rehabilitation drive in the immediate aftermath of the end of the war in May 2009. At that time, nearly 300,000 people were displaced from the north, and they had to be provided with food and shelter at welfare villages set up in the Menik Farm area in the Vavuniya District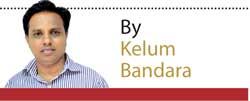 As the novel coronavirus, or COVID-19, engulfs the world with its cruel tentacles, governments all over are in a dilemma on how to best deal with it. It is a reasonable dilemma because no government in the world has dealt with a health crisis of this magnitude in recent history. Sri Lanka is no exception.

This is a highly contagious disease spread through droplets from sneezing and nasal secretions of infected persons. Social distancing, isolation, and lockdowns are the only options to curb the spread of this infection, however difficult and harsh such measures may be. Now, Sri Lanka is in a virtual lockdown, and the movement of people has been restricted.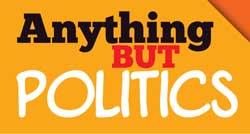 So, the challenge for the government is to ensure the distribution of essential items to people with minimum contact with them. This is a herculean, unprecedented task that must be handled with utmost coordination between government institutions and private traders.

As things stand, it is bound to take at least one more month for the country to bring the situation under control. Bearing that in mind, steps that needed to be taken were discussed at a meeting called by Prime Minister Mahinda Rajapaksa with leaders of political parties, including those in the opposition.

Ensuring the supply of essential food items, including fish and vegetables, with bare minimum contact with people, is no easy task. At the meeting, UNP Leader Ranil Wickremesinghe mostly inquired about logistical arrangements to keep public life moving despite restrictions to their movements during prolonged curfews. He stressed on the need for the continuation of curfew.

Door-to-door distribution
The government announced a mechanism for door-to-door distribution of essential commodities with the involvement of the Sathosa retail network and co-operative outlets throughout the country.

In this instance, a nexus has to be built between producers and purchasers. At Tuesday's meeting chaired by the PM, the government announced a Task Force led by former Minister Basil Rajapaksa to coordinate the programme, even involving farmers and fishermen, so they could also benefit from it during these hard times.

Basil Rajapaksa was appointed to lead this task possibly due to his experience in dealing with the massive rehabilitation drive in the immediate aftermath of the end of the war in May 2009. At the time, nearly 300,000 people were displaced from the North, and had to be provided with food and shelter at welfare villages set up in the Menik Farm area in the Vavuniya District. The then government had to evolve a coordinated mechanism to feed war-displaced citizens, while looking after their healthcare needs. The present government is now trying to take a leaf out of that government's book, to be applied in the
present context.

Tuesday's meeting had been arranged with all safety precautions to prevent the possible spread of the virus. Seating arrangements had been made with a one-metre distance between participants. All those present were wearing protective face masks. They also used hand sanitizer.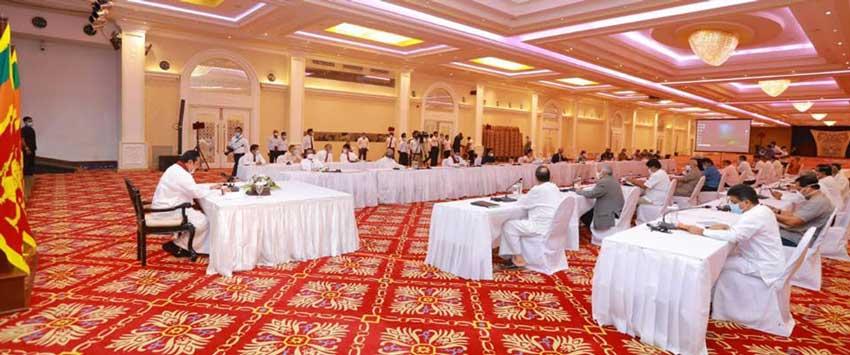 PM Mahinda Rajapaksa called for a party leaders meeting to curb COVID-19 pandemic. Leaders and Secretaries-General of the recently dissolved Parliament were also invited

No re-convening of Parliament
Wickremesinghe, who relies heavily on the parliamentary system in dealing with crucial affairs, did not ask for the re-convening of the House to discuss current developments. Instead, Sri Lanka Muslim Congress (SLMC) Leader Rauff Hakeem asked for it. But the government did not entertain the idea on the premise that it would set a bad example for people who had been advised against mass gatherings.

Pivithuru Hela Urumaya (PHU) Leader Udaya Gammanpila said it would be an assembly of 225 MPs and 300 parliamentary workers, if the House were re-convened. "We have advised people against mass gatherings. If we do it ourselves, it would be a bad example. Our parliament remains dissolved. Even in countries like Canada and the European Union, parliaments have been suspended. So there is no need for us to meet," he said.

Tamil National Alliance (TNA) MP M.A. Sumanthiran said MPs could discuss matters using technological tools such as videoconferencing. Or else, he said the leaders of the parties with parliamentary representation could meet regularly. The PM was receptive to the second idea.

Ranil, ventilators, beds and success in Germany
Wickremesinghe, who started speaking first, asked whether ventilators and emergency beds were sufficiently available in the country to attend to the next batch of patients. He said Germany had reported the least number of fatalities from this disease, and therefore Sri Lanka should look at what had been achieved there. He said ventilators and emergency beds should be imported, unless Sri Lanka had them in adequate numbers.

Director General of Health Services Dr Anil Jasinghe responded saying no country was ready to export such products these days because of the emergency situations they themselves were facing. Then Wickremesinghe asked whether these items could be manufactured locally. The PM said that steps were being taken with the involvement of the military and the Peradeniya University.

300 Lankan gem merchants stranded in Madagascar
Hakeem drew attention to gem merchants stuck in Madagascar. He said 300 such merchants remained stranded in Madagascar and that they should be brought back to Sri Lanka. The PM, in his response, said there were requests to airlift Sri Lankans trapped not only in Madagascar, but also in Europe and India. "We are making arrangements to bring them back," he said.

Minister Wimal Weerawansa, who was present at the meeting, said it would be unfair if only people trapped in a particular country were airlifted. "We have to be fair by all," he said.

Sajith asks about new medicine to cure COVID-19
Samagi Jana Balawegaya Leader Sajith Premadasa inquired about new medicines to cure the virus. "I heard about a new medicine to cure patients down with this disease. What is that?" he asked.

In his explanatory response, Dr. Jasinghe said this was a virus, and therefore there was no cure for it. "There is no cure for viruses. We can only produce a vaccine. Besides, there are new medications for complications of this disease. Those are also at an experimental level," he said.

People compelled to forego Avurudhu festivities
All in all, the participants at the meeting discussed more about relief measures for affected people and the unhindered supply of essential food items. Preparedness for at least one month is needed under the current circumstances. Currently, the number of cases keep rising. If the curve flattens, the government would be able to normalise the situation in a month's time. During this period, people would be compelled to forego Aluth Avurudhu festivities in April this year.

The coronavirus has dealt a debilitating blow to the world economy. Sri Lanka will undoubtedly feel the pinch. Even after the outbreak is contained, the government would encounter fresh hurdles in revitalising the economy hit by the crisis. The tourism sector, in particular, is bracing itself for a shock. The government will have to work out new economic plans to restore the economy. It has already announced a hefty relief package for people. Besides this, macroeconomic plans will have to be fine-tuned to get the economy up and running again.