---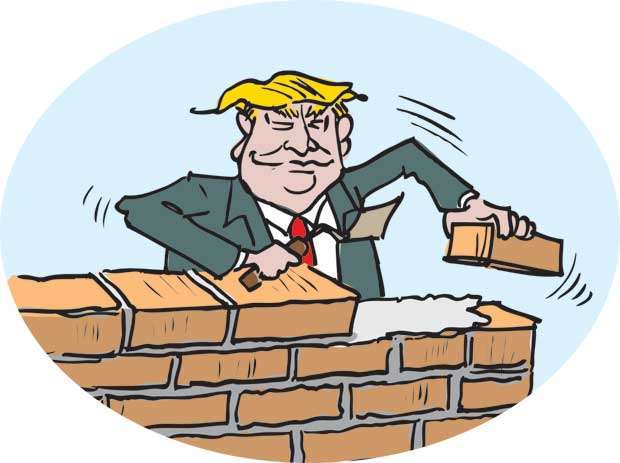 n Friday, US President Donald Trump declared a state of national emergency in the United States. The president is in search of a means to provide himself with funds to construct a 230-mile long wall between the US and Mexico. It is quite clear what he is trying to do.
Just a few days ago, the US House of Representatives which is the legal body responsible for the allocation of funds to various programmes, refused to make a budgetary allocation of around $ 8 billion to him (Trump) to build a wall between the US and Mexico. According to Trump, the wall is absolutely necessary to keep the number of immigrants, whose numbers have been growing astronomically over the years from entering the US.

The reality is that Trump is trying to circumvent the US Congress ruling, and thereby the US constitution itself, to make good on an election promise, which is based on false allegations, that hundreds of thousands of Latin American criminals -- most of whom are rapists, terrorists, and drug smugglers -- are trying to enter the US illegally. Statistics provided by US government offices themselves, show illegal immigration into the US has in fact drastically fallen.
An opinion piece in the New York Times described the declaration of a national emergency by Trump as a 'Phoney Wall, Phoney emergency' since it was, but a week ago, Trump himself asserted "...the wall is very, very, on its way". If this was so, how could the President claim to be addressing an emergency, the paper asked.
Trump has been asking for this money over the past two years. Even at the time his own Republican Party was holding sway in the House, the President was unable to convince a majority of law-makers in the Republican-controlled House, that they should allocate billions of dollars to his pet border project. Last week's bi-partisan expenditure Bill, which did not give Trump more money than it allocated to the border wall in December, which led to Trump's shutting down of several government departments was a particularly galling defeat and an embarrassment to America's ageing President.

Through his actions the US President is attempting to override Congress, and is directly undermining the US Constitution itself. As the Democratic Party's two most senior politicians, Nancy Pelosi and Chuck Schumer said, if the President is permitted to carry out his plan, he would at a stroke "shred the constitution".
Despite knowing the idiosyncrasies of the present US President it still comes as a shock that he simply declared a state of national emergency to, so-to-say mis- appropriate funds allocated to other programmes, just to suit one particular whim is shocking. One would not be surprised if such an action had taken place in a 'banana republic', but the fact is, it is occurring in the good-old USA, which often preaches good governance and transparency to us Asians and so-called Third World countries.

Even worse President Trump's description of Latin American immigrants as rapists, drug-dealers and terrorists, stink of racism of the highest order. It gives credence to commonly held beliefs especially in Asia, Africa and Latin American countries that the US preaches one doctrine to the world, but practises quite another.
To us in Sri Lanka, events now unfolding in the US, take us down memory lane, when in October last year, certain bizarre events took place effectively bringing the country to a near three-month stand-still. It took the Speaker of the House and the highest Court in the land to bring our erring politicians down to earth. According to media reports a similar pattern appears to be taking place in the US.

Less than four hours after Trump's announcement of a national state of emergency, a government watchdog group filed suit, demanding that the Department of Justice hand over "documents concerning the legal authority of the President to invoke emergency powers." Soon after, the State of California announced its intention to sue.On Thursday, even before the announcement was made, Protect Democracy and the Niskanen Centre announced plans to file on behalf of El Paso County and the Border Network for Human Rights.

However, we are sure the US Constitution has sufficient checks and balances to stop run-away presidents. But sadly in our own little corner of the world, history seems to be repeating itself.Today we are hearing persons who should know better, whining that Independent Commissions are not appointing particular individuals whom they favour to sit in the highest Courts of our land.
O tempora! o mores!