---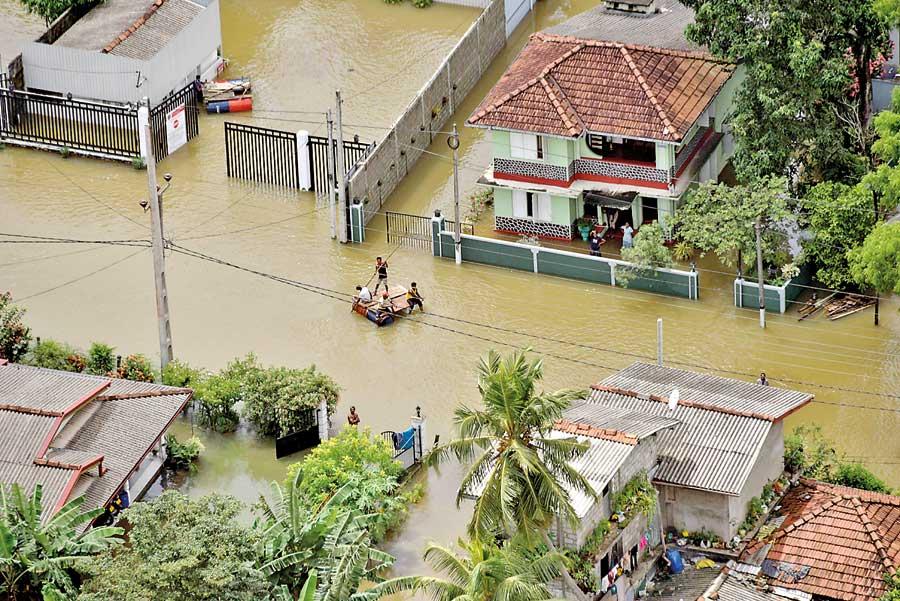 An aerial view of people making their way through a flooded area in the suburbs of Colombo.
Pic Sri Lanka Air Force Media
Sri Lanka had gone through a terror war for three decades and emerged victorious, yet when terrorists of a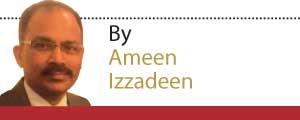 different kind struck on Easter Sunday in 2019, the then government and the security apparatus were caught unawares. The preparedness to face an unexpected situation was either woefully inadequate or the authorities were not accustomed to be prepared.

Similarly, this country has been hit by several natural disasters such as floods, landslides and prolonged droughts. Yet disasters do happen and in recent years, due to the impact of the climate change, happen in an extreme manner. Each time it happens, the authorities appear to be underprepared to face the crisis, although there is a state agency committed to disaster management.

Disaster management is much more than evacuating people to safe places or giving them cooked food. The International Federation of Red Cross and Red Crescent defines disaster management as the organisation and management of resources and responsibilities for dealing with all humanitarian aspects of emergencies, in particular preparedness, response and recovery, to lessen the impact of disasters.

A key element of disaster management is preparedness with early warning mechanisms. Prior to last week's floods following the onset of the southwest monsoon, the affected people did not receive such early warning other than the routine hear-and-forget weather advisory read out on news channels. No officials advised them to move to safe places before they were marooned.

When it rained it poured with the rainfall exceeding 340 ml in some places. In the worst-affected Gampaha district, water levels reached roof high in low lying areas. It is a serious indictment on town planners when the Gampaha town itself went under several feet of water.

If there had been a proper early warning mechanism, the damage the people suffered could have been minimised. Some 20 people would not have lost their lives. Last week's monsoon rains affected more than 250,000 people in 10 districts. In the absence of a proper count, the actual figure could be much higher.

Apart from saving lives, early warning mechanisms reduce the economic and material impact of the disaster. In many affected areas, people did not have time to save their valuable furniture, electric and electronic items. Refrigerators, televisions, sofa sets, bed room furniture along with food items were damaged or destroyed. The floods have pushed the people further down the poverty hole, as though the suffering they are undergoing due to the economic impact of the Covid pandemic was not enough. Recovering from the disaster after the flood waters have receded, many people would be forced to buy household appliances on easy payment schemes that come with high interest rates. Disaster management officials need to take stock of the situation and identify the areas where they have failed. The Disaster Management Centre which now comes under the Defence Ministry does have an early warning system but it is largely centered on landslide prevention. Its flood prevention or mitigation work appears to be wanting.

The DMC's landslide mitigation work does involve community participation but there is not much community participation in flood prevention. In some areas, people said they had experienced floods for the first time in living memory. Marshy lands are filled; forests and mangroves are destroyed with political patronage to carry out ill-planned development projects or to allow the private sector to set up factories and resorts. In several areas, the affected people blamed the new expressways for the unforeseen floods.

With elected representatives showing no urgency to protect the environment, even some people have become inconsiderate. They dump garbage in waterways when the local council delays collection. Wattala's Kalu Ela has become a big garbage dump. Apart from garbage, the canal is also covered with Salvinia plants, a major cause for floods since the time it was introduced in Sri Lanka during World War II. Needless to say, most disasters are human-made.

Last week's flood disaster was not the first of its kind. In 2016, more than 20 of Sri Lanka's 25 administrative districts were affected by the country's worst floods and landslides. Floods had been a problem even during the colonial times. A report prepared by the colonial era officials is still relevant. It recommended that the Kelani river be diverted upstream at several places to prevent floods in low lying areas in the Colombo district.

Sri Lanka is the fourth most climate-change affected country. As global warming causes sea level rise, Sri Lanka's flood prone areas become more vulnerable: All the more reason why the Defence Ministry must heighten its disaster prevention and mitigation measures. These measures should include a study on the relocation of water treatments plants further upstream to mitigate the effects of sea's continuous invasion of the land. Building dykes and pump-houses and regular dredging of canals could mitigate the problem to some extent with the DMC playing a role in development projects to ensure they do not add to disasters.

The authorities should not behave like the person who gets pricked by the same old rusty nail in the garden over and again. The person applies some antiseptic liquid on the wound but won't pick up the nail and throw it in the trash bin.

Effective disaster management calls for measures to remove the causes that lead to disasters. The President has appointed an ex-military officer as the head of the DMC, perhaps, in the belief that military men are better trained than bureaucrats to handle emergency situations. This may be true in responding to a disaster situation, but a holistic approach is vital to scientifically identify the causes of disasters and take preemptive measures to save lives and property.

The DMC has a powerful mission statement but much more needs to be done to narrow the gap between the high ideals and the ground reality. It can learn from countries where disaster management is a continuous process involving community leaders, local councils and disaster management teams.

Developed nations have worked out people-friendly disaster management systems. They have maps to show how vulnerable people and their localities are to climate change. In property transactions, serious attention is paid to disaster management with questions being asked whether the property is prone to natural disasters, whether there are proper storm water and sewerage systems and whether the local council has made arrangements for garbage disposal. These are important areas to be looked at because people buy houses with their hard earned life savings – or through bank loans -- not to go through mental trauma every time they see dark clouds over their heads.

It was only this week the cabinet approved a proposal by the Urban Development Ministry to beautify 100 cities. What use of a city's beauty, if its people live in fear of natural disasters?
People's participation is vital for disaster prevention and mitigation. But official apathy appears to be a national disaster.