---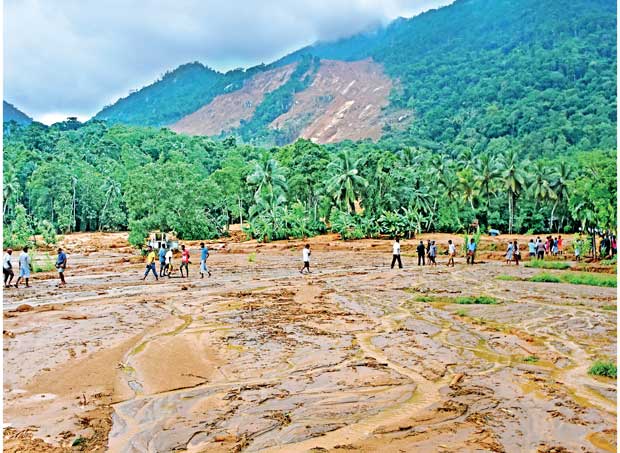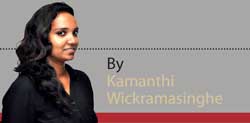 The adverse weather conditions which lately took over the island affected many innocent lives. While leaving some of them displaced, others were orphaned as their loved ones were buried in the tragic landslides which occurred in Aranayake and Bulathkohupitiya in the Kegalle district. As a result of these weather conditions 94 people were found dead while 127 were missing leaving over 319,000 displaced from homes while over another 427,000 people have been affected. In an attempt to investigate about the conditions of the people who were displaced by the landslides which occurred in Aranayake and Bulathkohupitiya, the visited the refugee camps.
---
The aftermath of the landslide in Aranayake

When the Dailymirror visited the site a place that was once a village was just a bare land. Television sets, toys and other household appliances were halfway buried in the mud while little streams have found their way through the ground. A Buddha statue with a tree were all that was left on the bare land.

The area that had eroded had been a tea plantation and people believe that this was the reason why the sand was loose. Those living at this village have been living there ever since their childhood and on most occasions people used to visit the town only once in a while. Today this beautiful village has turned in to a muddy and deserted bare land.

The Dailymirror then paid a visit to the refugee camps to inquire about the living conditions of the people. They were kept in several places including temples and schools. Inside the camps, people were sitting on mats, talking to each other and recalling the incident over and over again. Some of them also shared their memories with the .
---
No hopes about our future:Chandrika
Chandrika Priyadarshini is waiting to see her two children again. But she believes that they were buried to the landslide. "At the time of the incident my husband and two children were at home and I was at work. I saw the light poles coming down and knew that something was going to happen. My husband has asked the two children not go out but they had run out to see what was happening. When I got home only my husband was there. I have no hopes about our future. Everything got buried to the ground and I hope that we will get some compensation."
---
hope we will get some assistance -S. P Gunarathne


S. P Gunarathne recalls the incident as follows. "It was around 5.30pm when this incident took place on May 17. The entire forest area was covered in a mist and I didn't notice a landslide. However I heard the noise of an approaching plane. I didn't know that this area would have some risk on our lives. I have no way of making a living for my family, because I was a farmer and now my entire paddy field is destroyed. We cannot live in these camps for all our lives and therefore I hope we will get some assistance."
---
my grand childrenhave disappeared :Premawathi


M. P Premawathi fears for the future of her life and loved ones. "My husband is sick and I was at home that day. There was a heavy rain and after some time people shouted saying there was a landslide in Samasara kanda. Thereafter I called my elder daughter who was living a few metres away from this place to quickly run away. One of my sons was in Kadugannawa and he was expected to return that day. I asked him not to come and I went in search of my younger son. He was with me and when I went out I saw that it was turning out in to a major disaster. Trees were uprooted and all the houses were flattened. I somehow escaped but my daughter's two children have disappeared. Her son was 7 years of age and the daughter was 12 years. Now we are homeless and we urge the government to give us a house and also give us financial assistance to get back to our normal lives."
---
Part of my house got destroyed: Premarathne


S. P. Premarathne believes that he would be able to get back to normal. "That day at the time of this incident, I heard the noise of a plane. But when I went out, people were shouting saying that there was a landslide in Samasara kanda. My house was just a few kilometres away from where this disaster took place. Part of my house got destroyed and I would be grateful to the government if they could give us a hand in either renovating our houses or relocating us to another safer place."
---
Govt. could help us get back to normal : Piyawathi


R. P Piyawathi hopes to see her grandson but she has no clue about his whereabouts after the incident. "My younger son's body was identified today and they are bringing it for final rites. Only my daughter-in-law, elder son and I could escape. How can I get back these innocent lives? I lost everything in this disaster. My elder son has a disabled child and we have to give treatment for him as well. Nobody can bring back these lost lives and if there's anything that the government could do in giving us a hand to get back to our normal lives, it would be a meritorious deed."
---
I need a house in a safer place :W. Irene


W. Irene too has no house as a result of this disaster. "We were not informed that this area was risky. These are our ancestral homes and we have been living ever since. On the day of the incident we received a call from a member of the Grama sevaka society asking us to leave our houses as soon as possible. We were clueless as to what was happening and when I rushed out I saw that the tea plantations in Samasara kanda had turned to bare land. There were 3 families living in my house and at that time we all ran away. My house was completely destroyed and now I need a house in a safer place because we can't go back there."
---
People need psychological assistance:Vijitha thera


Debathgama Vijitha thera of Sri Rathanajothyaramaya temple pointed out that the people should get back to their normal lives. "But at the moment they are psychologically unstable and we have to ensure that their mind-sets are back to normal. These are our devotees and I fear that eventually there will be only a few people in this village because of this disaster. I have decided to initiate a fund for them to utilize the money for further requirements. Now that their houses have been destroyed they will need financial assistance to start from scratch. I invite any donors to contact me and send in their valuable contributions."
---
I am a heart patient : Lilly

P. G Lilly on the other hand related a more heart-warming story about her life and the effect of the incident. "My husband passed away and I live with my two sons. I am a heart patient and I need to get medication for that as well. My house was flattened to pieces as a result of the landslide. Now I'm homeless and do not know how to move forward. I have to spend for my children and myself. We were not informed that this area had some risk on our lives. It would be great if the government or any other responsible party could give us a hand at this moment."
---
I lost three in my family: Rajarathne


U.V.N. Rajarathne who is also staying among the displaced has lost hopes on his family members. Relating his story Nimal recalled how he tried to escape the landslide. "The rain didn't stop for three days and the lake near our houses was about to overflow as well. That day I went near the shop in our village to sell tickets. Afterwards I stayed there for sometime and at around 5pm I heard a strange noise. Then I saw that the soil in the hill was coming down. My house was at the foot of the hill. I hurriedly ran towards another place and watched as light poles and trees started descending towards the ground. After some time I ran towards my house but there was no one. There was nobody in the neighbouring houses as well. My two sisters came in search of me and we all then went to the Hathgampola temple. My daughter, son-in-law and their two children are missing. We are well taken care of and there is enough food and resources here. But we can't stay here for long so I hope that the government will take care of us."
---
These people need some facilitative support: Dr. Ramani Ratnaweera
Speaking to the Dailymirror Consultant Psychiatrist at the Karapitiya Teaching Hospital, Dr. Ramani Ratnaweera said that psychosocial impacts of flood disasters can have significant effects on people's wellbeing, relationships and mental health . "Many social and economic problems may continue over periods of time due to primary stressors of flooding and stressors that are indirectly related to the initial extreme event, i.e., economic stress associated with re-building their lives. Many psychosocial issues arise as people try to recover their lives, property and relationships. People subjected to such conditions often suffer from trauma which will challenge the psychosocial resilience of the hardiest of people who are affected. In addition there is grief due to the loss of lives and precious belongings. Grief stricken individuals experience severe levels of the following symptoms: yearning, disbelief, bitterness over the loss, confusion about one's identity, a sense of numbness, distrust of others, a feeling that life is meaningless since the loss, difficulty accepting the loss, as well as feeling stunned by the loss. Many mental health conditions such as anxiety, depression, post-traumatic stress disorder (PTSD) and suicide could be seen among victims.

She further added that they are normally shocked and are stuck in their thoughts. "As such they regress and will continuously experience flashback memories and intrusive thoughts of the incident. They can develop their own healing mechanisms but they are not effective at this kind of a scenario as they will develop numbness. Therefore they need some facilitative support to reprocess their thinking. Psychological First Aid is an approach to assist people on five empirically supported principles to guide post-disaster interventions: promoting sense of safety; promoting calming; promoting sense of self and community efficacy; promoting connectedness; and instilling hope."
---
The stories of the displaced in Bulathkohupitiya
The then visited Bulathkohupitiya, which is situated approximately 25 kilometres away from Kegalle. The people affected by the landslide were residents of the Kalupahana estate. When the visited the site, huge boulders have come down and had deposited on the roofs of a few houses which were situated at the foot of the hill. Books, clothes and other appliances were among the rubble. Tea plucking and rubber tapping have been the main occupations of the people living in this estate. the visited the Seelananda Maha Vidyalaya, which was converted in to a refugee camp, to speak to the people and inquire about their conditions. In their comments, many people were lamenting about their lost property.
---
we were not warned about the risk :Jayakody


N. Jayakody is a mother of two, who has unfortunately lost her daughter in the landslide. "I work in Colombo and my aunt phoned me to tell about this incident. My aunt takes care of my daughter when I'm away and she never leaves her lands. My aunt and uncle used to stay in the Kalupahana estate and take care of my child. My husband and I are divorced and my other child is with his family. We can't prevent these natural disasters but we were not warned about the risk. If it happened we could have gone to safer places. At least now I hope relevant action will be taken to take care of us."
---
our property got destroyed: Kumareswari


V. Kumareswari recalled the memories of the incident and fears that she will not be able to continue her occupation to look after her mother. "I used to pluck tea and earn a living. I have to take care of my mother because she is paralysed. But our property got destroyed and the army officials had to carry her to this camp as well. I hope we will get some compensation to move forward in our lives."
---
We do not know howto proceed:Murugiah


V. Murugiah had a different story to relate.
"I have two children and on the day of the incident luckily I was at home. My younger son had gone out to play and that day he came running in saying that there was a landslide happening. I hurriedly called my wife and the other child and rushed out. At that instant I saw huge boulders coming down. Our house now has only a part of it remaining as everything else has been buried under the rocks. This is our situation today and we hope that the government will give us a hand in getting back to our normal lives. We earned a living by plucking tea but today we are homeless and do not know how to proceed."
---
Nobody can bring back these lives:M. Govindasamy

M. Govindasamy has lost three members of his family including his son, son's daughter who was 16 years old and had been pregnant at the time and also his daughter-in-law. "At around 10.30p.m. I heard a strange noise and when I went out I saw boulders slipping down. I wasn't at home but when I returned home I only saw my wife. It is quite sad to even think about the people I have lost. Neither the government nor anybody can bring back these lives. But I hope that the government will take the necessary measures to restore our livelihoods."
---
All we want is a house:M. Navarasakumar


M. Navarasakumar earns a living by playing instruments in a 'papare' band. "But I can't go to work now because my house is completely demolished. My sister called me that day and asked us to move out of the house as soon as possible. Later only we realized that there was a landslide and it was coming on to our houses. I have two children and now I don't know how to make a living and send them to school. All that we want is a house to stay and compensation until we become stable again."
---
People have been relocated to safer places : Z.A.M. Faizal

In his comments about the displaced, Z. A. M. Faizal, Divisional secretary in Aranayake stated that 3770 people of 1227 families have been relocated in safer places. "We are receiving many relief items and have come to a position where we have no more storage facilities. Those who are willing to send in their contributions should leave them at the Mawanella Divisional secretariat and District secretariat. Around 200 army officials are still continuing search operations to recover any bodies that have been buried."