---

ith a selfish greedy and wicked world system having created a monstrosity where 62 super billionaires have more wealth and resources than half the world's population of more than 3,500 million, poverty alleviation is being given top priority by the United Nations. The crusader in this worldwide movement to bring about zero hunger is the UN Secretary General Ban-Ki-Moon who is adopting creative and imaginative ways in the battle against what he sees as a crime against humanity. He says that while about 795 million people are suffering below the poverty line, more than one third of food is wasted worldwide.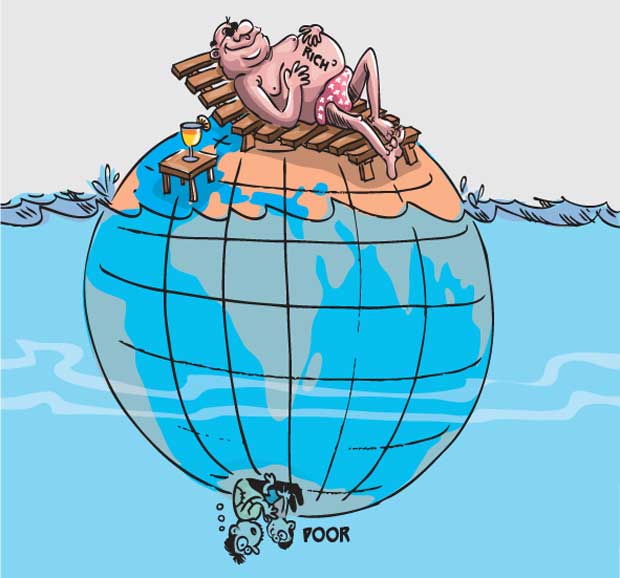 According to an exclusive report in our sister paper The Sunday Times Mr. Ban made a stunning disclosure about his "waste not want not campaign, when he spoke at an event linked to the World Economic Forum held at Davos in Switzerland last month. The UN Chief spilled the beans that when the UN hosted a banquet for world leaders, including Sri Lankan President Maithripala Sirisena, during the General Assembly sessions last September the lunch consisted largely of recycled food salvaged from the kitchen before it was dumped into garbage bins. Every dish was made from scraps that would normally be wasted. One of the items on the menu was called landfill salad, singling it out as a small example of a sustainable solution to alleviate and eventually eliminate world hunger. If we need an example of leading from the front, this was it.

This is at a time when United Nations groups say that hundreds of people are in danger of dying of starvation in Syrian refugee camps. Thousands of these refugees including children are reported to be eating grass and weeds while they do not have even fresh water or basic facilities for sanitation. Three refugees are reported to have died of starvation this week while the Syrian leader and other big powers are continuing to play politics with the lives of more than 12 million refugees. This crime against humanity is seen by most observers as a massacre that is even worse than what Adolf Hitler did during the second world War.

Mr. Ban has called on all countries, as a first important step towards poverty alleviation, to stop the waste of food. He said such waste should be stopped in every home by every family. This is great wisdom similar to what we get from our spiritual leaders and we need to cooperate to bring about a just society and a just world with a more equitable distribution of food and resources.
The menu displayed at the UN banquet— where President Sirisena occupied the main table along with US President Barack Obama and Russian President Vladimir Putin — apparently described the recycled dishes on the invitation left on the table for each guest. It is likely that many of the world leaders did not bother to read the menu and there are question as to how many would have eaten with relish and without hesitation if they knew it was recycled food.

In the capitalist globalised market economic system which has produced so many monstrosities, the general concept is to produce consume and throw away. But in this new era where Mother Nature is facing the threat of being destroyed by a wicked world system, the principal needs to be changed. We need to discover or create, consume what is basically needed and recycle the rest. This must apply to food and other resources. As a long term solution to world poverty and global warming, we are called upon to live in a simple and humble way with even our meals being simple instead of imported junk food from a western model where in the United States for instance about 50 percent of the people are suffering from severe obesity. For them the "waste not, want not" principle needs to also include, "Waist not, want not" and we hope Sri Lanka will take the proper side in this battle of the bulge. The dignity of hundreds of millions of poor people needs to be restored without just giving them the crumbs from the banquet tables of the Dhanapathiyas.