---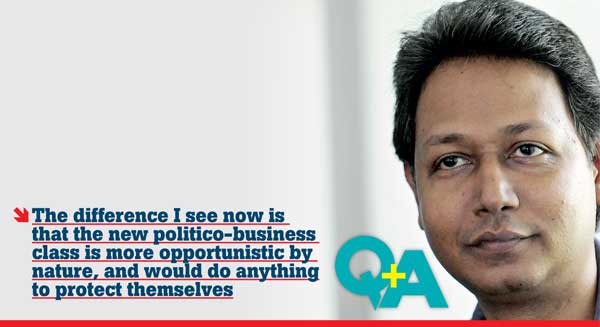 Rajitha Dissanayake's latest play 'Nethuwa Beri Minihek' (A Much Needed Man) will hold its premiere at the Lionel Wendt in Colombo on September 2 and 3 at 7.00 pm.

The play revolves around the family of a Sinhala nationalist businessman Jayantha who supported the war and benefited financially from close ties with the previous regime. With the relatively improved democratic atmosphere in the country, Jayantha is initially worried about the possible legal consequences of his past dealings, but is quick to make fresh connections and form new alliances with the centres of power in the new regime.

Mr. Dissanayake ranks among the top original playwrights to emerge in the past two decades and has produced popular and award-winning plays like 'Weeraya Merila', 'Sihina Horu Aran', 'Apahu Herenna Be', 'Bakamoona Veedi Basi' and 'Adara Wasthuwa'.

He speaks to Daily Mirror about his latest stage play and the issues it attempts to tackle.

Q What prompted you to write this play at this particular time?
My plays are based on the experiences, observations, emotions and conflicts I've experienced about the prevailing times. Of late I've noticed how race and religion is exploited by certain people to gain power and hold on to it. And so we as a society are often unable, or unwilling, to empathize with the pain felt by those who are different to us: for example, people who speak a different language. I see this as a serious problem in our society, and this prompted me to write this play.

Q Over the past 25 years or so your plays have dealt with various socio-political issues. But this is the first time you are focusing on the ethnic problem. Why is that?
Three years ago I was approached by the 'Youth Create' project to do a play on reconciliation and the challenges faced by youth. The result of this was my last play 'Siriwardane Pawla'. But while running the play I realized that it didn't adequately address the theme of reconciliation to suite our times. So I decided to write this play. I wanted to make a stronger intervention on the issue. My simple question was, why wasn't proper reconciliation taking place? What were the barriers to reconciliation? This led me to explore how race and religion is used by certain people in our society to gain and maintain power.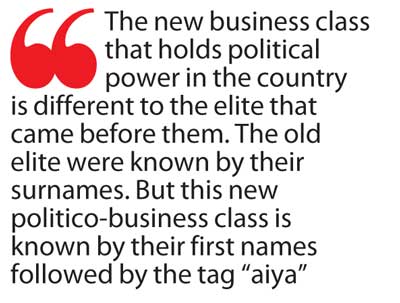 Q How do you see this phenomenon affecting our society?
Some people boast about being proud of their culture, heritage and way of living and about being proud of their race. But such pronouncements are inherently contradictory and even vulnerable to internal resistance. They are paradoxical by nature. For example, the protagonist Jayantha claims to be patriotic and wants to protect the motherland, but sees his son studying in London as a status symbol. There are attempts to make society believe that their language, religion and race are special and superior to others. This isn't a healthy situation. A society shouldn't be imagining that its culture is superior, and others are inferior. Being proud of one's culture and heritage is good, but one must also acknowledge its shortcomings and limitations, as well as recognize the strengths and weaknesses of other cultures. The way the US and the West dominate other countries cannot be condoned. We must struggle to understand why it's happening and oppose it. But exploiting and propagating this reality for political survival is wrong. When such people talk about land and the right to acquire it, they aren't advocating land rights for all, but rather their personal right to possess land.

Q What happens when the proponents of such an ideology also fall victim to it?
The protagonist in the play constantly positions himself against people of different religions and languages. But in turn, he falls victim to a similar exclusive ideology by being labelled as an outsider to the village by his rivals. However the irony of this experience doesn't change his attitude. He continues to reject those he considers different. Even after 30 years of war, we as a society are incapable of addressing the root causes of the problem, and how to prevent it from recurring. There is no serious discussion about it in our society. Instead, while one group promotes triumphalism and claims victory, the other groups is calling for a war crimes probe. I believe that war itself is a crime. So what is there to talk about war crimes, when war itself is a crime?

Q Your plays in the past have often focused on the urban middle-class. But in this instance have you shifted your focus to a new emerging business and political class. Why is this?
The new business class that holds political power in the country is different to the elite that came before them. The old elite were known by their surnames. But this new politico-business class is known by their first names followed by the tag "aiya" as in "Jayantha aiya", the protagonist in the play. This is the class of the first name, not the surname. Their rise in business and politics wasn't systematic. They accumulated wealth through making money quickly, often unaccounted-for through informal and even illegal means. They acted above the law. The police didn't pursue them, but were with them. Furthermore, the survival of this class hinges on government patronage. And governments in turn use this emerging class to widen their political power.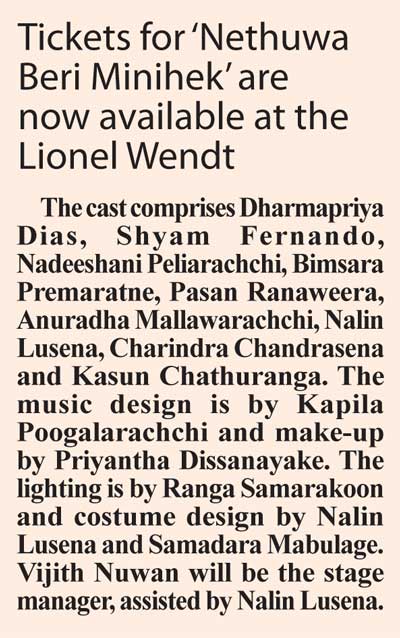 Q Some may say that nationalism tied to the political and economic elite is not a new phenomenon. What's your response?
The difference I see now is that the new politico-business class is more opportunistic by nature, and would do anything to protect themselves. They will change their ideals for their own protection and self-interest. The old elite were more willing to stand by their ideals, even to their detriment. The new group uses race, religion and language as slogans. But in reality they are only interested in accumulating more wealth and power. This is the only truth they believe in. This is what their existence depends on.

Q What are your final comments?
When creating a discourse on reconciliation through theatre, the performance has to also have some entertainment value. While the play encourages the audience to reflect on their lives and the society we live in, it also needs to be an entertaining experience for them. We have tried to achieve this through this play.