---
Most of our school children are at home these days and parents are both elated and concerned as a result. Parents are elated because there is no place safer for children than home. But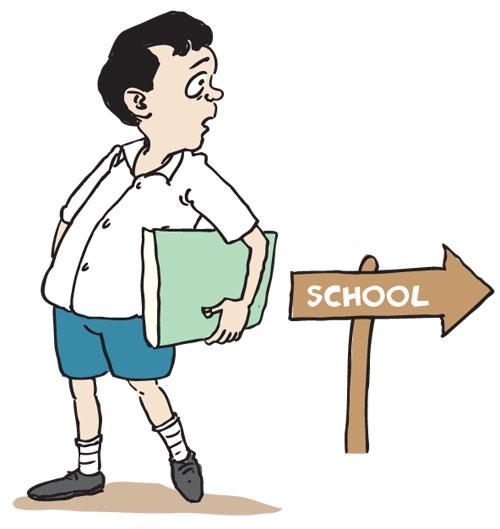 they have their concerns because education has been disrupted. Education Minister Akila Viraj Kariyawasam keeps informing parents to send their offspring to school. But parents maintain that it would not be safe to send their kids to school till the country's lawmakers can move about with less security.
The first thing the Government did after the Easter Sunday blasts was to strengthen the security of ministers. After much urging and initiatives taken by parents the state decided to beef up security in schools. But the Principals' Services Union has said that it is dissatisfied with the present security arrangements because much of the focus is on popular schools.
This Government is fast losing its credibility and how the authorities reacted to the Easter Sunday bombings has made citizens seriously analyse the situation before they send their children back to school.

Children were expected to return to commence their second term at school on April 22, but all hopes in doing so were lost in the smoke created by these blasts. May 6 was then named as the official date for reopening academic institutions, but the poor turn out at schools gave the effect of a slap on the face of the government authorities.
Parents still get shivers down their spines when large hauls of swords, knives and weapons are found at regular intervals, following search operations.
In this backdrop concerned citizens pose the question as to why news of any eminent danger from extremist groups has to be conveyed through the Cardinal or Buddhist monks? Doesn't the Government have a mechanism to convey crucial information because right now the people of the country are getting to know of what would happen through third parties and the social media?

In parliament most of the lawmakers are talking like security experts about the damage done by extremist elements. State Minister Field Marshal Sarath Fonseka has grabbed the opportunity, time and again, to put most of these vociferous lawmakers in their places by talking sense regarding the threat to security in the country. He has even requested to be entrusted with duties as the head of the Ministry of Law and Order and promised to bring a lasting solution to the unstable security situation in the country. This man, who was there to finish off the tiger rebels in the capacity of Army Commander, has affirmed that it is not safe to send children to school as yet.

The little good news we have is that some schools have taken the initiative to provide children with study packs, so that they keep their focus on studies and don't while away the time. Even the Ministry of Education has recommended such efforts to ensure academic activities do continue during this break in education.
During these difficult times we hear of a story doing the rounds to the effect that there are trade unions trying to disrupt education by influencing parents not to send their children to school. It is said that these trade unions are obtaining the help of parents and principals of schools to make their efforts a success.

Most schools, which didn't reopen for the second term, are expected to commence sessions on Monday (13). The Minister of Education has told the media that he is confident that the situation would improve and adds that he expects the attendance of students and teachers at schools to reach 100% by Monday.
We parents make enormous sacrifices for our children. In this context this writer feels it's apt to quote a saying which is printed on the wall of a national school in Mullegama, Homagama which states, " A child's mind is immature and tender like a leaf of a flower hence it should be nurtured without exposing to dangers to ensure it blooms and lets out a fragrance'.
Let peace arrive once again after these troubled times pass so that fragrant 'flowers' can bloom in this blessed country!