---
Six Rooms only—Minister Constrained in Serving Masses?
In 1967 June, exactly fifty years ago, Prime Minister Dudley Senanayake called upon the UNP front-liners who held Cabinet Portfolios to Temple Trees along with the back-benchers [Ginger Group] at the request of the latter for a 'face to face' confrontation by the two factions. As the Daily Mirror reported in its front page in a bold headline on June 1, 1967, the entire Government group was summoned by the PM, who had one agenda-the service of the nation; He never developed favourites nor had he a close circle of school-mates or nincompoops in positions. He never had them groomed over the more dynamic men in the group, and therefore had no reason to ignore the request by the backbenchers. The leaders of yesteryear for that matter were men who respected democratic ideals hence did not bring anybody rejected by the people through the back-door and offered positions saying 'they are my men'.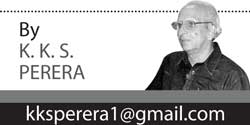 The Government submitted its 3rd instalment of a Supplementary Estimate seeking the approval of the House for a sum of Rs. 329 million to purchase eight more luxury vehicles for Ministers that included, those who sold their permits and a few rejected by voters, but came though the back door. This happened while over 200 deaths were reported from the Western, Southern and Sabaragamuwa Provinces where floods and landslides following heavy rain that had affected 128,047 people (32,215 families).

Two ministers, it was reported, were fighting for 'Rooms'. The Foreign Minister wants to sell lotteries. The back benchers, unlike in 1967 are silent, are they frightened of white vans of Rajapaksa era? Or busy picking up crumbs falling under the table? All in the midst of this thrice blessed island celebrating the UN International Vesak Festival. There are quite a few honest, learned dynamic MPs in UNP— they have an obligation by the people to act now.

Ginger Group, Pressure Group and Kitchen Cabinet
They say a horse needs to be 'Gingered' to make it seem more energetic, and food or beverages are 'gingered up' to add flavour or seasoning. Derived from the above maxim we have Ginger Groups. According to Webster's Dictionary—it is a group that serves as an energising force within a larger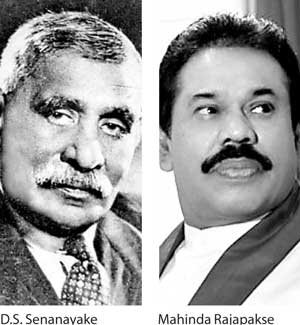 body (such as a political party.) It is an informal group within, usually a political party seeking to persuade the leadership on direction and movement of the unit as a whole. Ginger groups labour to change or revise the party's strategy, practices and policies, while still supporting its objectives. The term Ginger Group also refers to a small group with men of radical ideas trying to act as a catalyst within a larger body that strive to make other members support their ideas.

Whereas a Pressure Group is an outside entity, as opposed to inside, group created to agitate and influence the course, direct and control activities of a Government or an association.

Kitchen Cabinet, a term used by political opponents, media and the general public to ridicule a closed circle pulled together around a Head of a State, and may include trusted friends and associates, outside advisors, family members and sources that fund party coffers as well. They usually take decisions on vital issues overriding the Cabinet as a whole or influence the top man to act according to their whims and fancies. While the first two groupings are beneficial, the Kitchen Cabinets are detrimental to the smooth functioning of democracy and harmful to the governing party.

The Daily Mirror main story fifty years ago says:
"Ministerial inefficiency and lethargy will be the subject of discussion at a special meeting of the UNP Parliamentary group, which will be held at Temple Trees on 6th June 1967. The MPs who requested the meeting have said that they are 'fed up' with the manner in which certain Ministers discharge their duties and hope to spotlight their short comings at this meeting.'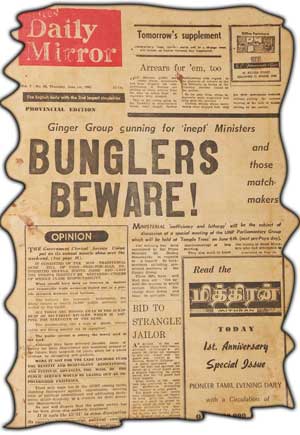 Charges of corruption were extremely rare in the good old days.

The report continues,'They also wanted to know the names of those Ministers who had attempted to negotiate with the main opposition SLFP to form a coalition.'

Ginger Group within a Cabinet- 1959 Saga
The right wing of SWRD's Cabinet led by Stanley de Zoysa and Wimala Wijewardene formed an unofficial Ginger Group supported by backstage manoeuvering of Powerful Mapitigama Buddharakkita the Nayake of the Kelaniya Temple, the most influential political Bhikkhu of the day, who played a major role in 1956 victory of Bandaranaike.

They resolved to agitate for the removal of Philip Gunawardane and P. H. William de Silva the two LSSP [Marxist] members, following the passing of Philip's Paddy Lands Bill.

Wimala organised a protest march by 'farmers' to the House of Representatives. Two bus-loads of supporters from her electorate Kelaniya were given a loin cloth and a mammoty each and a demonstration on how to hold the mammoty. As the procession approached the Galle Face end of Lotus Road, hundreds of port workers affiliated to Philip's Harbour and Dock workers Union attacked the hapless men sending most of them to the accident ward.

However, the Ginger Group became more powerful with a few other Ministers joining and they acted with more vigour and vitality. They initiated a historical 'Cabinet Strike' compelling the Prime Minister Bandaranaike to reshuffle the portfolios demoting the two Socialists. The honourable men, unlike today's parasitic leeches, immediately resigned from the Cabinet strengthening the right wing. The rioters became so authoritative and influential within the Government and the SLFP that within months the criminals succeeded in assassinating the Prime Minister. The plot to murder the PM was hatched within the sacred precincts of the Historic Kelaniya Temple.

History of Ginger Groups
The earliest recorded Ginger Group actions were in UK in 1917. A faction of Conservative MPs formed a group to oppose Prime Minister Robert Borden's attempt to use the Military Service Act to conscript during the Conscription Crisis of 1917. In Canada the Ginger Group is a faction of radical Progressive and Labour Members of Parliament who advocated socialism.

The backbenchers today have nothing to fear about in making a noise. Robust debate and criticism have replaced the fear under Rajapaksas. But splits within Government and President's failure to take control of his Party (SLFP) prevented deeper reform and gave dethroned Rajapaksa and his cronies an opportunity to mount a comeback.

Kitchen cabinets of our past Heads of state
Most of our Heads of State did not trust their senior Cabinet Ministers. Important decisions on crucial issues were made following discussion held with their close circles.

The first Prime Minister. D.S. Senanayake had the capacity to make his own decisions and almost in all instances they were solid. If he had any doubts or hesitation on a matter of serious nature he sought the advice of three people; they were Sir Oliver Goonetillake, Dr. Andreas Nell, Governor Lord Soulbury or senior lawyer L. M. D. de Silva, which the scribes of the day described as his 'Kitchen Cabinet'.

JR had an incomparable liking to be with a group of four. In 1920s, JR as a law student, with three of his close friends formed a 'clique' and named it 'Push cannons' [Derived from billiards-and coined by JR himself initially, and was subsequently changed to 'Priya Sangamaya'];

They met once a month discussed and recorded minutes on various topics covering issues on politics, law, international scene, imperialism and independence; a habit initiated and developed from his younger days long before he entered politics.

The fiftieth of such meetings he held with DC Jayewardene [his cousin], Percy Peiris, and Gunasekara was the last chapter in the minutes that is preserved at JRJ Centre. Finally, as Executive President JR purposely left out the seniors in his government like R. Premadasa, Gamini and Lalith but had closed door sessions with brother H.W, AC.S. Hameed, Anandatissa and Esmond Wickremesinghe [Father of RW].

Sirimavo who reluctantly accepted an invitation to lead the party after her husband was gunned down by the SLFPers themselves was extremely careful with party men.

One of the first things she did was to invite her late husband's cousin's son, 29-year-old advocate Felix Dias Bandaranaike to take up to politics, who remained her trusted lieutenant throughout her political carrier.

She always respected the word of her uncle William Gopallawa G-G and in administrative matters listened to Secretary Bradman Weerakoon, the illustrious civil servant, who served under nine Heads of State.

The exceptions to the rule are Dudley and SWRD, both of them stuck to norms and ethics and discussed matters with party seniors.

R. Premadasa placed his trust in another RP-R Paskaralingam-in the economic front and Sirisena Cooray and A.J. Ranasinghe for politics. He engaged DIG Rtd. A.C. Lawrence as a private investigator to spy on Ministers and SSP Ronnie Gunasinghe for his Security, his valet E.M.P. Mohideen looked after the home front at Sucharita, where he resided [His suicide killer Babu, for two years, was in and out of the place with the blessings of Mohideen] and the rest he entrusted to 'Gurunanses' of occult practices and astrologers both local and foreign.

Chandrika Bandaranaike kept on changing her inner circle with friends, cronies, artistes, corrupt businessmen and a few politicians like Rajitha and SB, and head of her Presidential Security Karunaratne for all matters pertaining to security.

In fact, the necessity for a permanent close advisory unit did not arise as nothing worthwhile happened during her eleven years of tenure.

The infamous family rule of Rajapaksa's is too well-known to mention. Mahinda Rajapaksa, who totally depended on his kith and kin in addition to deceitful soothsayers in running the Government, led the nation to a near anarchical State, which is public knowledge.