---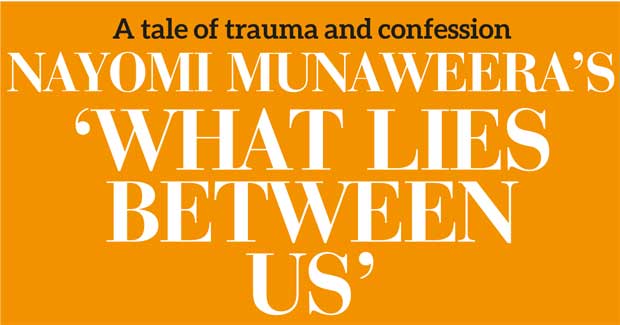 It is only a few who could stand unflinching against terror. Most often than not victims succumb to terror in ways they do not foresee, understand or fathom. In 'Island of a Thousand Mirrors', the debut novel of Nayomi Munaweera which won the Commonwealth Regional Book Award for Asia in 2013, it is 'terrorism' that cripples the lives of the characters and adds profundity to the story. Her second novel 'What Lies Between Us' is about childhood 'terror' experienced by at the hands of an abuser that makes the character commit the most unforgivable act a mother could commit.

Nayomi Munaweera lives strongly by Nathaniel Hawthorne's quote "Easy reading is damn hard writing." Like most South Asian and African writers, her novel encompasses beautiful nature imagery and it bursts with colour, despite it being a rather dark read. Her characters are complex and well fleshed out and they evoke a great deal of empathy amongst readers, despite their vices. She deals with the universal theme of motherhood, and shows the sacrifices one has to make as a mother. She also explores the theme of migration and shows aims to show how one can lose their sense of belonging and feel like a hybrid as they feel they belong neither here nor there.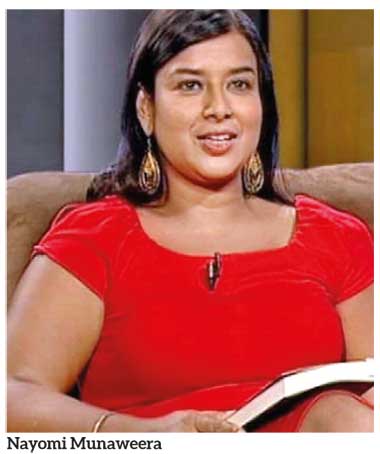 1.'What lies between us' explores the complexities of love between a mother and a child. It is also the exploration of childhood trauma and how it affects adult lives and relationships. What were the difficulties you encountered in creating this powerful character?

This was another dark book! I seem incapable of writing light material. But I'm a firm believer that the work of the writer is to explore the deeper aspects of human nature. Yes, the protagonist was a powerful and sometimes difficult character to write about and yet for me, writing is rather similar to method acting. I do a lot of research and then I get into the character or the skin of a made-up person and I imagine what it would be to live their life. In the process I'm trying to say something about what it means to be a human being in this world. It was a hard book to write. But I think the good ones always are.

2.The book explores the attitude to sex and class in relation to women. The narrator says "Shame is female; shame is the price I must pay for this body." What are your perceptions of the treatment of women in Sri Lanka?

I'm always astounded by the everyday sexism women face in Sri Lanka. I live mostly in California and don't get me wrong-we have our fair share of misogyny here.
But in Sri Lanka walking out the door in the body of a woman (which by the way-we can't help) means you are open to men staring, making stupid noises, trying to rub themselves on you. It's absolutely annoying and exhausting. I asked a female friend of mine how she deals with it day in and day out. She said, "I walk out the door like a battle axe."

This means she's ready at any moment to have to defend herself. It means she gets to enjoy her everyday experience far less than a man who can take his bodily safety (for the most part) for granted. Men, I guarantee that if you talk to your sister, wife, girlfriend, mother, perhaps even grandmother, you will hear stories of this kind of harassment. It's also your job to help us end this nonsense.
3. Is this story a piece of confessional writing?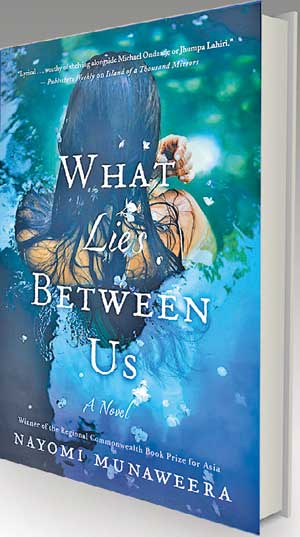 I am not a survivor of the trauma my character underwent. I do however have a tremendous amount of sympathy for people that did survive abuse in childhood. I hope that they get the courage to talk about these things and perhaps get some help. They should know that whatever happened in childhood was not their fault. They were innocent. It is always and ONLY the adult's fault and these adults should be punished. I've already heard from readers in Sri Lanka and abroad who are survivors of sexual trauma and I'm always touched when the book makes them feel seen or gives them some power back. I think that what happened to my character in childhood wrecked her life, but that's because she couldn't get help, couldn't even talk about it. The message is if that she had been able to share the story with even one other person, it wouldn't have come to this.

4.The narrator's name is revealed only at the end. As readers we did not notice that she was unnamed. How were you able to do it so subtly and what purpose does it serve?

You didn't notice till the end, that's great and that's what I wanted. She begins her story by saying that she has been judged by the crime she has committed and that she will not tell you her name until you know her whole story and then judge her for yourself. Names, themselves are powerful.
They have a way of forming us even thought we might not notice. Names in fiction are especially important. For this book I was interested in telling the story of a woman who had committed the worst crime a woman
can commit.

This was the challenge I set myself. To tell the story of a "monster" and try to make readers understand her humanity and perhaps empathize with her.
For the reader to feel that in similar circumstances they too might have gone down the same terrible, dark road. Her name is withheld until we follow her on the journey of her life and come to some understanding of her
internal world.

5.How has your present environment, upbringing and your Sri Lankan heritage facilitated your writing?

I think being Sri Lankan and having that in my heritage, in my blood, even as I've lived in various parts of the world really facilitates my storytelling. Sri Lanka is full of stories! Everyone you meet has a fantastic story and if you travel to the North and to the South, out of Colombo these stories are even more dramatic. Some of my white American friends complain that they don't have new stories to explore- this isn't too much of a problem for me. I think that in the same way Sri Lanka is lush with vegetation, it's lush with story.

7.Can you give a bit of insight to your third book?

It's a very different book. It's coming to me more quickly than the other two. It has a dark and dangerous character in it. He's rather thrilling to work with. I can't tell you more.