---
In an apparent move to give the people a full and balanced report on vital issues in the country, President Maithripala Sirisena on Sunday night made a rare appearance on a television talk show to answer probing questions. The President reiterated that the priority issues of the National Government were to find a just, fair and lasting solution to the ethnic conflict, bring about a just society with a more equitable distribution of wealth and resources and give tens of thousands of productive jobs mainly to the rural youth.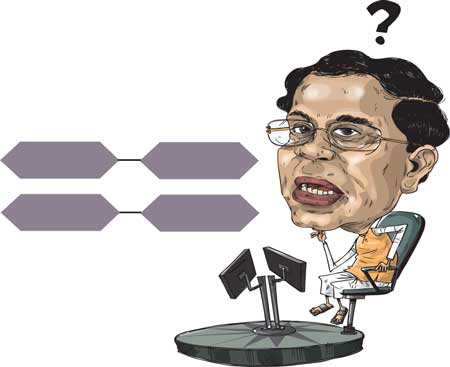 He stressed that without national unity- races and religions working together, the poor and the rich also working together- there could be no sustainable development. The President acknowledged these priority issues were not 'string hoppers and pol sambol' matters and most people could not see any immediate benefits.

That could be one of the reasons for the public grievances. While he understood and appreciated these grievances, the President said he would take a strong stand against small political groups, which he accused of indulging in treason. He said such groups—apparently referring to the Rajapaksa factions were not only spreading economic falsehoods but also rumours about alleged attempts by the UNP to impeach him or alleged attempts by the two SLFP factions to oust Prime Minister Ranil Wickremesinghe.

President Sirisena said that virtually the whole world appreciated the fact that for the first time since Independence, Sri Lanka's two major parties -the UNP and SLFP-were now working together to tackle important national issues, though there were some problems and disputes. He pointed to Germany where the two major parties were working together to tackle major issues including the current problems relating to millions of refugees from Syria and elsewhere. The President said that having worked as a Senior Minister in the former Rajapaksa regime, he was aware of the main reasons why an early Presidential election was called on January 8, 2015 -two full years before the term ended.
Media reports focused on and criticised an astrologer for making Mahinda Rajapaksa see stars but the reasons went beyond horror-scopes. President Sirisena said the country at that time was seated on a mountain of debt with the heavy commercial interest being much more than the tax, exports or other revenues earned. In addition the then Government, because of its arrogant and short-sighted foreign policy, was facing a showdown in Geneva and with the international community. There was a danger of even crippling trade sanctions being imposed on the country. It was mainly to face these and related issues that Mahinda Rajapaksa sought an early mandate from the people. He thought he would get a big majority, so that he could tell Geneva and the international community to go to hell. But the people thankfully did not fall for it. Various parties and groups came together to bring about the silent people's revolution of January 8, 2015.

President Sirisena said these defeated forces were now trying to discredit the National Government by spreading malicious stories and also by trying to whip up racial tensions. He said he could not understand this greed for power and was thankful that he himself was not enslaved to greed as shown in the 19th Amendment, where he voluntarily gave up most of his powers.

Responding to charges that the Government was ill-treating Buddhist priests, the President said this was part of the move to create religious hatred. He said the National Government was doing everything possible to provide more facilities to Buddhist monks and Viharas. He revealed that after he took oaths on January 9, 2015 and went to President's House he was shocked to find two baby jumbos there. That was a criminal offence in terms of Wildlife Laws. No one is above the law and that was the reason why a popular monk and others were facing charges for allegedly getting and keeping baby jumbos in violation of the law. Some other monks also had been arrested and remanded, but the Government had nothing to do with it. The orders were given by Judges on Contempt of Court charges. In conclusion the President appealed to the people to be patient for two or three years and assured that the priority issues would bear fruit and all people—the poor and the rich-would become part of the newly developed Sri Lanka.