---
Janabalaya Kolombata mass protest that immediately had many post-mortems conducted on it, was concluded as one engineered to project young Namal Rajapaksa as the Crown Prince of the Rajapaksas.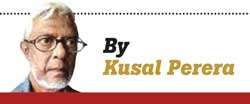 Some insanely anti-Rajapaksa social media activists, including those planted for that very purpose, went on a blitzkrieg displaying their ignorance and indecency more than any other.
There was nothing unusual with Namal taking the lead with other JO and SLPP stalwarts sitting around him at media briefings.
Mahinda and Shiranthi as parents planned to make Namal the Crown Prince over a long time. Could that come as reality is a different discussion.
The Hambantota District was ear-marked and reserved for Namal from day one. Thus Chamal Rajapaksa's eldest son Shashi Rajapaksa was moved to Moneragala and made the Uva Province Chief Minister.
Basil Rajapaksa, who was Private Secretary to Mahinda, when Mahinda was elected Beliatte MP in 1970 and managed all Hambantota election campaigns for Mahinda, went to contest the Gampaha District. Hambantota was from where Namal had to enter politics.
In politically intelligent democratic societies, with democratic political parties and democratic traditions, this is not how leaders are elected.
Yet, in our society where democracy is the namesake, procedural and dysfunctional, and continues with feudal values, traditions and bondages, what else can there be?

Nothing but feudal
The Anuradhapura kingdom was handed over by King Mutaseeva to his four sons, Devanam Piyatissa, Uttiya, Mahasiva and Mahanaga, who ruled Anuradhapura one after the other, except Mahanaga.
Devanam Piyatissa's consort Ramadhatta conspired to kill Mahanaga to have her son on the throne after Mahasiva.
The conspiracy failed but made Mahanaga flee Anuradhapura with his family and establish himself as the first king of Ruhuna.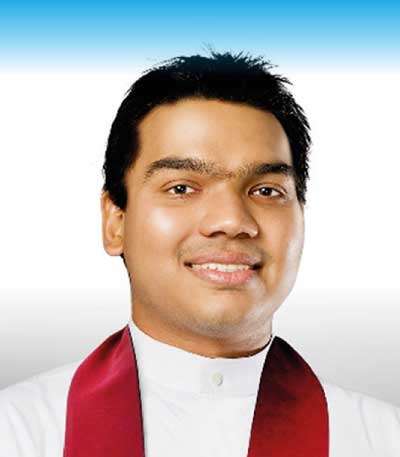 " Mahinda and Shiranthi planned to make Namal the Crown Prince over a long time "
After King Dutugemunu, the Anuradhapura kingdom was handed over to brother Saddhatissa. His four sons LanjaTissa, Thulattana, Kallata and Walagamba ruled Anuradhapura.
Once deposed by Dravidian rulers, Walagamba who regained power the second time, was succeeded thereafter by his nephew Mahachula Mahatissa and son Chora Naga.
This remained the tradition till the fall of the last kingdom in Kandy. The only deviation was when Queen Anula decided who would sit on the throne as she pleases and that only for a very short period of five years.

Modern feudalism
Feudal as we are, this tradition continues to date in our mainstream political parties in post-Independence Sri Lanka.
The first PM of independent Lanka Mahamanya D.S. Senanayake was the first to have his son ascend premiership, after his demise. In 1947, the first Parliament of independent Ceylon with D.S. Senanayake as PM had leading figures like R.G. Senanayake and Sir John Kotalawala, both close relatives of Senanayake and also J.R. Jayewardene and S.W.R.D. Bandaranaike as formidable leaders in his UNP Government.
Bandaranaike having bargained for leadership and disappointed, left the Government in September 1951 to form his own SLFP.
Six months later, PM Senanayake had a tragic death riding his horse at Galle Face Green in March 1952. This created a tussle for Premiership that was intervened with stealth by the then UNP General Secretary Sir Ukwatte Jayasundera, a very respected criminal lawyer, Sir Oliver Gunathilake, always granted to be a top manipulator, and by Sir Ivor Jennings, respected by all parties to have Dudley Senanayake, the son, as PM.
The SLFP differs less. Bandaranaike came to power in a popular coalition with Philip Gunawardena in 1956.
Most tragically he was assassinated in September 1959.
W. Dahanayake was then appointed PM and he dissociated himself from the SLFP forming his own political party the Lanka Prajathanthrawadi Pakshaya (LPP).
After four months of survival politics, a general election was held in March 1960.
Dudley Senanayake had returned to politics to lead the party (Bothale Walauwa had a very strong claim for leadership in UNP), but could not win a majority. The SLFP led by that astute politician C.P de Silva, born in Randombe, Balapaitiya, reduced UNP to 50 seats, winning 46 for the SLFP.
Governor General Sir Oliver Gunathilake, who could have asked C.P de Silva to form a Government (Was possible with many anti-UNP groups counting around 15 MPs) instead called for another election in July 1960.
The SLFP leadership that included very influential politicians like T.B Ilangaratne and Badi-ud-din Mahmud wanted certain victory and believed Sirimavo, the widow of late Bandaranaike, would be the answer.
She was brought on stage and having won the elections, was appointed a Senator to be the first woman PM in the world. The SLFP thus came to be sealed as the property of Bandaranaikes.
Their son Anura Bandaranaike, who came to politics in 1977 contesting the multi-seat Nuwara-Eliya electorate, was made a Senior Vice President of SLFP over and above Maithripala Senanayake, who was even senior to Madam Bandaranaike in the SLFP.
Almost 20 years junior in politics to even Mahinda Rajapaksa, Anura was promoted as National Organiser of the party without any objections.
In 1994 Chandrika Kumaratunga, who defected with her husband Vijaya Kumaratunge, the popular film idol to form the SLMP in 1982 was brought back to the party to lead the 1994 August elections.
Her only qualification, being the daughter of the two Bandaranaike Prime Ministers.

When a dynasty folds up
The ancient tradition is such where a dynasty ends with none to succeed, another influential family steps in. With the demise of Dudley Senanayake in 1973 April, J.R. Jayewardene, with a strong claim to UNP leadership took over the party.
In 1975 with amendments to the party Constitution he became its almighty leader.
While promoting young lawyers like Lalith Athulathmudali and Gamini Dissanayake, he also brought his nephew Ranil Wickremesinghe into party hierarchy.
Young Wickremesinghe was never seen in politics until he was elected to Parliament for the first time from Biyagama in 1977.
He was immediately appointed Deputy Minister of Foreign Affairs and President Jayewardene felt he should be further promoted and was made a Minister be the youngest in Jayawardene's Cabinet.
Wickremesinghe's rise to UNP leadership, no doubt, was due to the untimely and tragic deaths of President Premadasa and 1994 Presidential candidate Gamini Dissanayake.
Yet, it would not have been possible without his kinship to Jayewardene.
Lined up again for UNP leadership is Wickremesinghe's close relative Ruwan Wijewardne, who was made State Minister of Defence in Ranil Wickremesinghe's present Government.
The only exception to this long historical tradition is President Premadasa. He left his family totally outside his politics.
That being a very rare exception, the old feudal tradition wasn't lost even in the Trotskyite Sama Samaja Party.
Having lost all its rich democratic traditions by 1970s, Prof Tissa Vitharana was made Leader of the LSSP as he was a nephew of Dr N.M Perera.

With Indian feudalism
Feudalism isn't absent even in Indian mainstream politics. The Indian Congress that grew with the Indian Freedom Movement formed the first Government in independent India in 1947, with Jawaharlal Nehru the most respected Congress leader as PM.
His stature bound with India's feudalism brought his daughter Indira Gandhi to Congress leadership and was twice PM of India.
When she was assassinated by a Sikh soldier, the Congress brought her eldest son Rajiv Gandhi to fill her vacancy. The repeat was when LTTE assassinated Rajiv Gandhi.
His Italian born wife Sonia Gandhi was made the Congress leader and their son Rahul Gandhi succeeded as Congress leader.
Seventy years after independence, feudalism in India has Nehru's great-grandson carrying the family leadership in the Congress.

Now with Rajapaksas
The Rajapaksas too have a long political history. Hambantota came to be their bastion of power with D.M Rajapaksa elected to the State Council in 1935. His sudden demise brought his younger brother D.A. Rajapaksa, an idling petty landowner to fill his vacancy.
D.M's sons, Lakshman and George were still schooling. They both entered politics on their father's heritage, while Mahinda entered politics after his father's demise, followed much later by elder brother Chamal.
From D.M's lineage, Nirupama, the daughter of George Rajapaksa came to politics long after George passed off and Namal is already lined up behind Mahinda.
This is no rural tradition though. Urban professionals in Colombo who believe Gotabhaya should be the next Sinhala Buddhist Presidential Candidate picked on him for his Rajapaksa lineage.
The right to decide who the Crown Prince will be is no responsibility of the urban Sinhala Buddhist Professionals. That is the sole responsibility of the Rajapaksa family.
Though not the eldest in the family, Mahinda is their most popular undisputed political King.
It was Mahinda who therefore decided on the Crown Prince. Once Mahinda decided, though, with reservations, others did accept.
This is no family arrogance as diehard anti-Rajapaksa urbanites keep saying. It is the old feudal heritage this blinded society carries along.
It thus allows political parties to drive along without any answers to the most demanding issues in society. There is no effort made to understand what goes wrong, where and how. In short, this society feels satisfied with a new leader brought on feudal traditions, whatever the shade of the candidate.
Unless this ancient feudal tradition is challenged and concrete answers are demanded on major social issues, Sri Lanka would have to live with lesser mortals every time a leader is selected and elected.