---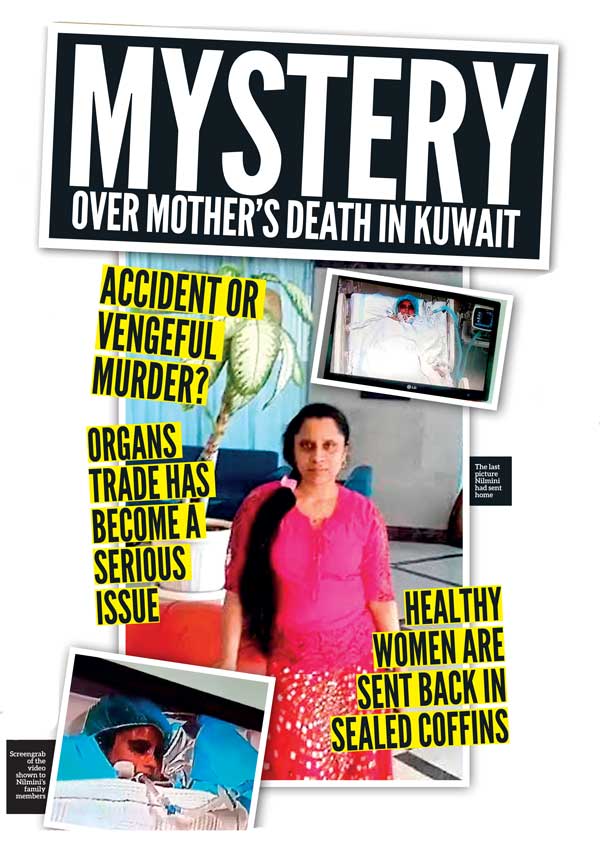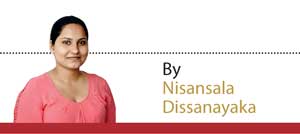 S.B.R Niluka Nilmini Jayathilaka (38), a mother of two, returned to Sri Lanka in a coffin on Oct. 25 after she died of a so called gas tank explosion in her work place in Kuwait. Her kidneys were removed and sold at Aden hospital in Kuwait for Rs.1,500,000 with her Saudi-employed, estranged husband Udaya Kumara's agreement.

According to reports and autopsy done in Sri Lanka, she died on October 4. Her corpse was flown to Sri Lanka on October 25 after a long struggle by her family and relatives. She was buried at the Gallewa public cemetery in Nagollagama on October 27.

A reliable source said though it was agreed to remove only her kidneys; the eyes, kidneys, the aorta and the ureters had also been removed.
We asked about this from the Kurunegala specialist Judicial Medical Officer Ajith Jayasena, who performed the autopsy.
"The autopsy examination revealed that Niluka Nilmini Jayathilaka had died from a primary brain injury following a bad head injury. Most probably her head was badly damaged in some kind of explosion. She was brain dead on October 4 and remained connected to machines until Oct.07, the date of the organ retrieval. (Normally, after a brain death, the body is connected to machines if any organs are to be removed). We released the body after the postmortem at aound 12.30 on Oct. 25."
Her kidneys and eyes were removed after her death, with the consent of her husband - (Nihal Udaya Kumara) and two brothers (Ananda Karunathilaka and Lakshman Karunathilaka). It is said that she was hospitalized after an explosion at her work place and was admitted to the Intensive Care Unit. Aden hospital in Kuwait classified her death as an accident.

Story - before and after

We communicated with the brother of the deceased, Ananda Karunathilaka, who explained the whole incident and clarified issues.
"We have doubts over our sister's death. At the Aden hospital in Kuwait, the doctor-in-charge said a gas tank explosion killed her. But we have reason to suspect a planned murder…" he commented. Evidently in grief over his sister's death and showing anger towards those he thinks are responsible.

"Our sister had two children (daughter and son) from an unsuccessful marriage. She separated from her husband 4 years ago due to ill treatment, negligence, domestic violence and extra-marital affairs. She filed a complaint at the Ambanpola police station on Oct. 14, 2015 and returned to our mother. She migrated to Kuwait after placing her two children under our custody, and left to work as a housemaid, to earn money for the well being of her children. (This was the second time she went for foreign employment, as she had gone to Saudi Arabia in 2012 and returned to SL in 2014.) Sometime later, she complained about difficulties at the work place to Raja Abdeen, the person who arranged her travelling. She had no choice but to leave her first employer and join another. It was on Sept. 19 we heard from her last. Her phone didn't work since that day. Out mother was informed on Sept. 27 that she was the victim of an accidental gas tank explosion at her work place in which another Sri Lankan woman also died." He clarified the background to us.


"On Oct. 05 we heard that our sister was admitted to Aden hospital ICU for treatment. A relative's daughter in Kuwait had gone to the hospital to visit her, but she was not allowed. They have only shown her a recorded video and told that she had suffered burns. We wanted to bring her body home, therefore we went to the Bureau of Foreign Employment. They checked her passport number and advised us to go to Ministry of Foreign Affairs. It was only then that we got to know she was sent to Kuwait without registering with the Bureau of Foreign Employment.. Then I filed a complaint at the Ministry of Foreign Affairs on Sept. 30 and they told me they would arrange the transportation of her body."Ananda described the difficulties they faced.

"When our cousin's daughter visited Aden hospital on Oct. 04, she was told that Niluka was dead and was asked to inform home. Then we began to make arrangements to bring her corpse home. First we contacted the Ministry of Foreign Affairs but they replied that they were not informed yet. They asked us to prepare the necessary documents confirming her death. We prepared documents and went there on Oct. 05, and handed over the documents to the consular section. Then they asked for a letter from the husband declaring his consent for the body to be brought here," he said.

Niluka and her husband Nihal had not been in contact with each other for months. The family heard he was in Saudi and informed the Ministry of Foreign Employment, and produced a copy of the sister's complaint of separation. The SLBFE have also tried to contact him. They have given Nihal's number to the Saudi Embassy, and explained the situation. The Saudi embassy also had tried to contact him. "On the morning of Oct. 06 my brother was called by Nihal from Saudi Arabia. My brother (Lakshman Jayathilaka) told him: "she is dead, please give us a letter to bring her corpse here", but he replied: "She is not dead. How can I sign letters when she is alive?"

Marital rights misused

"We were helpless and we told the Ministry of Foreign Affairs about our plight. They replied they were unable to take the responsibility as she hadn't registered at the Sri Lanka Bureau of Foreign Employment. They advised us to contact the Kuwait Embassy and we did. In less than 30 minutes, Nihal called us and said our sister was dead, but her body was still plugged to life-support machines and he had agreed to donate her kidneys. He asked us to confirm his agreement. We had no choice as we needed to bring her body here and the only way to do that was to agree with Nihal. Our family members and sister's daughter agreed saying it would be a meritorious act on her behalf." He explained the emotional turmoil they had to go through.

Meanwhile they had been called by Aden hospital and asked about their decision on kidney removal. He added: "It was a Sri Lankan nurse who translated between the doctor and us. She also said that if we agreed to do so, the body would be sent here within three days free of charge. After we told her to tell the truth, she confirmed the death and said Niluka was still connected to machines because her husband was awaiting our consent on kidney removal. At that moment we explained to her the situation saying that the husband was acting upon his marital rights because they were not divorced."

Everything was arranged with the signing to be done via email. Within half an hour they had received the email signed by Nihal. But while they were discussing whether to sign or not, (because it was in English and they needed to clarify the content further) they had been called from the hospital and forced to hurry up, Ananda said: "They told us that the kidneys were the only organs to be removed as the other organs were dead. Then my brother and I signed the form and sent it."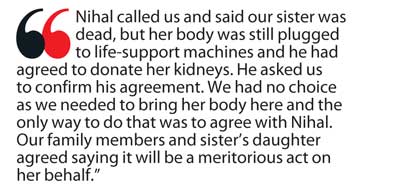 After two days, they had again called the hospital, with the help of a cousin who translated, only to hear that body was not yet ready for transportation. "The doctor said that the body cannot be sent as no documents had reached hospital. We then questioned angrily: "why have you broken your promise?"
The doctor replied, "We did that agreeing to pay Rs 1 million five hundred thousand to the husband!"
"We were shocked to hear of that deal because we hadn't thought of selling our sister's kidneys. We didn't know about that dirty business. Then the doctor said they would transfer the money to the husband's account in two days. Our cousin who did the translating worked in the house of a powerful lady. She asked for her help and the lady then called the doctor and convinced him to deposit the money to Niluka's children's accounts, and the doctor agreed. The amount was divided likewise among the children."Ananda said.

"We conveyed all this to the Foreign Affairs Ministry and accused the ministry of causing all this delay, because they requested the letter from her husband. We sent them copies of every letter, every email and everything that had been exchanged regarding this incident. I handed over three letters requesting for our sister's body immediately. We pleaded several times asking the body to be sent here. Finally, four of us went there on Oct. 15 and an officer there tried to contact Nihal. The ministry was at last able to find his details and contacted his employer and threatened Nihal saying if he didn't sign the letter to release her body to SL, he would be arrested. It was only then that he contacted us and agreed to do so."

"On Oct. 16, we had a call from the Kuwait embassy asking why we were not sending money to collect the body. They told us that money was the reason behind the delays and if we paid, the body could be sent here right away. Then we mortgaged the jewellery of our daughters and wives, collected the necessary sum of Rs one hundred forty-one thousand, seven hundred and paid that to the Ministry of Foreign Affairs."
But the body didn't reach Sri Lanka as expected on that day.

Returned to motherland in a coffin

"Then we were informed that the corpse was at the airport. The airport public health inspector requested us to sign a letter stating we had no suspicions about her death. We insisted on an investigation. It never happened, and we accompanied the corpse to Polpithigama funeral parlour. It was said that she died in a gas explosion but there were burns on her body. There was a slightly visible scar on her forehead. She was wrapped only in a bed sheet. There was a long cut from her throat to abdomen. But the JMO told me no signs of an autopsy were evident. The cause of her death was written on a paper which said: "Failure of vital centres in the brain with complicated inhalation of invalid gases which is not valid for breath,"Ananda further added.

"We filed a complaint at the Mahawa police station stating her death as suspicious. As we weren't given an investigation we obtained a‍‍‍ judicial order for an autopsy, which took place on Oct. 25. We inquired from the Kurunegala specialist JMO about our sister's death and we were told that no sign of burning or heat was visible on her. But her head was injured internally, causing death of neurons," he clarified.
Niluka had sent a picture message on Sept. 19 and talked to her daughter. Niluka's daughter said: "mother advised me to study well."

Human trafficking

A person called Raja Abdeen in Ambanpola arranged her travel to Kuwait. He claimed that she was sent through an agency.
"Our mother said that even though they had asked him to show the documents, he did not. He had accompanied her saying she had to be insured; we got to know only after all this happened. We called him and accused of wrong-doing, but he doesn't admit anything." Niluka's brother lamented.

Raja Abdeen also had migrated to the same place 6 months after her arrival there, as it was a place known to his brother.
"It's at that time that our sister complained of difficulties at work and moved to some other place. As we heard, Niluka's first employer had given seven hundred thousand rupees to Raja for sending her and had even kept her passport with him after she left him. Our suspicion is mainly on Raja and his two brothers (Mujiber Abdeen and Rafai Abdeen) on our sister's death, as our sister's fleeing had caused a loss to them and her initial employer was asking for a refund from them. We think that is why they had planned to murder our sister and take their revenge. We believe that if one of these brothers is caught, we would be able to find the truth."
Niluka's relatives have checked Shaan Agencies and Communications in Daladagama, which had sent Niluka as claimed by Raja Abdeen. But the agency had declared: "Though the documents were here, those were taken away to another agency." However, Ananda has found a copy of her passport there.

Further investigations on Niluka's death for human trafficking and crime investigation are expected to proceed, as her family filed a complaint at the Battaramulla Bureau of Foreign Employment.
contacted the Ministry of Foreign Affairs regarding the issue, but was unable to get a comment from the Consular section, and was directed to Sathya Rodrigo, the Director General of Public Communication Division. He commented: "It takes some time for the sending process, as it depends on the country. In this case, we were informed about her death and there was a problem in contacting her husband and having his consent which he rejected. We couldn't intervene on such legal matters because the husband has the legal authority to decide. He gave his consent on Oct. 16. She was not registered with the Sri Lanka Bureau of Foreign Employment (SLBFE), and they hadn't paid the cost needed to make arrangements to send the corpse here. Those were the major issues causing the delay".
When he was asked if he thought there was considerable co-ordination between the Kuwaiti and Saudi embassies and our Foreign Ministry in this case, he stated: "They have done their duty."

Organs for cash

The organs trade has become a serious issue in most of the Asian countries, including India, Pakistan, and China and even in Kuwait and Indonesia. Iran is the only country where the kidney trade has been legalized. Saudi Arabia is one of the countries to import kidneys. Kidneys are the most commonly transplanted organs. As there is a vicious cycle of high demand and high payments for healthy kidneys, the very poor tend to sell their kidneys to wealthy kidney patients. The World Health Organization has recorded that every hour, kidneys are being illegally traded somewhere in the world.

These are outlined in a WHO document called the Declaration of Istanbul, which sets out the circumstances and principles that should guide organ donation and transplantation.
Organ trafficking definition by Istanbul Declaration
"Organ trafficking is the recruitment, transport, transfer, harbouring or receipt of living or deceased persons or their organs by means of the threat or use of force or other forms of coercion, of abduction, of fraud, of deception, of the abuse of power or of a position of vulnerability, or of the giving to, or the receiving by, a third party of payments or benefits to achieve the transfer of control over the potential donor, for the purpose of exploitation by the removal of organs for transplantation."
(https://www.edqm.eu/medias/fichiers/The_Declaration_of_Istanbul.pdf)
WHO website on international organ trade
"…..Even in developed countries, where rates of deceased organ donation tend to be higher than in other countries, organs from this source fail to meet the increasing demand. The use of live donors for kidney and liver transplantation is also practised, but the purchase and sale of transplant organs from live donors are prohibited in many countries"
(http://www.who.int/bulletin/volumes/85/12/06-039370/en/)

Untold truths

Sri Lankan women employed in Middle East are the largest source of foreign exchange to Sri Lanka. As we all know, there is a huge demand for housemaids in many Middle East countries and those employed are excessively abused by their house owners. Violence and cruelty faced by Sri Lankans are heard of nearly every month and many who suffered extreme violence are sent back with serious health issues and without any compensation or‍ even a salary.

We have to ask why people go for foreign employment under such deplorable conditions. Why do men send their women to work in these countries? Why won't our government do something about it?
Government ministries should be more flexible in handling these issues. Many Sri Lankans face difficulties in communication with foreign officials and a responsible government institution must help them, being a co-ordinator between Sri Lankans and foreigners.

Immediate need of action

Niluka Nilmini's death teaches us several lessons. In comparison with money, life always has a higher value. The other point is, women should always take great care when they are risking their lives for money, and they should be very careful in choosing travel agencies.

Though they leave as healthy women, they are sent back in sealed coffins, with nuts and screws in their body parts and victims of serious crimes and abuse.
How many Sri Lankan mothers and daughters will have to face violence in the Middle East? When will this be stopped? What can we do to minimize the harm to our women? We should not turn a blind eye and not provide victims to organized human trafficking.