---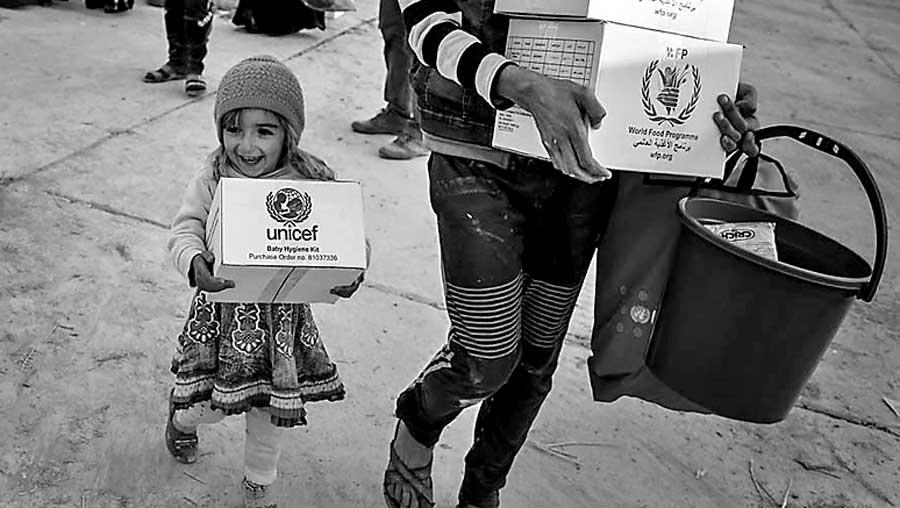 A girl walks away from an aid distribution in Eastern Mosul holding a baby hygiene kit. © UNICEF
September 5 was an important day for the world – the International day of Charity or in practical terms poverty alleviation through a more equitable distribution of wealth and resources. In modern terminology, charity is referred to as love – not just family, filial or romantic love, but agape love. This unconditional, unending, unlimited and unmerited love produces at least eight other important virtues in our lives, families, society, the country and the world. They are the virtus of joy, peace, patience, kindness, meekness, faithfulness and self control. This love is widely regarded as the greatest virtue and it lasts forever.
According to the UN, charity or love like the notions of volunteerism and philanthropy, provides real social bonding and contributes to the creation of inclusive and more resilient societies. Charity can alleviate the worst effects of humanitarian crises, supplement public services in healthcare, education, housing and child protection. It assists the advancement of culture, science, sports, and the protection of cultural and natural heritage. It also promotes the rights of the marginalized and underprivileged and spreads the message of humanity in conflict situations.

The UN says this international day was established with the objective of sensitizing and mobilizing people, NGOs and stakeholders to help others through volunteer and philanthropic activities.
The date of September 5 was chosen to commemorate the anniversary of the passing away of Mother Teresa or now St. Teresa of Calcutta, who received the Nobel Peace Prize in 1979, "For work undertaken in the struggle to overcome poverty and distress, which also constitute a threat to peace."
Mother Teresa, the renowned nun and missionary, was born Agnes Gonxha Bojaxhiu in 1910. In 1928 she went to India, where she devoted herself to helping the destitute. In 1948 she became an Indian citizen and founded the order of Missionaries of Charity in Kolkota (Calcutta) in 1950. This became noted for its work among the poor and the dying in that city.
For more than 45 years, she ministered to the poor, sick, orphaned and dying, while guiding the Missionaries of Charity's expansion, first in India and then in other countries, including hospices and homes for the poorest and homeless. Mother Teresa's work has been recognized and acclaimed throughout the world and she has received a number of awards and distinctions, including the Nobel Peace Prize. Mother Teresa died on September 5, 1997, at 87 years of age.

In recognition of the role of charity in alleviating humanitarian crises and human suffering within and among nations and of the efforts of charitable organizations and individuals, including the work of Mother Teresa, the UN General Assembly in a resolution designated September 5, the anniversary of the death of Mother Teresa, as the International Day of Charity.
In the 2030 Agenda on Sustainable Development adopted in September 2015, the United Nations recognizes that eradicating poverty in all its forms and dimensions, including extreme poverty, is the greatest global challenge and an indispensable requirement for sustainable development. The Agenda also calls for a spirit of strengthened global solidarity, focused in particular on the needs of the poorest and most vulnerable. It also acknowledges the role of the diverse private sector, ranging from micro-enterprises to cooperatives to multinationals and that of civil society organizations and philanthropic organizations in the implementation of the new Agenda.

According to most independent economic analysts, love or charity or poverty alleviation is essential if we are to effectively tackle other world crises including global warming or climate change. Today in most countries, some ten per cent of the people comprising super billionaires are known to control more than 70% of the world's wealth and resources. If this structure is not dismantled, we are living in an evil system. While governments and world bodies take steps at a mega level to dismantle the evil structure, at a personal level we could make a small but important contribution to a simple and humble lifestyle or alpechchathawaya which has been an ancient tradition in Sri Lanka. Essentially, it means we learn to manage with our basic needs instead of craving for luxuries or extravagant lifestyles. We need to remember it is more blessed to give than to receive and a cheerful giver is greater than the most powerful person.