---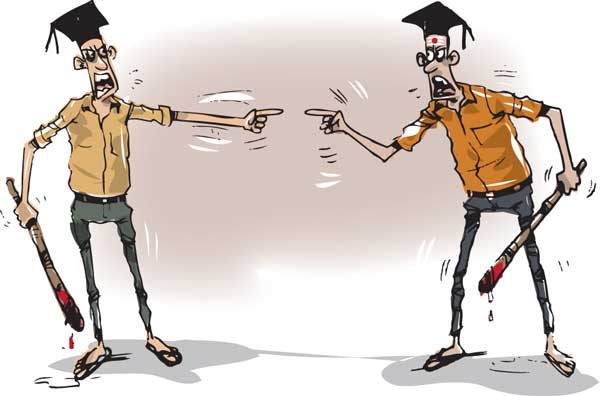 Two points cited by the students union of the Jaffna University on the clash between two factions of students of the university on Saturday were so important that they invite attention. The union called on the media to report such incidents with responsibility and objectively while claiming that outside forces had infiltrated into the students to
rouse the clash.

The involvement of outsiders in the clash pointed out by the student union had been confirmed by two other statements by Higher Education Minister Lakshman Kiriella and Vice Chancellor of the Jaffna University Dr. Vasanthi Arasaratnam. That points to a political aspect of the clash. One cannot imagine any other outside force other than politicians that might have been involved in the clash which led to the students from the south to leave the Northern Province temporarily and the university to be closed indefinitely.

The university student community has enough experience on the involvement of outsiders in turning minor incidents in universities into violent clashes that had resulted in the closure of universities. One might remember an outside thug named Christopher who had very close links with the then ruling party was killed by a student monk during a clash between students in 1980s. Some political parties think it is fit to make the activities of the universities to their political agendas rather than fitting them to the future of the students, resulting in daily protests and demonstrations by the students. It is said that the ragging in universities is also a part of the political agenda of certain political parties.

However, the Higher Education Minister or the Vice Chancellor of the university or the students union for that matter cannot be relying on hearsay on the involvement of outsiders in the clash. They should expose those outside forces and also take them to task. As Swaminathan Wimal, a senior lecturer of the Jaffna University had pointed out after this unfortunate incident the law should prevail even within the university.

The second point the university student union had cited in its statement is that the media's role in reporting this kind of incidents has long been erroneous and highly unethical. Wherever or whenever a conflict, especially a conflict between two ethnic groups or at least two persons belonging to two ethnic communities erupts many media outlets have a habit of taking a side and reporting accordingly. They cast away objectivity and try to appease their audience, making the gap between the communities wider. It was interesting to note that the Tamil media gathered information about clashes between the armed forces and the LTTE during the war from Thamilchelvan, the political wing leader of the LTTE or Daya Master, the spokesman of the outfit while the Sinhalese journalists turned to the Army spokesman for information. Those who used both media, finally got a confused or sometimes a hilarious picture about the incidents in the war theatre.

The statement by the Jaffna student union is thus becomes food for thought.