---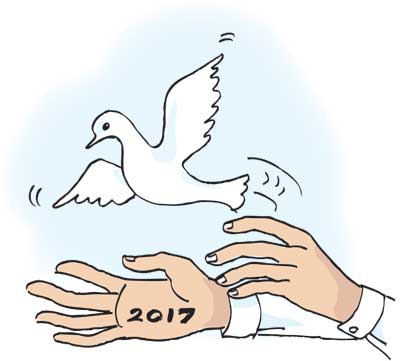 As we move into the festive season, we need to be aware that the New Year's priority issues for the international community including Sri Lanka will be poverty alleviation, the battle against climate change or global warming and the peaceful resolution of conflicts instead of resorting to war and violence.

We hope that as we prepare for the festive season, the festivity will be simple or moderate by avoiding wasteful expenditure or indulgence in luxuries and extravagances.

The national government has declared 2017 as the poverty alleviation year and as we have often stated before we hope that our political leaders especially and others including religious and social leaders will set an example through their simple and humble lifestyle. To the extent the example is set with sincerity and in a sacrificial spirit, most people also will learn to manage with their basic needs instead of being tempted or seduced by marketing gimmicks to indulge in buying sprees or buying what they desire and do not need.

If this spirit of saving more to share more prevails on a countrywide scale it will be a major step towards bringing about social justice through a more equitable distribution of wealth and resources.
As for climate change we need to think creatively and innovatively while also using the latest smart technology to build green houses or schools, hotels, workplaces and other institutions. Eco solutions need to be found to curb the trend towards deforestation, pollution of the air, the oceans and the rivers and to find renewable sources of clean energy including solar and wind energy. Saving fresh water, saving electricity, reducing the use of plastic or polythene and separating garbage so that throwaway food could be turned into fertiliser, are some of the small ways which most people could get involved in as eco-friendly citizens.

The other priority area is the peaceful resolution of conflicts. This could be in the home or family, in the neighbourhood or the country and the world. January 1 has been proclaimed as World Peace Day. We see a disturbing global trend towards extreme rightwing populism—as seen recently in the United States, Britain and Italy and as we may see in France and Germany also. For instance the Guardian reports that tech-savvy right wingers have been able to 'game' the algorithms of internet giants and create a new reality where Hitler is a good guy, Jews are evil and… Donald Trump becomes president.

Instead of going towards extremism, right or left, we need to commit ourselves to the World Peace Day theme of 'nonviolence: a style of politics for peace'. We need to cultivate nonviolence in our most personal thoughts and values. May charity and nonviolence govern how we treat each other as individuals, within society and in international life. When victims of violence are able to resist the temptation to retaliate, they become the most credible promoters of nonviolent peacemaking. In the most local and ordinary situations and in the international order, may nonviolence become the hallmark of our decisions, our relationships and our actions, and indeed of political life in all its forms.