---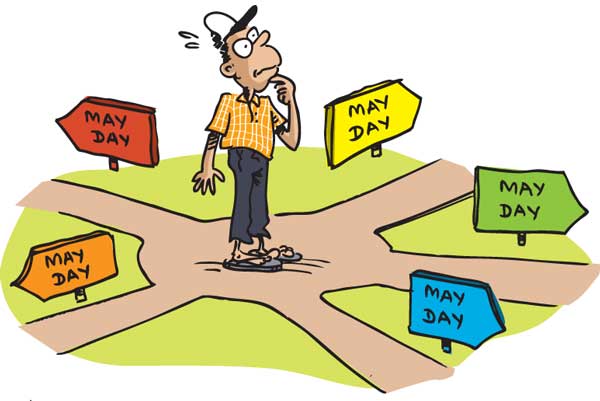 As we prepare for what is perhaps the most party politicised May Day in recent decades, it is significant that today is the World Day for safety and health at work. Even at this late stage we hope that party political leaders -- specially the SLFP led UPFA which seems to be split down the middle -- will be able to refocus attention on workers' rights and the dignity of labour instead of trying to whip up racial or religious tension.
The main SLFP led UPFA under President Maithripala Sirisena is hoping to draw a huge crowd for its rally in Galle -- but the so called Joint Opposition also appears to be confident of drawing a large crowd to Kirulapane with a former powerful minister alleged to have already distributed some Rs. 17 million to party organisers to bring or buy people for the dissident rally. Civic action groups and trade unions which sincerely act for the rights of workers should stand up and speak out against what widely seems to be the most scandalous politicisation of May Day in Sri Lanka.

To mark today's World Day for safety and health at work with the theme being "Workplace Stress: a collective challenge" -- the United Nations in a statement says many workers are facing greater pressure to meet the demands of modern working life.

Psychosocial risks such as increased competition, higher expectations on performance and longer working hours are contributing to the workplace becoming an ever more stressful environment. Work-related stress is now generally acknowledged as a global issue affecting all countries, all professions and all workers both in developed and developing countries, the UN says. In this complex context, the workplace is at the same time an important source of psychosocial risks and the ideal venue to address them to protect the health and well-being of workers. This world day is an annual international campaign to promote safe, healthy and decent work. It is held on April 28 and has been observed by the International Labour Organization (ILO) since 2003.

April 28 has also long been associated with the world's trade union movement's commemoration of the victims of occupational accidents and diseases. The latest figures are shocking. Every year some two million men and women lose their lives through accidents and diseases linked to their work. In addition, there are 270 million occupational accidents and 160 million occupational diseases each year, incurring US$ 2.8 trillion in costs for lost working time and expenses for treatment,
compensation and rehabilitation. Fatalities, accidents and illness at work are highly preventable and all countries specially their political and trade union leaders have an obligation to act.
Tragically the focus in Sri Lanka has shifted to crude party politics with government leaders alleging a 'horas rally' in Kirulupana while dissident group leaders say their focus will be on alleged attempts to destabilise and divide the country. President Sirisena speaking out in an uncharacteristically tough tone, is warning that disciplinary action will be taken against any SLFP or UPFA members who attend the Kirulupana rally.

Today's workers' safety day has as its goals a national occupational safety and health culture -- in which the right to a safe and healthy working environment is respected at all levels where governments, employers and workers actively participate in securing a safe and healthy working environment through a system of defined rights, responsibilities and duties, and where the highest priority is accorded to the principle of prevention.

Besides the workers in Sri Lanka, our hearts need to go out to about 2.5 million Sri Lankans who are doing hard labour mainly in the Middle East, while thousands are known to be slaves or even sex slaves. The focal point now is Qatar where intense construction and other preparations are being made for one of the biggest international events -- the 2022 World cup soccer tournament.
Earlier this month Amnesty International (AI) reported that workers, including hundreds of Sri Lankans in Qatar renovating stadiums for the 2022 World Cup have suffered rights abuses two years after the tournament's organisers drafted worker welfare standards in the wake of criticism. AI said dozens of construction workers from South Asia were housed in squalid accommodation and barred from leaving the country by Qatar employers who confiscated their passports.

So as we prepare for May Day, we need to ask whether like in Qatar, we also are moving the goalpost for workers' rights and safety.