---
"Major venues were full of heads. But all heads are empty heads." My sorry conclusion on crowds at May Day festivals. May Day was undoubtedly a huge three cornered political competition among Sirisena, Wickremesinghe and Rajapaksa. Competition was in filling parks they chose to have their May Day festivals in. The "official" SLFP/UPFA venue at Getambe, Peradeniya was the smallest of all venues. UNP had the fairly large Campbell Park and the surrounding roads to fill.They had State power.They had unlimited money and resources, from whatever source they came. The largest of all venues, the largest in the whole country, the Galle Face was allotted to the Joint Opposition (JO). The JVP was lost within this triangular competition. They count very little now, even in opinion-making in society. The only workers' rally, that of a collective of 08 leading trade unions, was also lost in the melee.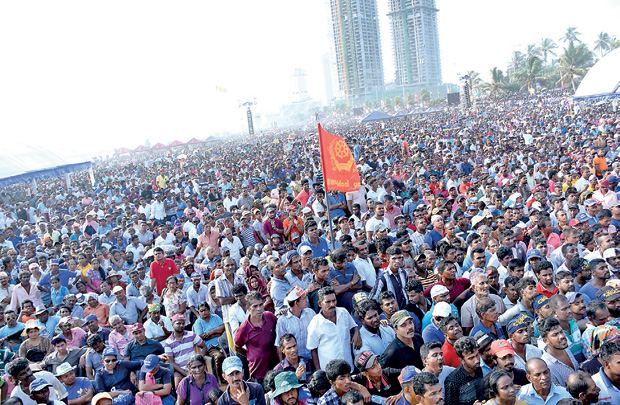 Most speakers at Galle Face taunted Sirisena and Wickremesinghe for allotting Galle Face green to them. They said they were given Galle Face green, thinking they would never be able to fill the large green expanse. "How is it now? Like to see the crowd?" they asked. Rajapaksa said, "We are people who can meet any challenge. We met your (government's) challenge successfully. Now it is our turn to challenge you. Hold local government elections now, if you can,"
he thundered.

The bottom line is, Rajapaksa still holds a charisma no other leader in the government or in the opposition can match. Gotabaya, that some professionals and businessmen want to promote, was proved a nonentity.With Rajapaksa's charisma, he is given the advantage of challenging a clumsy and corrupt government. He obviously has bounced back as the decisive factor in Sri Lankan politics.
A Face Book (FB) post on the morning after May Day festivals said, "Thank you Ranil, Thank you Maithri, Thank you Sampanthan!" apparently blaming them all for the return of Rajapaksa. Though smacked with frustration and anger, the truth is also what the FB post very sarcastically said.

What's this "Yahapalanaya" ?

This "unity" government was politically conceived to meet the geo-political need of the US and its European allies. It served the "power hunger" of the UNP stalwarts. The Tamil constituency too needed to have Rajapaksa ousted from power for very justifiable reasons. Muslim people were pushed to that same square by extremely vulgar anti-Muslim hate campaigners, patronised by Gotabaya Rajapaksa. That led to a common, social understanding to have Rajapaksa voted out on January 08.

Thereafter, what emerged on 2015 January 09 was an unethical, unprincipled and a bi-polar alliance smuggled in as the "Yahapalana" government. President Sirisena made Wickremesinghe the PM with only 47 MPs in a 225 member parliament. Never a rational choice for a serious, democratic President. This irrational, constitutionally illogical move now hurts President Sirisena day in, day out. He is forced to compete with Rajapaksa in gaining complete control over the SLFP. Presidency of this "yahapalana" government has thus ended up as a tool in the power struggle within the SLFP and nothing more.

Meanwhile, Wickremesinghe as PM is struggling to give his government some rhetorical stability, while his allies outside his party discipline are not willing to go under his command. As SLFP members, they also feel Wickremesinghe's neo-liberal development model provides no answers to problems in their rural Sinhala constituency. He cannot deliver on the promise of cleaning up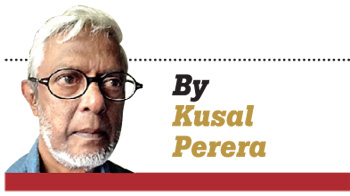 governance and on transparency and accountability, while his own men are also into mega corruption. Aiding and abetting most mega corrupt deals, he is now seen taller than the Meethotamulla dump.
"Yahapalanaya" is thus a disjointed two-part government with one part struggling to grab the SLFP from a man though defeated twice within one year, still commands respect and authority in the party. The other governing half trying to find investments and projects from wherever possible to treat the business community, which they are also a part of.

Chaotic governance

Two plus years has shown this government does not have a political spine to take decisions. All because the UNP leadership knows nothing more than buying and selling in a free market economy. Their "development" is mere business on borrowed investments that accrues all benefits in the "big city". The only hyped development proposal the government launched was the US $ 30billion Western Province Megapolis project. That is about a huge city developed in and around Colombo before 2030. That is yet to see the light of day after its launch 01 year and 03 months ago. According to PM Wickremesinghe, the whole country will be lifted up with the Megapolis project, from what he said at its launch. This government is definitely clueless about rural life.

With no investments or aid coming from Western allies and compelled to follow the Rajapaksa path to Beijing, this Sirisena-Wickremesinghe government had no other option but to accept all Chinese projects they initially condemned as huge corrupt deals, during the 2015 January presidential elections. Having accepted them, they cannot even get those Chinese projects going. Colombo Port City, Hambantota port, Mattala airport are almost stalled. Two years and four months gone, they still try to save themselves by blaming their leaders for massive foreign debts. In fact debts have increased under them.

The only advantage they could manage from their Western allies was with the US-SL co-sponsored UNHRC Resolution 30/1 in October 2015. That too with the asterisk, 'conditions apply'. Government managed another 02 year extension this March on the resolution, albeit with strict warnings to abide by the conditions agreed upon. Unable to implement any condition agreed upon in the OISL Resolution 30/1 for fear of losing Sinhala votes, the government has fooled all international organisations and agencies and the Tamil people with Bills passed in parliament, frozen and shelved thereafter. UN Agencies cannot do anything more.

Rule of law is not one this "yahapalanaya" has been able to establish. Though Supreme Court and Appeal Court appointments go without much political prodding, independence of the judiciary is very much in question as the judicial process is not just about Court Houses. It is also about how independent and efficient the investigations are and how independent and fair the prosecuting authority, the Attorney General's Department is. Meanwhile, all Independent Commissions have proved worthless. Not worth the tax payers' money spent on them. Allegations that protesting medical doctors, the petroleum corporation, the university students, CTB and other trade unions are all instigated by the Rajapaksas and the JO, only means this government has no authority and control over State departments and agencies.

Giving into Rajapaksa

Two years and four months was wasted on this weird coalition government that left the Sinhala constituency at the mercy of racist Rajapaksa politics. It was pretty evident from day one, Rajapaksa was not going to lie idle at Medamulana. It was very clear he would get on to a Sinhala racist platforms. His first public comment after the defeat when his chopper landed in Medamulana, was that he is still the "President of the Sinhala people".

It took no time for both Sirisena and Wickremesinghe to oppose their co-sponsored OISL Resolution 30/1, initially making very vague and ambiguous statements. President Sirisena then broke the ice in early July 2016 saying as long as he is President of Sri Lanka, there will be no foreign interventions on war crime probes. That was subsequently endorsed by PM Wickremesinghe too and by now all ministers, leaving Foreign Minister Samaraweera embarrassed and vacillating in international forums.
The Sinhala Buddhist obsession in the "yahapalana" leadership came out strongly over the past year with many decisions taken by President Sirisena getting endorsed by all ministers including the PM. TNA efforts and pleadings to have all Tamil detainees without any charges released going without answers, a firm 'no' by the government on de-militarising of North-East, security forces continuing to occupy private land despite token releases now and then, government's deaf and dumb approach to "missing persons' issue" and continuing impunity, when packaged together with the government's hyped international Wesak Day celebrations, re-gazetting those Sinhala feudal lords who were named as "traitors" by British colonial rulers, as "national heroes", patronising extremely racist Buddhist monks who should actually be prosecuted for inciting racial and religious hatred and continual statements made to the effect no "war hero" would be allowed to be "dragged to Courts", says how Sinhala racist this government is.

All this is sheer subordination to Rajapaksa's Sinhala Buddhist politics. The reality is, with Rajapaksa venerated by Sinhala extremism as the saviour of the Sinhala nation, it is no easy task now to overtake Rajapaksa on a Sinhala projection. That was what Rajapaksa consolidated at the Galle face green this May Day. His slogan was liberation of both "workplace and motherland". His allegation was that this government was selling everything to foreigners. Was giving in, to Tamil separatists through a Constitution that would be smuggled through parliament.

What would be the "yahapalana" answer to those allegations? Definitely on Sinhala racist promises. But for sure, they cannot meet the challenge of Rajapaksa's Sinhala projection to hold LG elections however much Sinhala they would want to paint themselves with.

TNA and Muslim leaders would be the worst off, fooled once again. "Where are we heading?" i you ask me, my candid answer would be, "heading towards an ethno-religious catastrophe" unless we start immediately a serious social dialogue on alternatives.