---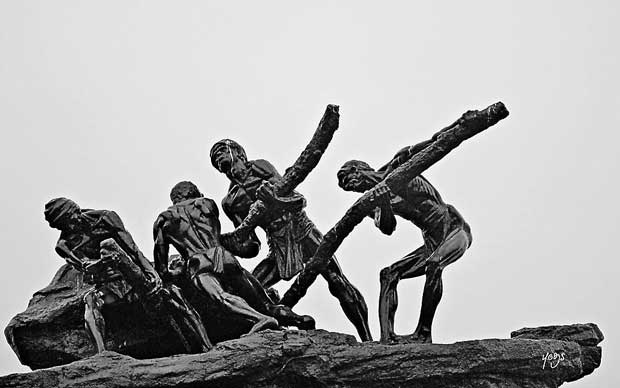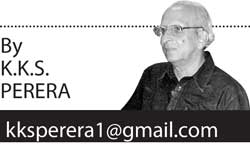 May Day was born in 1884, flagged by blood-splattered clothes of martyrs who sacrificed their lives for a worthy cause in Illinois, Chicago, USA — The Blues and Greens here in Sri Lanka with lost memories of a proletariat struggle have vandalised the consecrated concept turning it into a disgusting political 'extravaganza.'

The 1960s marked the GREEN and BLUE 'revolution' which replaced the RED flags from May Day in Sri Lanka. Today, after 50 years, a section of the gullible masses will be loaded into buses like collecting 'garbage' to be dumped at several venues on May 1, under the guidance of corrupt dealmakers and looters of State coffers. Following the collapse of the Meethotamulla garbage dump, the government and opposition politicos have found three new venues at Getambe in Kandy, Campbell Park and Galle Face for this purpose.

People indeed witnessed a host of protests by concerned residents around Dompe, Wattala, Muthurajawela and Karadiyana dumping sites, refusing to entertain Colombo's waste in
their neighbourhood.

We are not bothered about the number of buses ordered into the venues, but how many tons of garbage would be added onto the Kandy and Colombo cities on May 1. One positive aspect of this exercise is the opportunity it allows for the city residents to reciprocate with a demonstration, objecting to 'outstation garbage' being dumped at their Megapolis; undeniably, there will be no politicos to back them, as they too are busy collecting
the material.

International Workers Day
International Workers Day in Sri Lanka has become an 'empty' political exercise where a few workers, largely hired men, flatterers, boot-lickers, sycophants and village-level party rank and file who blindly but proudly claim 'our party' or 'my party' are exploited by the cronies and henchmen guided by their leaders now split into three contemptible parties parading the streets in a [Boru] Show of Strength.

May Day is the hallowed commemoration of those heroic leaders who sacrificed their precious lives to the course of eight-hour working day and is dedicated to those who shed blood, sweat toil and tears in their gallant struggles of the past. It is also to commemorate those heroes for the successes they achieved on behalf of the working masses. If the two ruling parties are interested in a 'show of strength' or checking the pulse of the people, they should hold polls elections to the local bodies which are being delayed deliberately for reasons best known to them.

A.E. Goonesinghe, the pioneer in worker struggles in Sri Lanka, held our first recorded May Day rally in 1927; but the first organised rally was held in 1936 by the Ceylon Federation of Labour (CFL) affiliated to LSSP. The International Workers Day was declared a public holiday in Sri Lanka after the SLFP-led coalition of S.W.R.D. Bandaranaike came to power in 1956. A united Red May Day was held at Galle Face in 1963, the first and the last of its kind by the red comrades who always shouted from different platforms, "Workers of the world unite!" However, since mid-sixties, massive blue/green rallies and demonstrations were planned and controlled by the UNP and SLFP. They lured supporters and workers from nation's poorest income factions to participate by offering free transport, food and 'spirits' and added musical shows with Indian artists participating in them. It was a strategy adopted by egotist self-interested men for furthering their own political agendas.

Haymarket mayhem on May Day
International Workers' Day was called for May 1 by Marxist organisations in order to commemorate the Haymarket tragedy in Illinois, Chicago, USA on May 4, 1886. Some 180,000 workers in the Chicago District became openly-involved in the struggle for an eight-hour work day, where an unidentified man threw a bomb at the police. The police reacted by opening fire on protesters, killing four of them instantly. Nine leaders were indicted on suspicion during the riots. The Jury sentenced them to death and the four leaders were hanged.

The Federation of Trades and Labour Unions held its national convention in Chicago in 1884. This pressure group which later evolved into American Federation of Labour, declared that "eight hours shall add up to a legal working day." The very next year, many Labour locals repeatedly stated that their proclamations by stating agitations would be propped up by work stoppages and display of arrogance. A year before the Haymarket mayhem, Labour leader Samuel Fielden wrote in socialist newspaper, The Alarm; "whether a labour works eight hours a day or ten, he is yet a slave."
---
May Day tragedies in the past
Assassination of President
Premadasa - 1993
Just a week prior to the 1993 May Day, popular politician Lalith Athulathmudali who was sacked by President Premadasa was gunned down by an LTTE figure at a rally held in Kirulapone. Lalith supporters suspected a government hand in the slaying. The infamous Indian 'star' studded Galle Face Green pageants of 1978-92 by the governing UNP ended with the tragic and unfortunate death of President Premadasa which occurred on May Day in 1993. R. Premadasa, who began his long and illustrious political journey under nation's pioneering labour leader A. E. Gunasinghe, died on Workers Day by a LTTE suicide bomber, while he was participating in a UNP demonstration in Colombo.
Although no one claimed responsibility for the dual assassinations, the government attributed them to LTTE who used suicide bombers to kill many VIPs in the past. A carefree relaxed president greeting people lined-up the streets when the cyclist bomber rode towards him with explosives.

May Day ban 30 years ago and murder inside temple
An LTTE car bomb explosion near the Pettah Bo tree killed 122 and severely injured another 200 persons on April 21, 1987. The following day, the Inter University Students Federation backed by JVP staged a demonstration opposite the Ward Place residence of President Jayewardene, calling for adequate security for the ordinary citizen. Ven. Maduluwawe Sobhitha and Ven. Muruththettuwe Ananda Theras led the Bhikkhu section of the march. The government feared anticipating a worst situation a week later on May Day and decided to ban all rallies and meetings scheduled for May 1 under emergency laws. Suggesting an alternate day on May 22 for the event, the government as a further precautionary measure, imposed a full day curfew on first of May as well.

The Leftist parties and trade unions were determined to defy the ban and commemorate a 'Red-only' May Day after the lapse of two-and a-half decades. The 'Maubima Surakeemay Vyaparaya' [MSV] led by Ven. Muruththettuwe Ananda Thera, President of the United Government Services Nurses Union, Ven. Hedigalle Pannatissa Thera of the Agrasharavaka Dharma Faculty and Ven. Maduluwawe Sobhitha Thera, Chief Incumbent of the Naga Viharaya, Kotte, too decided to join the fray and hold a rally and procession at the famous Abhayaramaya in Narahenpita.

The traditional Marxists, LSSP and CP encouraged trade unions affiliated to them to assemble at Union Place, opposite LSSP headquarters for a demonstration. Later, they too joined a discussion that was held at the Abhayaramaya, Narahenpita, on how to defy the May Day ban. The participants included MEP Leader Dinesh Gunawardene, Dr. Colvin R. de Silva and a host of Left oriented TU leaders. However, the LSSP, Communists, SLMP of Vijaya K. and Vasu-Bahu led NSSP too had separate discussions on defying the ban and holding a joint rally opposite the LSSP headquarters. Several other small groups too had decided on a similar course of action. On May 1, over 2,000 people attended the Abhayaramaya by 2 p.m. Ven. Maduluwawe Sobhitha Thera, Ven. Hedigalle Pannatissa Thera, Ven. Muruththettuwe Ananda Thera and MP Dinesh Gunawardana addressed the meeting. A ten-point May Day resolution was adopted at the meeting after which the organising committee appealed to the participants to
peacefully disperse.

Radical sections among the gathering took to streets defying curfew in spite of heavy presence of armed security men around the place. The participants walked out of the temple premises on to the main road carrying placards and shouting slogans. The police responded with a baton charge followed by teargas and rubber bullets which failed to bring the situation under control and finally decided on live bullets. Shooting continued within temple premises too. The policemen walked in search of curfew violators inside temple buildings; later, a dead body was recovered from inside the main worship area [Buduhuge]. The two died of shooting included Kithsiri Ranawaka, an undergraduate, and a son of lawyer Ranawaka, the Vice President of MEP.

"I would like to remind everyone, especially governments engaged in boosting the world's economic and social assets, that the primary capital to be safeguarded and valued is man, the human person in his or her integrity: "Man is the source, the focus and the aim of all economic and social life." -- Pope Benedict XVI, Charity in Truth